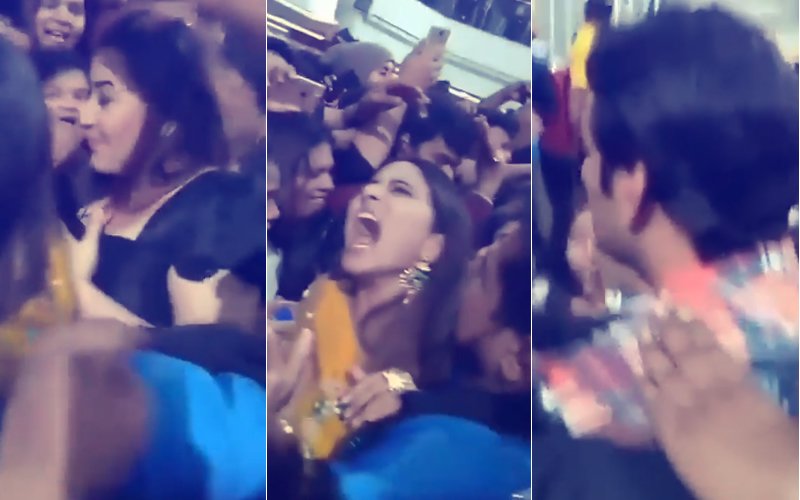 Bigg Boss 11 contestants had a tough time, last evening, when they came out of the house and headed to Inorbit Mall, Vashi for a task.



They had to appeal to a live audience present at the mall to vote for them.

However, the promotional activity cost Hina Khan, Shilpa Shinde and Vikas Gupta their sanity. The contestants while exiting the mall, faced severe mob flash and had to be escorted to their cars.

In one of the videos, Hina Khan is even seen screaming her lungs out as she is stuck in the crowd.

A debate about Hina's behaviour is also gaining momentum on social media. According to a few users, Hina was unnecessarily screaming to show attitude and as per others, someone pulled Hina's hair and that's why she lost her composure.

Well, the picture does show that Hina's hair are being touched, but what we can gage from it is, that Hina herself pulled her hair ahead to move ahead conveniently and some fans are circulating that picture in her defence, portraying that someone else is pulling her hair.

Talking about the task, the Bigg Boss 11 nominated contestants- Hina Khan, Shilpa Shinde, Vikas Gupta and Luv Tyagi- reached Inorbit Mall (Navi Mumbai) to escape elimination by requesting for maximum public votes.

Buzz is that Hina Khan got maximum number of votes during the activity. Vikas Gupta was the runner up, followed by Shilpa Shinde and Luv Tyagi.

We are coming back with another HOT story on Bigg Boss 11, stay glued to this space.


Image Source: instagram/biggboss11