Bigg Boss 12: Karanvir Bohra Attacks Sreesanth; Says, "Poori Duniya Ko Pata Hai Kitna Bada Dhokebaaz Hai Tu"
During a ticket to finale task, Karanvir Bohra and Sreesanth got rough with each other. The argument turned ugly, where Bohra called the controversial cricketer "cheater". Annoyed with it, Sreesanth runs away from the house yet again!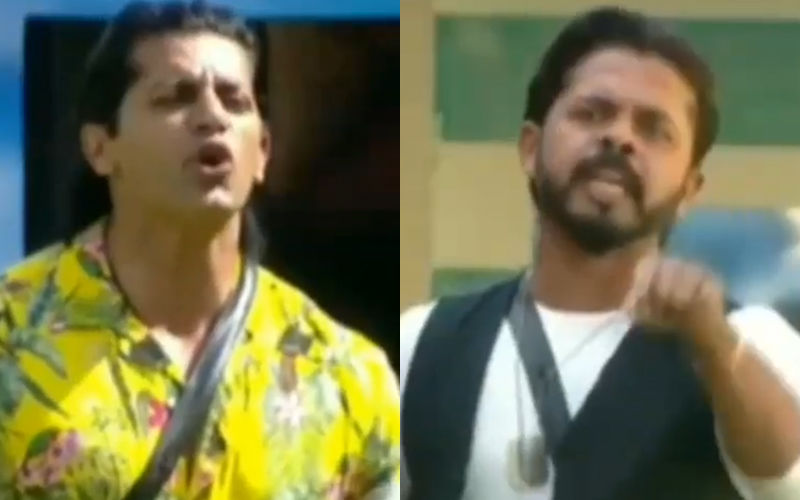 Bigg Boss 12 is a house which changes relationships with time. Karanvir Bohra and Sreesanth started as friends in the current season of Bigg Boss but slowly friends have turned into foes and now they just can't stand each other. You will witness this animosity in tonight's episode. And we bring to you a glimpse of what will unfold between the two contestants.
In the upcoming promo posted by the channel, we see Karanvir and Sreesanth getting into a heated argument during the ticket to finale task. Karanvir calls him a cheater and makes a comment on his cricketing career. He says, "Poori duniya ko pata hai kitna bada dhokebaaz hai tu", which triggers Sreesanth, as he was once accused in spot-fixing case in IPL 2013. There is lot of commotion in the house during the task. Watch the video below:
Reacting to this, Sreesanth says Karanvir needs to come out of his world of TV shows. He also gets furious and asks Karanvir if he meant that he lost his 10 years of cricket because of spot-fixing. The controversial cricketer also talks to Bigg Boss about it and then tries to escape from the house.


Ticket to finale has raised the temperatures inside the house already. It will be interesting to see who will make it to the finale after all this. And will Sreesanth actually exit the house or like last time be back for some more arguments? Keep reading this space for all updates on
Bigg Boss 12.
Image Source:Instagram/biggbossjaasoos