Bigg Boss 14 Day 2 Written Update: Sara Gurpal Chops Her Hair, Nishant Singh Malkhani Wears A Bikini Top To Get Right Of Entry
To get the rejected tag removed from their name, contestants had to follow these instructions of 'Toofani seniors' which included eating chilies, cutting hair and wearing a bikini top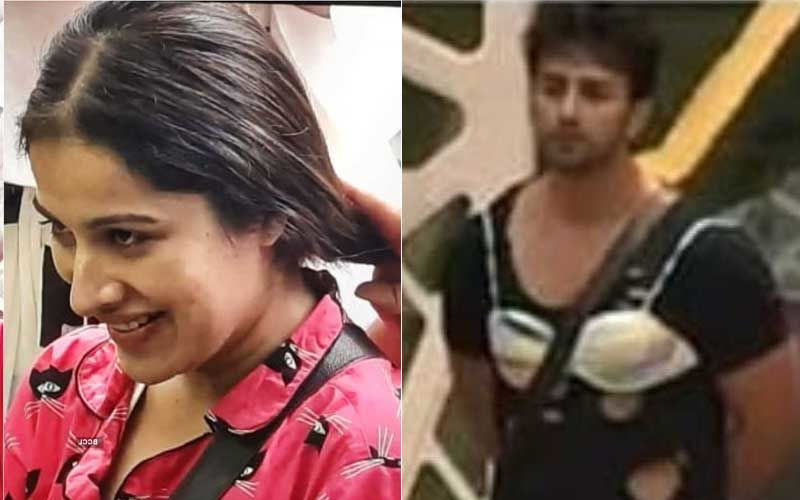 Day 2 of Bigg Boss 14 saw some many ladai-jagdhe between contestants. Be it between TV bahus' Jasmin Bhasin-Rubina Dilaik over joote-chappal and Nikki Tamboli-Sara Gurpal over heels and clothes. Making the episode little interesting, Bigg Boss introduced a task for all the rejected contestants- Rubina Dilaik, Nishant Singh Malkhani, Jaan Kumar Sanu and Sara Gurpal, to mark their entry inside the house and remove the rejected tags from their names. As per the guidelines, Toofani seniors – Hina Khan, Sidharth Shukla and Gauahar Khan – will give tasks to the rejected contestants and then will BB will decide who gets to enter.
The first round of the task began with rejected contestant Rubina where seniors ask her she will only get to enter the house if she agrees to wear the same set of clothes for next 7 days, but Dilaik denies the same. Seniors then move to Sara Gurpal and ask her that she has to cut her hair to shoulder length and Sara readily agrees. Later Hina Khan asks Nishant Singh Malkhani that if he wants to enter the house then he will have to wear the bikini top over his t-shirt for the next 7 days. After thinking little over the same, Malkhani readily agrees to wear it. While Jaan Kumar Sanu was asked to hold weights shoulder straight for a minute.
For the next round, seniors asked Rubina to eat chilies, later Sara is asked to hold weights for a minute, Nishant is then asked that he has to get rejected written on his head and say 'I am rejected' to the seniors while wearing the bikini top. Toward the end of the task, Jaan is asked to chop his hair and he gets a mohawk style.
Images Source: Voot.com