Bigg Boss 14: Rubina Dilaik Boils With Anger As Rakhi Sawant Calls Abhinav Shukla 'Tharki'; Abhinav Says 'If You Don't Calm Down, Mera Kya Hoga'
In yesterday's episode of Bigg Boss 14, we saw Rubina Dilak and Abhinav Shukla getting angry over Rakhi Sawant as she called Abhinav 'tharki'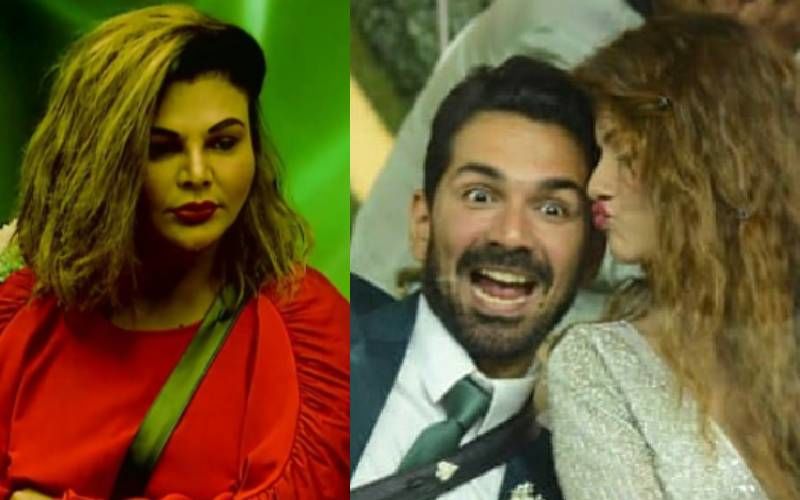 Rakhi Sawant, Abhinav Shukla and Rubina Dilaik were initially good friends in the Bigg Boss 14 house. However, their friendship went sour went Rakhi crossed a line by pulling Abhinav's drawstrings. The couple called Rakhi's entertainment 'torture' and shared that they are done with it. Ever since then Abhinav and Rubina have been maintaining distance from Rakhi Sawant, while she stays badmouthing about the two. Recently, Rakhi called Abhinav 'tharki' and the married couple lost calm.
Abhinav Shukla gave it back to Rakhi Sawant and called her 'vaahiyat auraat'. He said, "Yehi teri gandagi hai Rakhi, tu gandh hai." Later, Rubina Dilaik threw a bucket of water on Rakhi Sawant in anger. The Shakti: Ek Astitva Ki Ehsaas Ki actress could not hold back and lost her cool on Rakhi Sawant. She called her husband Ritesh 'Tharki'. "I care about his respect and I will slap her and walk out," Rubina says.
Later, Aly Goni makes Rubina realise that throwing water on Rakhi Sawant was wrong. To this, Rubina who is still fuming with rage stated that it was the only way to shut her up. She even stated that she is willing to slap Rakhi and leave the show. Looking at Rubina going all red in anger, Abhinav Shukla says, "If you don't calm down, mera kya hoga" (then what will I do?)." Rubina also mentioned that she has never seen Abhinav crying but Rakhi hurt him so much that he had tears. It remains to be seen what will be Salman Khan's reaction to all this.
Image Source: Instagram/colorstv