Bigg Boss 14's Arshi Khan's Bestie On Rubina Dilaik's 'Category' Comment: 'She Is Behaving Like Hina Khan In Season 11'- EXCLUSIVE
Arshi Khan and Rubina Dilaik have been locking horns since some time. We spoke to Arshi's best friend, Sonia Chandran on Rubina's latest comment on Arshi where she classified her in a 'certain category'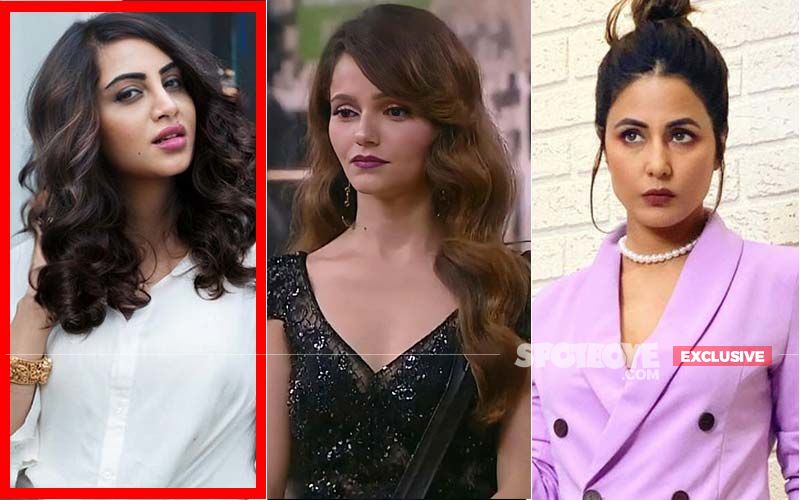 Arshi Khan and Rubina Dilaik are at loggerheads in this season. The two have had major spats in the last few weeks. During one of the arguments, Rubina Dilaik showed her last finger to Arshi Khan continuously which triggered her as she didn't understand the meaning of it and when Jasmin Bhasin tried to intervene and get it sorted, Rubina went on saying, 'I can't be of her category.'
Talking to us exclusively, Arshi Khan's best friend Sonia Chandran said, "What category Rubina belongs to by the way? Just because she acts in a serial she belongs to a category. I mean this sort of ghamand, takabur, and superiority complex in her is only because Arshi is attacking. Rubina made a comment on her 'ye kahin pe bhi nachegi'- who the hell is this lady to say that? These are such small minded, judgemental and crass comments coming from that lady. It clearly shows her own character. She is behaving like Hina Khan in season 11 who made comments on Arshi's work, clothes and appearance. She made a comment on her saying 'kapde phadkar hi kaam milega' but in the end it was Hina who looked bad. You can have a hundred night suits and can wear top designer clothes but if your brain isn't classy enough, then nothing is classy."
ALSO READ: Bigg Boss 14: Devoleena Bhattacharjee On Jasmin Bhasin's Elimination, 'Good For Her, Came Out Mean And Arrogant'
Arshi's closest friend also went on revealing what kind of person Arshi is in her real life. "Arshi is being very real in the game. I would say she is the only one who is not concerned about image or trying to play safe or hanging out with the most popular contestants of this season. She doesn't care about any of those things, so she is being very real. In real life also, she is very funny and mischievous. So that comes out naturally inside the house too," concluded Sonia.
Image Source: Instagram/realhinakhan/rubinadilaik/arshikofficial