Bigg Boss 14: Salman Khan Advises Rakhi Sawant To Draw A Line Between Vulgarity And Entertainment; Reacts To Her 'Do Baagh Do Bangle' Remark
During the Weekend Ka Vaar episode of Bigg Boss 14, host Salman Khan reprimanded Rakhi Sawant on her 'do baagh do bangle' remark. The host advised Rakhi to draw a line between vulgarity and entertainment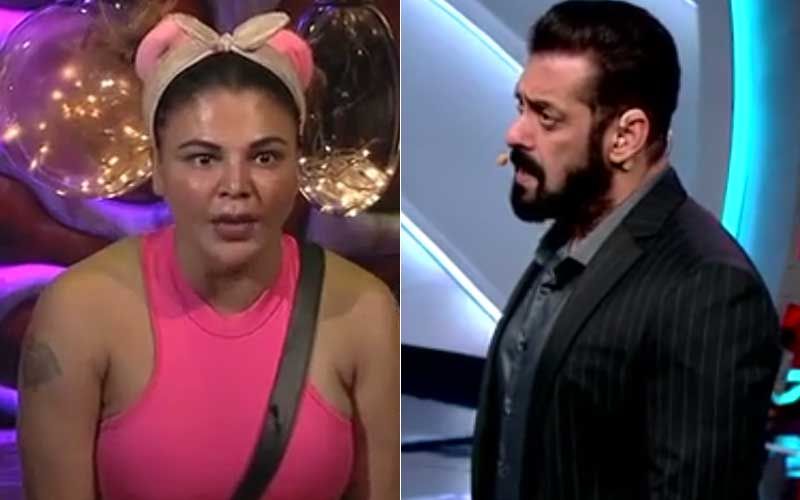 The Bigg Boss 14 Weekend Ka Vaar episode is always fun-filled with host Salman Khan entertaining the audience to the fullest. But, there are some days when the host is also schooling the contestants for their behaviour during the week. One such day was yesterday when Salman bashed a few contestants for their behaviour and antics. Rakhi Sawant, who has entertained viewers with her actions during the week was reprimanded on her 'do baagh do bangle' remark. The host advised Rakhi to draw a line between vulgarity and entertainment.
During the episode, Salman questioned Rakhi on one of her unacceptable comments she made in on of the recent episodes. The comment that Sawant made insinuated towards the female body parts. While Salman raised the question, Rakhi tried to get away with it by calling it a joke, explaining it was said in a fun way. Moving on, Khan asked her to not get carried away during the task and forget about her own image. He asked her to not cross her limits in the game and told her to draw a line. Salman then said that she had crossed the line and reached the limits of vulgarity when she made the comment.
Rakhi Sawant then tried to clarify her stance. She told Salman that made the remarks out of anger. Reacting to Rakhi's explanation, the host told her that she cannot justify her acts. He then advised her that it would be better if mistakes of that sorts are not made any further in the show.
Image source: Instagram/Colors TV