Bigg Boss 15: Fight Between Junglewasis And Gharwasis Intensifies As Karan Kundrra Takes Charge
Looks like the Junglewasis' scheme to break the unity between the Gharwasis and pit them against each other has worked well!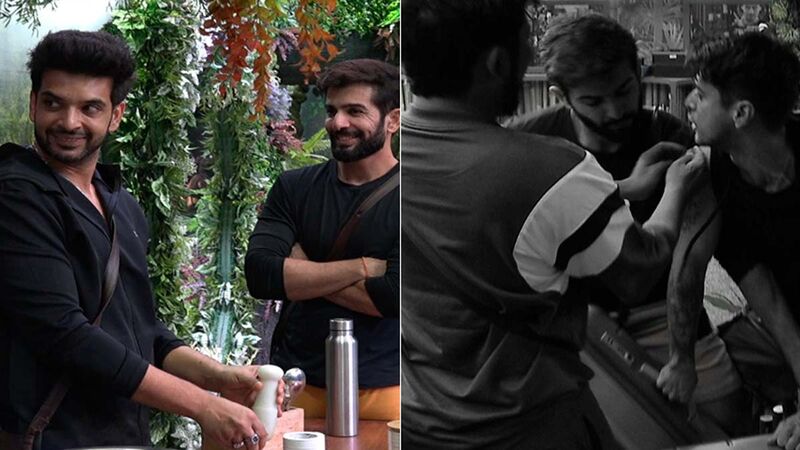 The drama continues to intensify and unfold on Bigg Boss 15, as we see a new side of Karan Kundrra – the mastermind of another attack plan of the Junglewasis to close the Gharwasis bathrooms and steal their 'rashan'. Of course, this leads to a verbal spat between Nishant and Karan, where Karan gives an open 'chunauti' to the Gharwasis and says, "Tum teeno ko meri nasihat ye hai ke apna ghar sambhal lo, kyunki hum aane wale hai". The war reaches its pinnacle when the 'Junglewasis' attack the house and the 'Gharwasis' fight them.
In the latest promo dropped by ColorsTV on Instagram, we see Karan taking charge. He is seen explaining the plan of action to his team members - Jay Bhanushali and Umar Riaz. "We need to destroy the peace in their lives. They are doing what they want and our work has stopped because of them." He adds, "chakka jaam karo inka." Karan and team then are seen stealing the food supplies, forcefully entering the house and messing up the toilets. To compel the housemates to give the map, they even lock the luggage of the housemates.
The caption for this promo read, "Kya sadasyon ke saath banaye huye plan se @kkundrra kar denge mukhya gharwaalon ki haalat kharaab? Dekhiye #BiggBoss15, tonight 10:30pm on #Colors."
Meanwhile, in another promo, Shamita and Pratik get into a heated up argument when the former decides to break the luggage locks. Shamita furiously tells Pratik off, "Har cheez mei teri manmani nahi ho sakti hai" and hands over a piece of the map to the 'Junglewasis'. Shots have been fired and this was the final nail in the coffin that ignites an argument between Nishant and Shamita. Nishant blows his cool and screams at her saying, 'What you did is galat Shamita, you had to ask' and goes on to tell Shamita to shut up!

Image Source: PR