Bigg Boss 15: Naina Singh, Riddhi Dogra And Geeta Kapur Come Out In Support Of Nishant Bhat, Slam Trolls Calling Him 'Nalla', Here's What They Said
Naina Singh, actress Riddhi Dogra, and India's Best Dancer judge Geeta Kapur came out in support of Nishant Bhat as trolls call him 'Nalla'.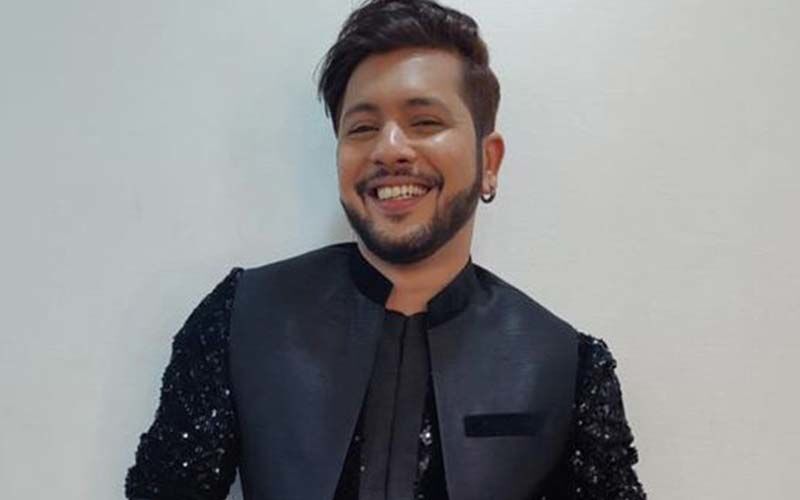 In today's episode, we will see a huge twist wherein the existing VIP members are going to go helter-skelter to retain their VIP position.
For the unversed, the tables have turned and Bigg Boss has given a chance to all the Non VIP members to steal the VIP status of the existing ones. And a task was introduced wherein all the contestants had to play the game with all their might in order to consolidate their VIP position and not let it slip out of their hands whereas the non-VIP members tried to get on to the position of the existing VIP members.
Amidst the game, Nishant who is one of the VIP members was put in a position by Bigg Boss wherein he had to swap two existing contestants with the non-existing one's and Nishant very helplessly chose Simba and Jay resulting in Tejasswi's and Karan's ouster.
But the latter had to face heated wrath on social media for his decision, while a lot of celebrities and fans of Nishant came out in support and even trended 'WE ARE PROUD OF YOU NISHANT' to show their support towards the latter.
Now, Nishant's very close friend Naina Singh and actress Riddhi Dogra too have come forward in Nishant's support to extend their support to Bhat.
Naina wrote "Woh kehte hai na jab kisi ke liye gaddha khod te hai toh usme sabse pehle khud girte hai...seems like we just witnessed it on #bb15 you did absolutely right nishu!!"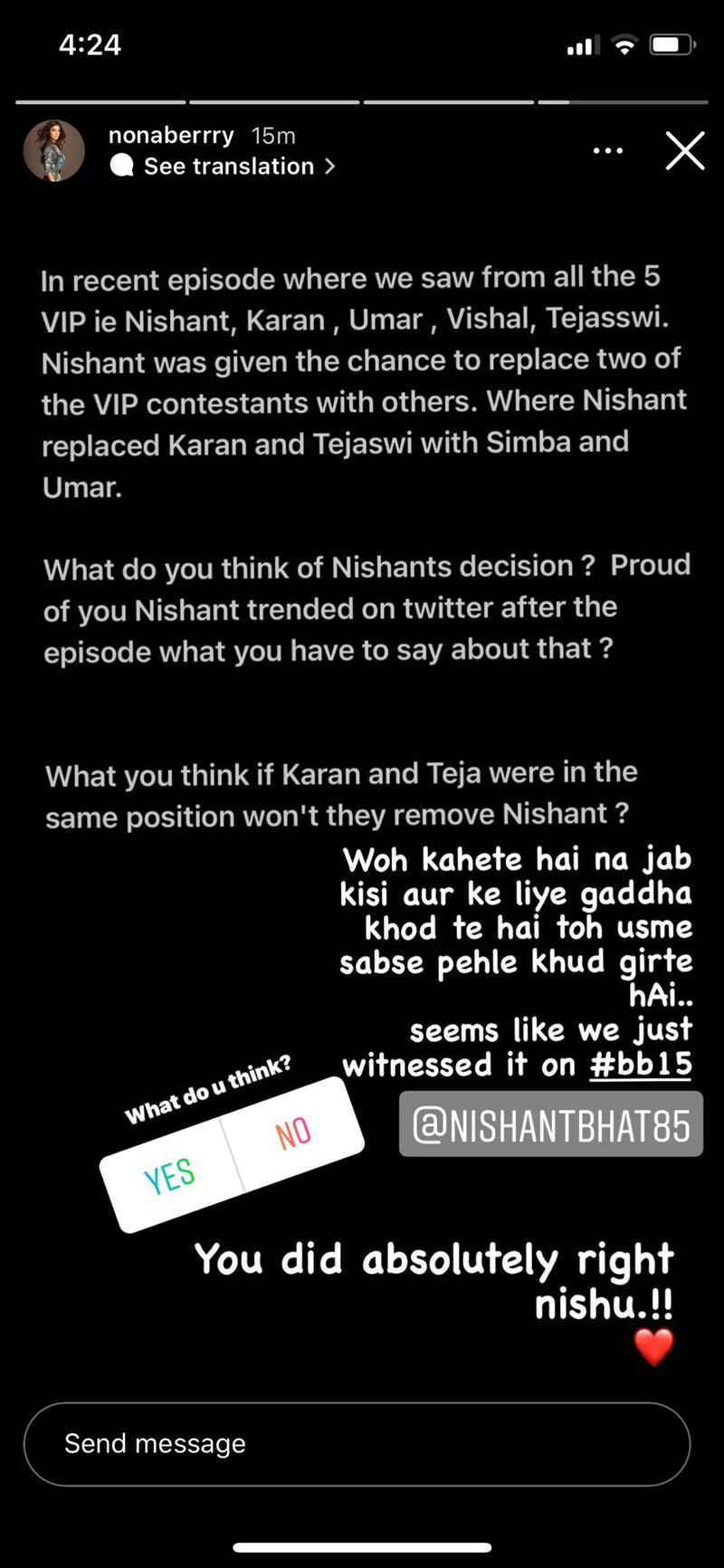 Meanwhile, actress Riddhi Dogra wrote "I'm actually proud of the way you changed the game yesterday. And to all the trollers I think you're forgetting the house he is in, everyone is manipulating people for their advantage. Ps. Live feed doesn't lie. Why I support Nishant Bhat is because he is clear, distinct and to the face. He doesn't worry about being in anybody's bad books. He's always taken decisions that are fair in the circumstances. And he has the game spirit to always say - 'I know this will happen and I am okay with it'. I'm proud of you nishuuuuu. You will, are and will be the most entertaining memeber of Bigg Boss house"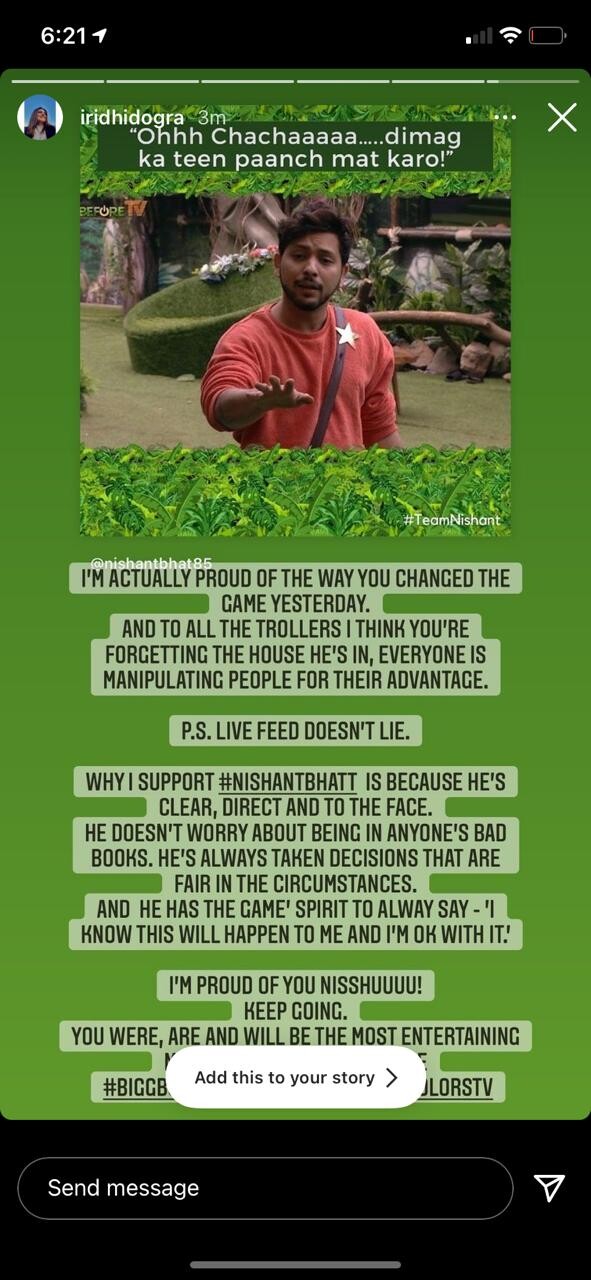 Well, that's not it, India's Best Dancer judge Geeta Kapur has also come out in support of Nishant and shared a collage of pictures with him. Alongside the picture she wrote, "Generally I ignore trollers but i wanna tell fans it's time I think they learn that a game is a game and it has to be played!"

She further asked the trolls to stop calling Nishant 'nalla' and added, "Nishant stands by his friends and has always shown his loyalty but when needed, he calls a spade a spade no matter who they are .. don't call him "nalla" and be a blind follower."
Geeta called out the other players, and showed her support towards Nishant and said, "There were never on his side and if the tables were turned they would have done the very same … so woh khele toh sab bhala aur nishu khele toh nalla #slowclap"
Well, keeping the several backlash aside! We all know that somewhere down the line Nishant was always righteous in his decision from the game's perspective and the immense support that he has received just sets the record straight, More power to the ace-choreographer.
Image Source: Instagram/nishantbhat85