Bigg Boss 15's Umar Riaz Has His Brother And BB13 Runner Up Asim Riaz's Girlfriend, Himanshi Khurana's Support
Asim Riaz and Himanshi Khurana have been rooting for Umar Riaz as he continues to make their family proud.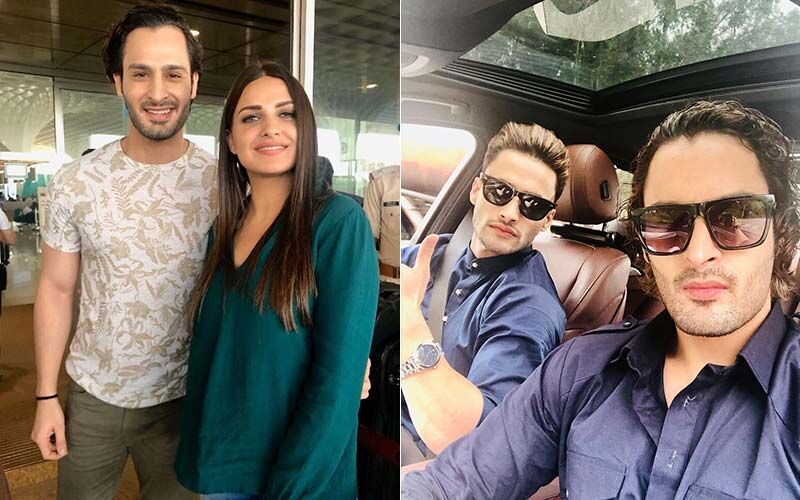 Umar Riaz has been winning hearts with his game on Bigg Boss 15. His strong opinionated personality and sense of humour has been winning hearts over the internet. Also helping him in his journey is the strong fanbase, which partly comes from his brother, Bigg Boss 13 runner up Asim Riaz's popularity.
Asim and his girlfriend and actress-singer Himanshi Khurana have been rooting for Umar as he continues to make their family proud.
In an interview with ETimes, Himanshi spoke about Umar's gameplay on Bigg Boss 15. She also talked about the criticism he has received from the housemates and viewers by virtue of being Asim's brother.
The actress-singer revealed that Umar's family is very proud of him considering the comments he has faced from the contestants who are mocking him with his brother Asim Riaz's name.
Himanshi opined, "We all know he is a doctor and I don't see anything wrong that he wants to pursue his hobby. If he's getting a chance to experience something unique in his life, I don't think he is anywhere wrong in using the opportunity. He is a doctor, he has taken that oath and he has worked for the common people."
She pointed out that Bigg Boss is a once in a lifetime experience and she believes that there is nothing wrong with grabbing such a unique opportunity. She continued, "We are supporting him completely. He's achieving in life, aur jo bhi faayda hoga woh ghar mein he aa raha hai.. family is becoming big and he is only making the family proud."
She also spoke about Farah Khan placing Umar Riaz on 11th position as per ranking in Bigg Boss, and contended that she doesn't blame her. However, Himanshi defended Umar as she pointed out the importance of watching Bigg Boss regularly and how missing a single episode can impact the audience's perspective towards a contestant.
"Bigg Boss fans and audience regularly follow the episodes and also watch it live. Sometimes, the celebrities who come inside the show, don't follow the show completely. With Bigg Boss the thing is you have to follow all the episodes and if you miss a single episode, there is a gap. If you see Vidhi and Donal's eviction even during that time, housemates conveniently followed Farah ma'am's rank order," she said.
"How do the contestants know who is seen how much outside. They just used her ranking order and took Vidhi and Donal's name for eviction. All this is mind games, whenever guests come inside they have their viewpoints and creates a pressure on the minds of contestants. They are so disconnected from the outside world that whenever a guest comes and praises someone they feel it is actually the truth. They take it very seriously but it is obviously not the case every time. Contestants who don't take the pressure are the ones who shine."
Himanshi also elaborated, "Like there are people who tried to pull down Jay Bhanushali but he did not let the comments affect him, he still continues to play the same way. Umar got a little confused. But his fans and people who are watching made sure to tell everyone outside that he is doing great on the show."
Himanshi and Asim met on Bigg Boss 13, and fell in love. They are now going steady in their relationship.
Image Source: Instagram/umarriazz91