Bigg Boss 15 Set Designer Called Out For Copying Matthew Mazzotta's Flamingo Sculpture Worth Rs 3.9 Crore
A digital content creator with the name Diet Sabya has called out Bigg Boss 15 set designer for copying American artist Matthew Mazzotta's work.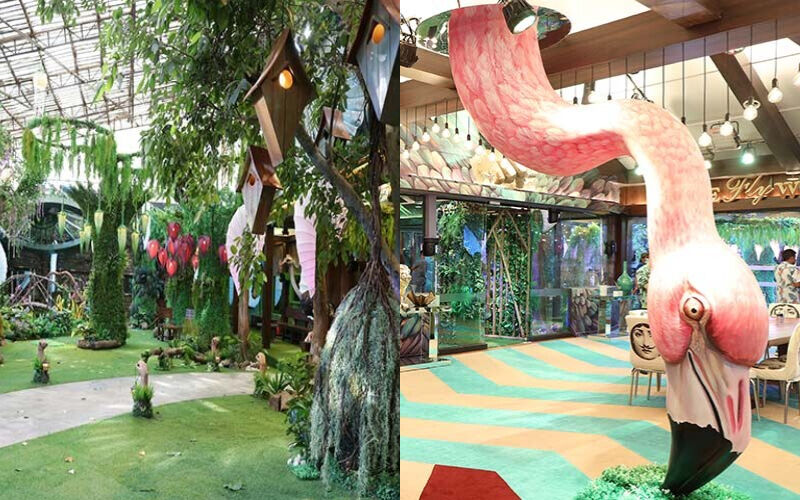 Popular reality show Bigg Boss is back with its exciting new season, based on the 'Sankat In Jungle' theme. Both indoors and outdoors of the house have been decorated according to the theme. In addition to jungle props, the show's art department has also used a pink flamingo as a new installation to add to the beauty of the house. But the BB15 set designer now has been called out on social media for seemingly plagiarising American artist Matthew Mazzotta's artwork.
A digital content creator named Diet Sabya has called out the show for copying a prop in the house. The pink flamingo that is seen inside the Bigg Boss house is actually a replica of a very fancy artwork by American artist Matthew Mazzotta. The original 21-foot pink flamingo costs a whopping 5,20,000 USD or Rs 3.9 crore and is situated at the Tampa International Airport in Florida.
While pointing out the plagiarism, Diet Sabya, the popular Instagram account which often calls out celebrities and designers for illegally copying other artists' works, shared pictures of both the sculptures on Instagram, calling the BB version, 'Gandi Copy'.
The post was captioned as, "The #biggboss15 set designer really said '… let me give them artttt!' OG art home by @matthewmazzotta; #gandicopy by BB 15 set designer."
Last year, Matthew Mazzotta had posted a photo of a computer rendition of the artwork on his Instagram page after the piece was commissioned. He had written, "Just Announced: I received a commission to create a new public artwork for the Tampa International Airport. Here is the rendering. We will fabricate and install by the end of the year," he wrote in his post.
Image source: Colors TV PR team