Chhavi Mittal Proudly Flaunts Her Breast Cancer Surgery Scar In A Backless Dress, Says, 'They Remind Me Of Fight I Fought, Victory I Achieved'
Chhavi Mittal shares her stunning photos in a backless dress, showing off her post cancer surgery scar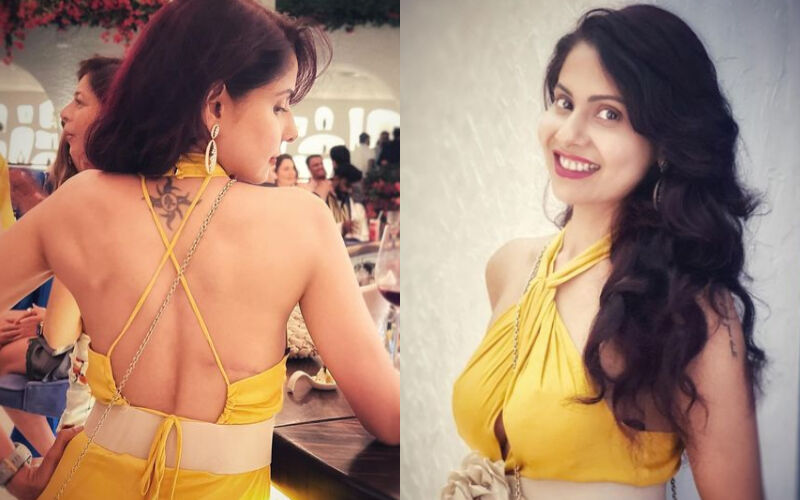 Popular TV actress Chhavi Mittal has been an inspiration for all the women who are battling breast cancer. In April this year, she underwent a six-hour-long breast cancer surgery and is currently recovering from the illness. Chhavi has been very vocal about her fight against this deadly disease and her struggles post the surgery on social media. Recently, the actress proudly flaunted her post-cancer surgery scar in a sexy backless dress. Chhavi also penned a motivational note saying her scars remind her of the 'fight she fought and the victory she achieved.'
Sharing her stunning photos, the Teen Bahuraaniyaan actress wrote, "Scars. You can see the ones on the body.. but you'll never see the ones etched on the bearer's soul. Yesterday when I found the courage to flaunt this scar… there were some who flinched at the sight of it. I say, if the mere sight of it makes you flinch, imagine what I felt when it was given to me! But in my opinion, a man is not a complete man if he has the nerve to look down and admire a woman's assets but is not brave enough to appreciate the effort she went through to save those assets." ALSO READ:
Chhavi Mittal's Radiotherapy After Breast Cancer Surgery Begins Today; Actress Says, 'I've been Told To Expect Side Effects, Wish Me Luck'
Chhavi also revealed that some even asked her if she would get these scars removed with a laser. She said she no because these scars remind me of the victory she got against cancer. Ending her post on a positive note, the actress stated, "Why would I ever want to hide these battle scars! That would be tampering with evidence! Proud to be a #cancersurvivor."

Last month, Chhavi Mittal took her radiotherapy sessions. She was given 20 cycles of radiation- 5 days a week for 4 weeks. She also suffered some nasty side effects from the radiotherapy.
Image Source: Instagram/Chhavi Mittal