Devoleena Bhattacharjee REACTS To Trolls Calling Her Marriage 'Love Jihad'; Netizens Ask Her 'Rest In Fridge'
Devoleena Bhattacharjee gives a befitting reply to trolls calling her wedding with Shahnawaz Sheikh 'Love Jihad'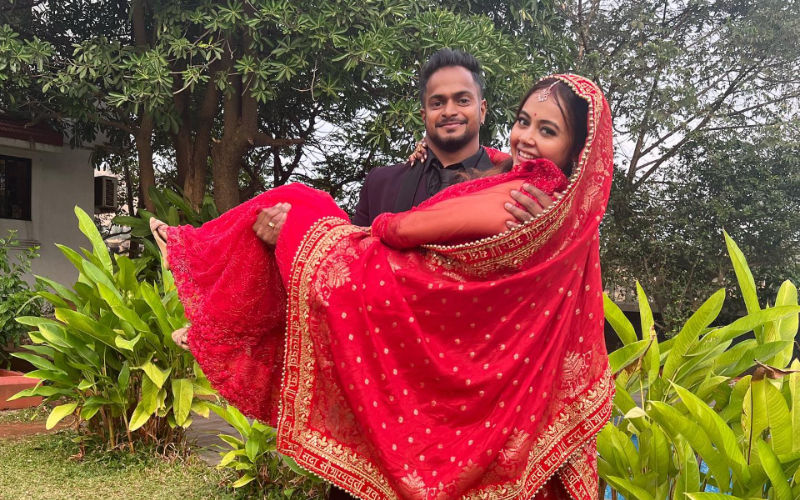 Devoleena Bhattacharjee has been trending on social media ever since she announced her wedding to her gym trainer Shahnawaz Sheikh. The actress shared her wedding pictures with Shahnawaz on social media, however, she got brutally trolled for multiple reasons. A certain section of people called Devoleena- Shahnawaz's wedding 'love jihad' and even went to extreme lows telling her 'rest in the fridge' as they relate to the Aftab Poonawala case. Devoleena calmly replied to all hate messages on Twitter.
One user tweeted, "Rest in Fridge." Replying to this, the newlywed wrote back, "Arey arey kahin apko hi fridge mein naa fit kar dein aapke future wife & son milkar. I am sure yaad toh hoga hi zyada purani news nahi hai. But still i wish you all the best. #sickmind #toxic." Another netizen reminded Devoleena, "I remember that incident which recently happened in india, where a hindu girl married a Muslim boy n he brutally killed that girl. Well, it's ur life, ur choice . Have a happily married life. Congratulations."
Check out more tweets here:
But apke pati ke dharam ke hisab se tou aap ek hindu polytheist woman hai(worse than a S€x sl@ve) aur apki shadi bhi haram hai.

Rahi baat bacho ki wo tou momin hi hoga wid circumcision->child belongs to father->der's a clear Islamic judgement on this.
Kuch parh le before gyan😴 pic.twitter.com/AFTYa6PegJ

— Twisted Nerve ☭🏳️‍🌈🇺🇦🇵🇸 (@TNerve11) December 15, 2022
Woh mere aur mere pati par chor dijiye. Hum dekh lenge. Aur dusro k dharam pe google search karne k wajai apne dharam par focus kijiye aur acche insaan baniye.Itna toh mujhe yakeen hai aap jaiso se gyaan lene ki mujhe katai zaroorat nahi hai. 😇🙏🏻🧿 #toxic

— Devoleena Bhattacharjee (@Devoleena_23) December 15, 2022
Whether my babies will be hindu or muslims aap kaun ? Aur itni jab apko baccho ko lekar chinta ho hi rahi hai bohot saare anaath ashrams hai, jaaiye adopt kijiye aur apne hisaab se dharm or naam decide kijiye. Mera pati, mera baccha , mera dharm , mere rules. Aap kaun ? #toxic

— Devoleena Bhattacharjee (@Devoleena_23) December 15, 2022
Devoleena Bhattacharjee got married to Shahnawaz Sheikh on December 14 in Lonavala in an intimate ceremony in the presence of their families and a few close friends. The couple, who dated for several years, met at her gym near the actress' house. They came close after Shahnawaz helped Devoleena in physiotherapy when she met with an accident on the sets of her show.