Dilip Kumar Passes Away: Mrunal Jain, Meera Deosthale, Vijayendra Kumeria, Nivedita Basu, Hasan Zaidi Remember Thespian's Power-Packed Films
On the demise of Hindi film industry's legend and a gem, Dilip Kumar, here are some actors talking about him and their favourite performances of his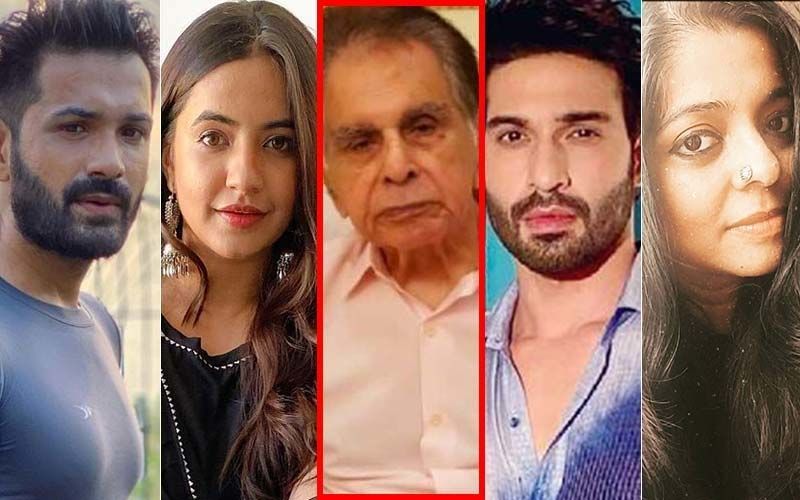 As we all bid goodbye to Dilip Kumar today, here are some actors and celebrities picking their favourites from the legendary actor's plethora of some of power-packed performances.
Meera Deosthale:
It was heartbreaking to know Dilip Saab is no more. He was an actor par excellence. We used to watch his films on TV with family. He was my parents' favourite actor. I loved Karma, Saudagar and even Kranti. His dialogue delivery and expressions reflected his craft. He will be truly missed. He lived a content life and had a perfect life partner in Saira Banu who cared for him. There will be no Dilip Kumar again. He is irrepalcable and will live through his films.
Amit Sarin:
India woke up to the news of the sad demise of legendary actor Dilip Kumar. He was not just a legend, but a learning institution in himself. Watching his movies have made me become the actor I am today. His work and his movies are an informal training of acting and I am sure he must have inspired many actors in one way or the other. It's so difficult to pick one movie of his, but I have loved Mughal-e-Azam, Ram Aur Shyam and Devdas.
Vijayendra Kumeria:

Dilip Kumar was someone who has been an inspiration to all newcomers and even megastars we have in our industry now. I have seen his movies and always loved the fact that he used to look the part every single time. Whether a village boy or a businessman or a cop or a gangster, he was convincing in everything he did. His star status never overshadowed his performance. His body language and significant pauses during dialogue delivery were awesome. I have tried to learn from him that acting is not just about delivering lines, it's also about those correct pauses. I love watching his films Shakti and Ram Aur Shyam. May his soul rest in peace.
Chandni Soni:
Dilip Saab's demise is like the end of an era in Indian cinema. His contribution to Hindi film industry has been tremendous and his work has been appreciated internationally as well. The kind of sincerity which he would put into any role is something I really admired about him. With twinkling eyes and charming smile he conquered the world. Mughal-e-Azam to Devdas to Karma…. It's so difficult to find one favourite film of Dilip Kumar. Allah unhe jannat bakshe.
Hasan Zaidi:

Everybody says he was an institution in himself and if there's somebody that I have really followed, really admired and really wished to have met or worked with, it is Dilip Saab. He was a complete man in every sense- a complete Artist, human being, somebody who embodied everything. The amount he was educated, he equipped himself with so much knowledge, the way he understood cinema, politics and the responsibility as an artist, I think nobody else could. And I have read books on him, I have just finished reading his book, in fact, just a week back I watched all his films. This is just the saddest day ever. If you ask me my favorite film of his, it will be Ram aur Shyam, it had everything in it, it had all emotions in it, but there is no film that you can pick up of Dilip Kumar Saab and say that there's something missing in it.
"Yeah duniya aaj se, Phir mehroom ho gai..
Aap thhey, to, Yeah duniya, behtar thhi..
Na hua hai, na ho payega Koi shaks aapsa,
Na shaqsiyat Koi, na fankaar aapsa!"
Mrunal Jain
I loved Dilip Kumar in the films such as Aadmi and Bairaag. He is my father's favourite actor too. I will watch his film today for sure. I couldn't meet Dilip Saab in this lifetime but I have seen most of his films and have seen how articulate he was in tragic scenes. He is and will always be my inspiration.
Nivedita Basu
Dilip Kumar was an icon for the entire Bollywood community. My two favourite films of his are Karma and Saudagar. I did not watch too many films as a child though. I think he lived his life happily with his wife Saira Banu. I remember seeing him smiling in all the pictures, during his interactions with the media. To wear a smile even in your toughest time is something which I think we should learn from him. He loved his craft and his passion got translated into his performances. He was a method actor. I very clearly remember Saudagar because it was one of the cult films that I watched as a kid. The news of his demise is shocking. He is and will always be loved and looked up to. His art was pure and continues to inspire actors of all generations.
Image source: Instagram/mrunaljainofficial/meera.deosthale/vijayendrakumeria/niveditabasu, Twitter/Thedilipkumar