Divya Khosla Kumar Is Delighted As Pearl V Puri Gets Bail; Says 'Have Great Faith On Our Judiciary That The Entire Truth Will Come Out V Soon'
Divya Khosla Kumar pens a note as co-actor Pearl V Puri gets bail. Says she has faith in the legal system that Pearl will get justice soon
An actor, director, producer and most importantly, a friend who never shies from taking a stand to support her close ones, Divya Khosla Kumar, is surely relieved to hear that Pearl V Puri has been granted bail. Divya has been eloquent and vocal for her stand on the case, and since day 1 has been posting and making appeals via her social media platform demanding and asking for justice for Pearl, who has been made a scapegoat in a custody battle gone wrong.
Delighted with this news, she thanked the judiciary in her INSTA Stories and congratulated the actor's fan club for this relief. The actress-producer further wrote in her INSTA Stories of having faith in the judiciary and hopes that the truth will be out soon. Her INSTA Stories read, "Thanking the judiciary involved on social media, she stated that, "Bail Granted @pearlvpuri Congratulations to all the various fan clubs for the immense support Have great faith on our judiciary that the entire truth will come out v soon Satyameva Jayate"
Take a look at the actress' INSTA Stories below-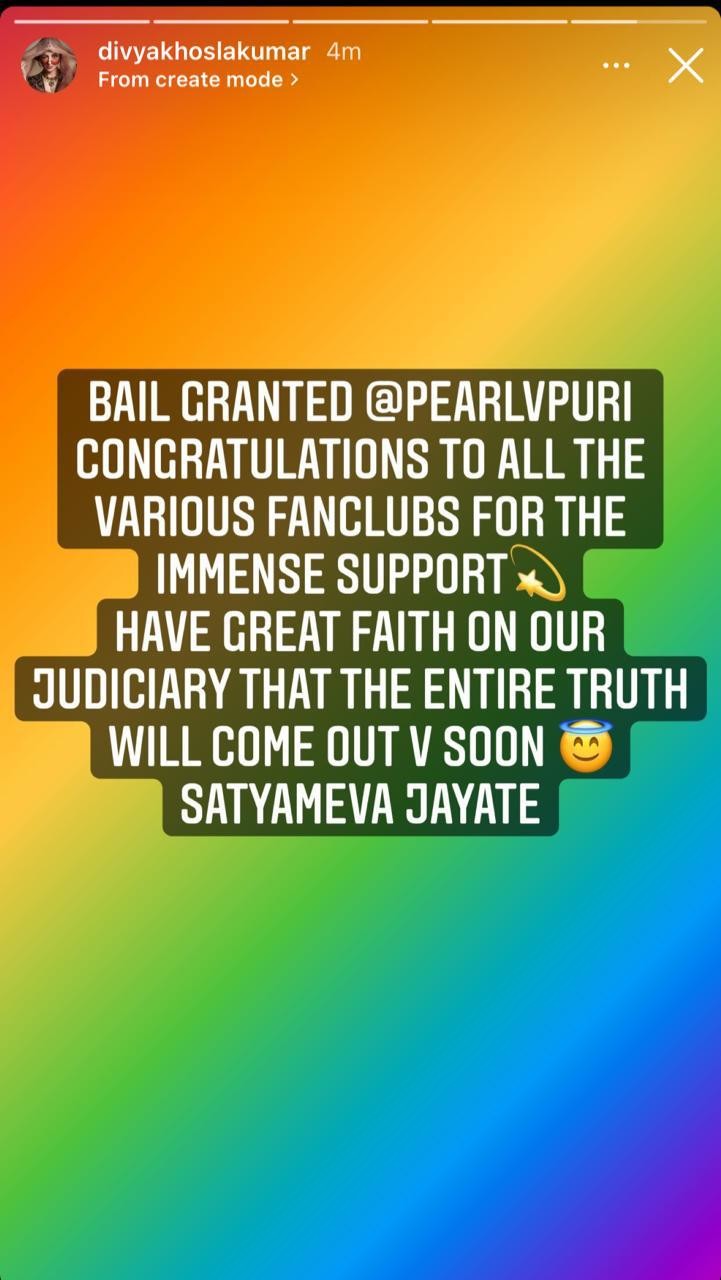 Divya had already slammed the parents of the girl by revealing their identity, constantly speaking in support of the actor she stated the actor was about to sign big projects in his career, but
this case has put everything at stake.
She said, "It's a very serious charge, and it will have far-reaching repercussions on Pearl's career. He was just starting out in life. Television had given him stardom. And I can tell you, he was on the verge of signing a very big film. Now everything is lost."
The actor was accused of molesting a minor on TV sets.
Image Source: Instagram/pearlvpuri