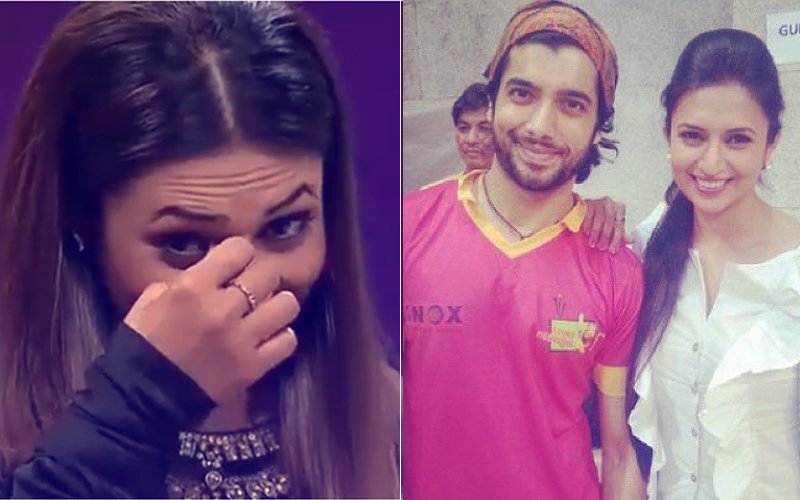 Rajeev Khandelwal is making a comeback to the small screen with his new chat show, Juzzbaatt on Zee TV. Now, Rajeev is a big name in the TV world, so naturally his first guest too needs to be someone who draws a big fan following.
Divyanka Tripathi and her hubby Vivek Dahiya are the chosen ones for the first episode of the show.
We stumbled upon the promo of the show, where Divyanka Tripathi is seen talking about the lowest phase of her life- her break-up with actor Ssharad Malhotra. The actress almost breaks down in tears while talking about it.
Later, Vivek Dahiya joins the show and the couple is seen dancing romantically.
At one point, Rajeev also mentions about Divyanka being pregnant, and that's where the promo cuts.
Talking about Divyanka and Ssharad's affair, well it was a talk of the town in the industry and so was their break-up. They were in a relationship for 8 long years and broke up in 2015.
Divyanka was quite upset after parting ways with Ssharad. However, in a few months, she recuperated with Vivek's entry in her life. The couple tied the knot in 2016.
While talking to a leading entertainment show, a while back, Ssharad Malhotra had said, "After parting ways with Divyanka, people told me that I was wrong, but I think it is my life. Nobody has right to judge me because you have not gone through that situation. I have committed many mistakes in my life. But one thing I have learned is that if you fail to forget and forgive then you cannot move on in your life"
Coming to the promo, well, looks like there's a lot of dope for Divyanka and Vivek's fans in the show.

Images Source: instagram/divyankassharadfc/divyankatriapthiidahiya