Himanshi Khurana: 'I Was Offered John Abraham's Parmanu But I Lost It Thinking The Offer Is Unreal'- EXCLUSIVE VIDEO
Himanshi Khurana speaks to SpotboyE.com about her Bollywood dreams and how she would wait for a concrete role than do fluff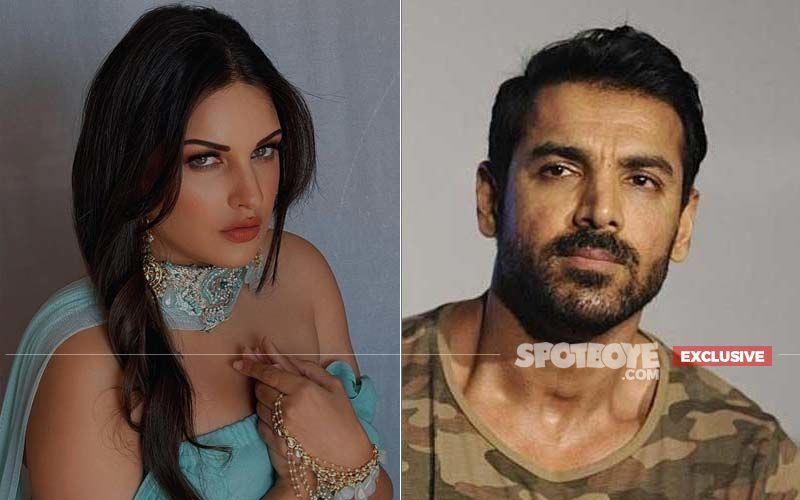 Himanshi Khurana, who is one of the most popular actresses in Punjabi industry, managed to rule hearts of the nation after her participation in the biggest controversial reality show, Bigg Boss 13, last year. After her journey inside, Himanshi continued to entertain her fans with her music videos and the latest one in the list is 'Surma Bole' which has also been promoted at the Times Square, New York.
In an exclusive video interview with SpotboyE.com, Himanshi Khurana said, "It's not just about my choice. I want to do something in hindi space but to say yes for a project you need to get those kinds of projects also. It's not the artist who decides, it has to be a mutual decision of an artist and a producer. I don't want a role which is all about eye candy. I have said earlier that I am not comfortable showing skin. I don't feel comfortable wearing revealing clothes. I am looking for roles which will be based on my character and not attire. I really want to do something different and if the right role will come to me I will surely say yes to it." Also read:
Himanshi Khurana On Her Engagement Rumors With Asim Riaz: 'Logo Ko Aisa Kyun Lagta Hai Ki Ladki Ne Agar Ring Pehni Hai To Use Ladke Ne Kharidkar Di Hogi?'-EXCLUSIVE
The actress revealed the films she said no for, "One of the very popular comedians of Punjab had recently come as a judge on my ongoing show and he told me that we called you so many times then why didn't you say yes to the movie we were offering to you. So that movie was called 'Bambukaat' and it was a story about two girls where one girl was shown of dark skin and the other one was fair. I was offered to play the girl with a fairer skin. Whereas in the movie that dark complexion girl was shown receiving a lot of criticism. The complete emotional focus was on her. So, I thought why to take up a project where complete focus is on her and it's her journey at the end of the day. Where is my character being justified, so I said no to it. Beyond that I was offered a lot of multi starrer films but I was not up for it. And all the big banners which are offered to me are only one two scenes and then songs in the film. Which means they just want me to be part of the songs which I am anyway doing so what's the point of saying yes to such roles?"
The actress went on revealing she left John Abraham's Parmanu also, "I had left one Hindi movie also and that was Parmanu starring John Abraham. I was in Delhi when this film got offered to me and a lot of people compelled me to take this up. It was his wife's role. But honestly speaking I was not able to believe it. I wasn't feeling very sure about it. There was not anything wrong from the makers' side in fact they convinced me a lot but in the back of my mind, I was thinking that why would somebody offer this role to someone from Punjab? My mind was puzzled at that point of time and I said no. But later I came to know the opportunity was real."
Ask her if she felt any regret of losing out on the film and she says, "No not at all. Kyunki main hamesha yahi sochti hoon ki agar mere saath ye chiz nahi hui to vo mere liye thi hi nahi. During Bigg Boss also four times discussions happened and I said no to it but eventually I went there because something good was supposed to happen. It's all about destiny."
Himanshi would like to play performance oriented roles now, "My preference for films is very different like Tapsee Pannu's PINK is what I like. Before that Tapsee had done a number of films in South and that time I saw her in one of the parties in South, I was there for a brand shoot. And I was like she is a beautiful girl. But during that time I used to read articles where she used to get criticised but that's not her mistake. When you will offer her that character she will be able to prove herself which she got in PINK. Exactly like Abhishek Bachchan in Breathe. To unme kabhi talent ki kami nahi thi unko pehle role hi aise aaye ki log unko us tarike se judge karte the. So, with me this is the case if I have waited for so many years, so either I want a performance oriented film or else I don't want to. And I am very clear about it."
Image source: Instagram/iamhimanshikhurana