Holi 2021: Ankita Lokhande Dances Her Heart Out With BF Vicky Jain; Actress Charges Towards Him With A Water Gun, Smears Gulal On His Face- VIDEOS
Ankita Lokhande was seen celebrating Holi with her boyfriend Vicky Jain at home. The two were seen dancing their hearts out!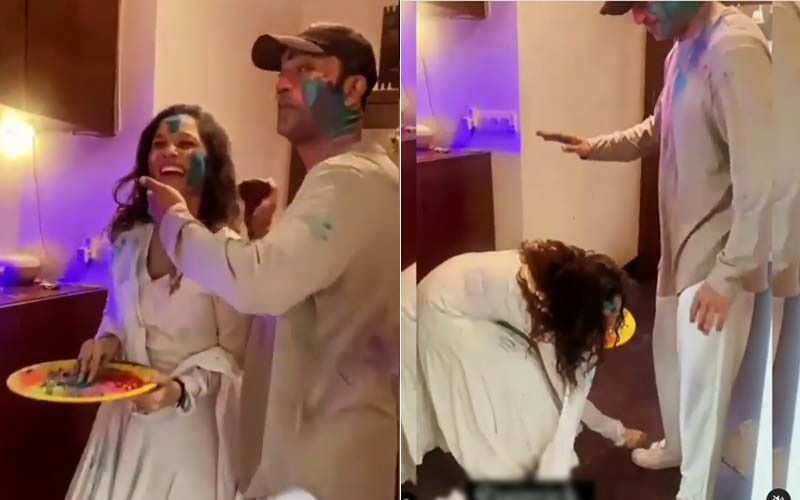 Holi this year will be a lowkey affair for everyone owing to the ongoing Coronavirus pandemic and the surge in COVID-19 cases. While people have been celebrating this festival of colors from the comfort of their homes, that doesn't mean the celebration this year cannot be a memorable one! Ankita Lokhande had a gala time celebrating Holi at home with her family and her boyfriend Vicky Jain, and she took to her social media to share numerous videos!
Ankita Lokhande took to her Instagram account and posted two videos in which she can be seen having the time of her life, celebrating Holi with Vicky Jain. The first video clip shows Ankita and Vicky smearing gulal generously on each others' faces. Ankita can then be seen touching his feet, and seeking his blessings. In another video, Vicky and Ankita dance their hearts out! Ankita was seen wearing a white Anarkali outfit, while Vicky Jain was seen in an olive green tee with loose white pants.
In videos shared on her Instagram stories, Ankita Lokhande can be seen chasing Vicky Jain with a water gun, while he tried running away. Check out videos from their Holi celebration below:
Image Source: Instagram/Ankita Lokhande