Indian Idol 12: Judges Neha Kakkar, Himesh Reshammiya, Vishal Dadlani TROLLED For Their "Over The Top Reaction" On Contestants' Stories; Twitter Flooded With Hilarious Memes
Trolls target Indian Idol 12 judges Neha Kakkar, Himesh Reshammiya, Vishal Dadlani for over reacting every time they hear the contestants' stories. Twitter floods with hilarious memes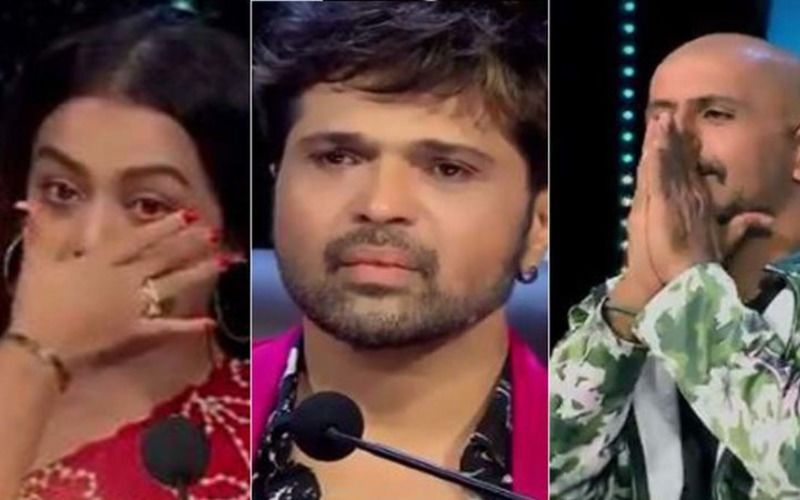 Indian Idol 12, one of the most popular singing reality shows, has been grabbing the headlines for all the wrong reasons lately. A few weeks ago, Amit Kumar claimed that he was asked by the makers to praise contestants, while Abhijeet Sawant criticized Indian Idol makers for focusing on contestants' tragic stories. Many Netizens have been slamming the show as well, for this very reason. A few contestants are also being brutally trolled on social media. This time around, the judges Neha Kakkar, Himesh Reshammiya, Vishal Dadlani were trolled by Twitterati for their overdramatic reactions.
The judges were trolled by many on social media for crying at the drop of a hat every time a contestant speaks about their background, or their tragic stories. Neha Kakkar and Himesh Reshammiya often get emotional upon hearing the stories, and their reactions sent Twitter into meme-making hour. Hilarious memes surfaced on Twitter that portray the judges' reaction every time a contestant begins to say something. LOL! It is, obviously, an exaggeration, but the memes are too funny to miss!
Some memes are also hilarious takes on how the judges react after a contestant performs well. Check out some hilarious memes below:
#IndianIdol
Contestant: I was born on the day my mother gave birth to me
Judges: pic.twitter.com/werpDqDFwi

— Navya Nair (@navyaaa___) June 13, 2021
#IndianIdol2021
No one! Literally no one.
Indian idol judges after every performance. pic.twitter.com/yGefColmEb

— Ankit Vyas (@iankitvyas) June 13, 2021
When Any Contestant Starts Telling About His Family, And the Judges are Not Crying.

Me-

#IndianIdol pic.twitter.com/me2Fbac9u7

— India Trending (@IndiaTrendingin) June 12, 2021
#IndianIdol
Contest:- My father is...
Le Judges for no reason:- pic.twitter.com/i8Zh95DE7P

— Ragini🦋 (@Sweet_Jalebi) June 12, 2021
Contestant: My life ....#IndianIdol

Other Judges to Neha Kakkar pic.twitter.com/F8L5PUVnvb

— 𝐬𝐡𝐚𝐤𝐢𝐛 (@ShakibSarafat) June 14, 2021
I'm so bored lmao I've been following this Indian Idol drama lately and that's the most fun I've had in days😭

— Kaafi Problematic (@manishaww__) June 13, 2021
15 minutes into this show.
Me :#IndianIdol pic.twitter.com/BlYXH2ffL3

— Naveen (@_naveenish) June 13, 2021
After almost every performance, Indian Idol judges - Aapne mausam badal diya...

Meanwhile weather department - pic.twitter.com/e87k66pm3q

— Manas R Dash (@iammanasr) June 7, 2021
*When Indian Idol judges and contestants didn't cry for a while

*Meanwhile audience to their tears: pic.twitter.com/bZvikHGdrf

— Aniket Sharma (@theonlypandit20) February 20, 2021
After watching judges amd contestants cry
People:#IndianIdol pic.twitter.com/hTunAHmrxX

— Last Human (@pLastHuman) May 22, 2021
Last month, while speaking to Aaj Tak, Abhijeet Sawant had criticized the makers of Indian Idol, saying that they focus more on the contestants' tragic stories, than on their singing talent. "These days, the makers are more interested in whether the participant can polish shoes or how poor he is, rather than his talent. You should watch regional reality shows where viewers may not know anything about the background of their favourite contestants. Their focus is only on singing, but in Hindi reality shows, the tragic and sad stories of contestants are shown. The focus is only on that," he said.
ALSO READ: Indian Idol 12: Shanmukhpriya Trolled Again For Her Singing Style, Host Aditya Narayan Comes To Her Rescue
Image Source: Twitter/navyaaa__