Indian Idol 5 Winner Sreerama Chandra Has A Heated Argument With Stylist; Abuses Her Over Text Messages
Subhanallah (Yeh Jawaani Hai Deewani) singer, Sreerama Chandra, who is also an Indian Idol winner, recently got into an ugly fight with his stylist, Sugandha Sood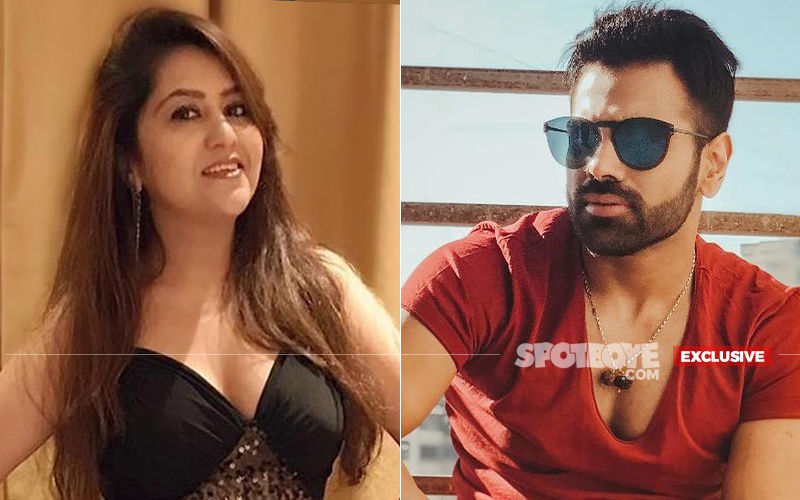 You may remember Sreerama Chandra- Indian Idol 5 winner
and we hope that you do because according to a recent incident, the cost of telling the singer that he is not famous enough is an ugly argument, getting blocked on his list, followed by a series of abusive messages.
You read that right! Sreerama Chandra, who has sung the beautiful song Subhanallah, from Yeh Jawaani Hai Deewani had a rather ugly argument with his stylist, Sugandha Sood, who has been styling the singer since September 2018.
Here's what happened. Yesterday, Sreerama's manager, Joshina Anand sent a message to Sugandha, asking for an outfit for the singer for an upcoming event. Sugandha, who has been trying to put her point across past a few times, that Sreerama needs to get a stronger hold on social media for her to get clothes for him from renowned designers, put forth the same point again, in her reply. She told Joshina that it's getting difficult for her to fetch clothes for Sreerama because of his weak social media presence, and he really needs to up his game. This message hurt the singer's ego and he called Sugandha to fire her. He then blocked Sugandha's number and later, on a common group (of Sugandha, Joshina and Sreerama) started abusing the stylist, from Joshina's phone.
We got in touch with Sugandha who confirmed the incident and told us that Sreerama is a difficult person to work with. "Not just me but he talks like this to everyone. His manager, Joshina, is a good friend of mine and that's why I agreed to style him, in spite of his unprofessional behaviour. But this time he crossed his limit by abusing me, that too because I showed him the mirror," Sugandha told us.
The stylist further said that Sreerama not only abused her from his manager's phone but also deleted her name as courtesy from all the posts. "I also spoke to his father who apologised to me on his behalf but I am in no mood to forgive him because he will continue with his obnoxious behaviour with others. Strangely, his manager Joshina, who is a girl, is supporting this appalling behaviour," added Sugandha. The stylist told us that he used sentences like "Do kaudi ki stylist...." while talking to her (chats shared by Sugandha, see below).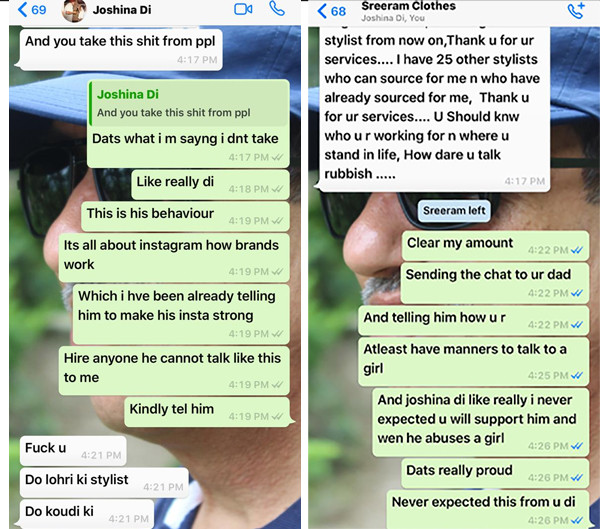 To know the other side of the story, we tried to contact Sreerama, who was not reachable. A few text messages to him also went unanswered. We then contacted his manager Joshina, who was already fuming when we called. She didn't deny the incident and added, "Sugandha is the worst person to work with. And she too abused Sreerama." Joshina also said she can show messages as proof, however, when we asked for them, the manager said we can write whatever we want as she doesn't want to get into it. Joshina even said she will call later but the call never came.
Meanwhile, we again tried to contact Sreerama by sending him messages about what his manager has told us about the incident. However, he chose to ignore those. And what's even stranger? When we called him, he had blocked our number too!
Image Source:- Instagram/ stylebysugandhasood