Karanvir Bohra's Wife Teejay Sidhu Stranded At The Newark Airport; Expresses Her Angst On Social Media
After being stranded at the Newark Airport for more than 12 hours, TV actor Teejay Sidhu is absolutely furious and takes to social media to bash the airlines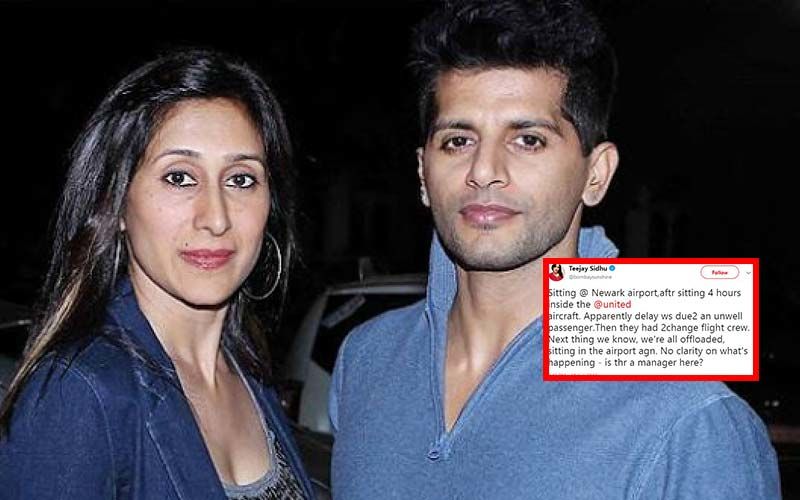 TV actor Karanvir Bohra's wife has been stranded at the Newark Airport for more than 12 hours now and she is absolutely furious with the airlines. Teejay Sidhu was on the way to join Karanvir Bohra for the promotion of their film Hume Tumse Pyaar Kitna but is now stuck in this unfortunate situation.
Teejay posted a series of tweets back-to-back that started about a few hours ago. She posted that the passengers had been seated in the flight when united airlines delayed the flight due to one of the passengers being unwell- after which, they were offloaded and were asked to sit in the airport again with no clarity on the matter.
Teejay was very disappointed with the airlines and also tweeted about how this is the first and the last time that she is flying with united airlines. She then went on to trash the airlines for escorting a very sick passenger to a 14 hour long flight. After being stranded for over 12 hours, she calls it a mental trauma.
Despite of multiple tweets back to back, United Airlines chose to reply to her after several hours asking her to formally request compensation, which infuriated her further. She tweeted back by saying, "Request compensation?? Are you serious? After sitting on a flight for 4 hours, with NO FOOD, then standing in line for 6 hours, still NO FOOD, you have the audacity to tell me to 'request' compensation?? You have sunk to a new low, even for you!! @united #UnitedAirlines"
Take a look at some of her tweets:
TV producer Vikas Gupta also replied to Teejay Sidhu's tweet and slammed the airlines:
For now, we can only hope that she can make it to her destination within time but it doesn't seem very likely.
Image Source: Twitter/bombaysunshine/lostboy54, Instagram/karanvirbohra, spotboye