Kaun Banega Crorepati 13: Amitabh Bachchan's Designer For The Show Priya Patil Spills The Beans On The Current Rage, The 'Tie-Bow' - EXCLUSIVE
Talented designer Priya Patil, who has been working with Amitabh Bachchan for more than a decade, is the brains behind the "tie-bow" that he flaunts on Kaun Banega Crorepati 13 with elan.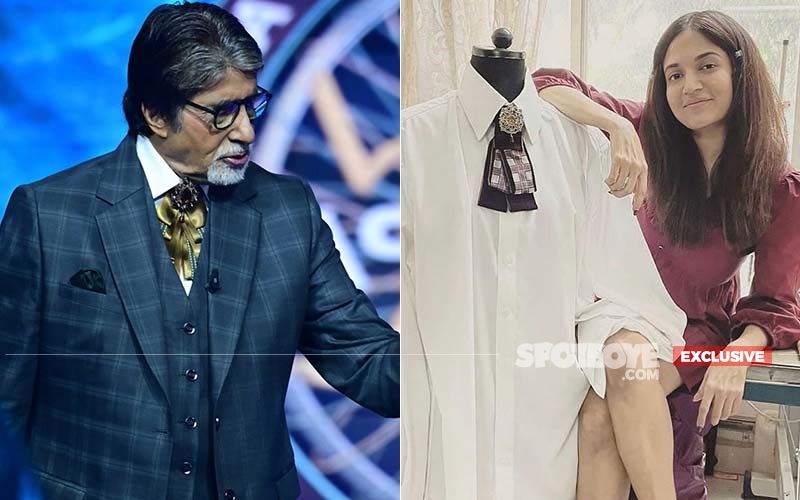 Megastar Amitabh Bachchan is back with the new season of Kaun Banega Crorepati. Along with his hosting prowess, what attracts the viewers is his unique style, accentuated by his suits. Be it his band-galas, bow-ties or the new rage, the tie-bows, the legendary actor spells style and royalty. There's a lot that goes into styling this maverick of an actor and host. SpotboyE.com spoke to the person behind his attire on the show - young designer Priya Patil.
Styling the star of the millenium must be a herculean task, at least in the mind, but Priya knows her job too well. Ask her the kind of colours she keeps in mind for Mr Bachchan and Priya says, "KBC is an evening show, so for the past three years, I have been giving him the same look where you can see him in three-piece suits and band galas. And on the festive episodes, you may see him in short sherwani, pajama kurta. So I kept it the same. Considering it's an evening show the colors are again kept classic. Because he himself likes the classic looks. Black, navy, wine, maroon, and a bit of pop colour."
ALSO READ: Kaun Banega Crorepati 13: Deepika Padukone To Grace The Hot Seat And Answer Amitabh Bachchan's Questions For 'Shaandar Shukrvaar' Episode Next Week-EXCLUSIVE
Priya adds that the one thing she keeps in mind while styling Mr Bachchan is his comfort. "With Mr Bachchan, anything he puts on makes you say 'the clothes don't make the man, the man makes the clothes'. So whenever you put anything on him, he brings in glory altogether. But as we know the shooting of the episodes goes for a couple of hours, my first concern is his comfort as he keeps seated on the chair for a very long time."

And does the megastar give his opinion or inputs? "Before beginning the season, I always present the style to him - which has all what I will be giving him to wear this time and if anything new I am introducing. So at that point, we have that interaction, and if he has any suggestions, he keeps them forward. Like I remember two seasons ago, he had introduced the whole idea of a brooch on a tie. The next year I did something with different knotting techniques of ties - which was really celebrated. And in this season, my focus is on the tie bow. So I am looking forward to that," Priya Patil signs off.
Image source: Instagram/stylistpriya