Kaun Banega Crorepati 13: Virendra Sehwag And Sourav Ganguly Pull Each Other's Leg, Leaving Amitabh Bachchan In Splits- Watch
Kaun Banega Crorepati 13's Shukravaar episode becomes shaandaar as Virendra Sehwag and Sourav Ganguly grace the show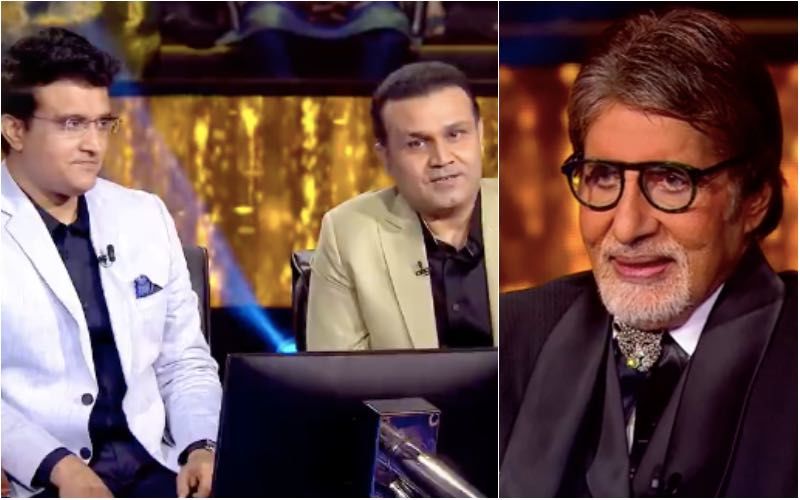 Former Indian cricketers Virender Sehwag and Sourav Ganguly have become the latest guests to feature in the upcoming Friday episode of Kaun Banega Crorepati 13. The two are coming for a special episode called Shandaar Shukravaar wherein they will not only take the hot seat by storm but will also leave host Amitabh Bachchan in splits by revealing some anecdotes from their time on the field. We recently came across a promo of the same where we got glimpses of Virendra and Sourav's friendly banter.
In the promo, Virender and Sourav are seen pulling each other's leg and Amitabh Bachchan seems to look amused by them. Sehwag says that wherever Sourav goes, he captures the place. Giving examples, he says the former skipper captured captaincy when playing for India, he captured the presidency post for the BCCI and now he is in Amitabh Bachchan's seat on KBC. To this, Amitabh gets a little worried. Furthermore, Ganguly tells Big B not to trust Sehwag, who then reminds everyone of how much he has helped Sourav in the past on the cricketing field.
"Museebat mein na, main hi kaam aata tha inke. Final mein run banane hon, tez run banane hon, koi opener na mila ho toh Virender se opening karalo, koi bowler na ho toh bowling karalo, kaam main hi aaya hu (It was always me who came to his rescue at the time of need. Whether to make runs at finals, make runs fast, for opening when they found no one, to bowl when they found no bowler. It was always me who helped him)," Virender Sehwag said.
Virendra Sehwag and Sourav Ganguly will feature on the Friday episode of Kaun Banega Crorepati 13. And must say, it looks like a treat for all Cricket fans!
Image source: Instagram/ sonytvofficial