Kaun Banega Crorepati: An Old Video Of Amitabh Bachchan's 'Awkward Dab' Sends Internet Into A Meltdown; Netizens Call Him 'Amitabh Dabcchan'- Watch
An old video of Amitabh Bachchan doing a millennial thing on stage has surfaced online. However, his way of doing it was so awkward that netizens are in splits to see. Watch the funny video here!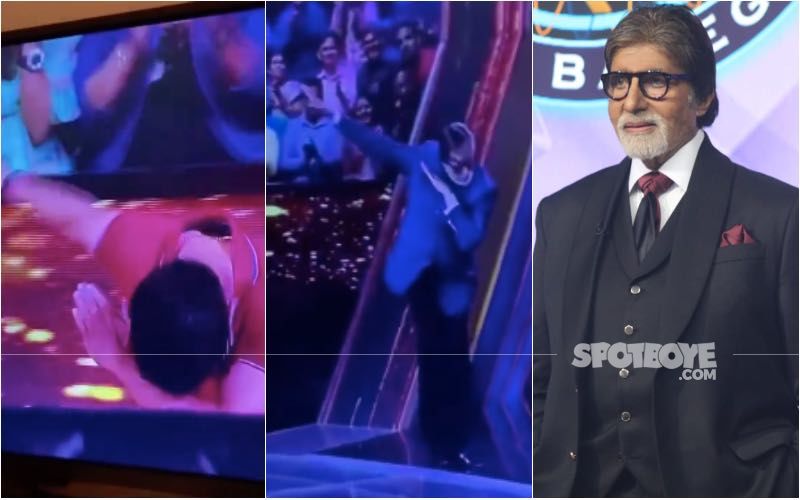 The past 12 seasons of Kaun Banega Crorepati have shown us numerous good and hilarious moments that are related to the legendary host Amitabh Bachchan. Earlier, in one of the episodes of earlier seasons, a contestant named Rekha Kumar said she disliked Big B in Mohababatein and Kabhie Khushi Kabhi Gham because he was mean to Shah Rukh Khan in the film. Funnily, Bachchan said that he would then render an apology to SRK. And now another old video from the show has surfaced online - which netizens just can't get over.
The video shows Amitabh announcing that some Abhishek Jha has won the fastest finger first round but as he got up to come towards the host, his friend, in the audience, did the famous 'dabbing' step. To celebrate his win, Jha too imitated him and this was noticed by Amitabh. Joining the millennial trend and to keep up with Gen Z, the megastar too did a dab which looked a bit awkward. A social media user dug out this video, and it has since gone viral. Big B's fans are in splits.
Reacting to his awkward dab, there are multiple people who have called him, 'Amitabh Dabcchan' 'Amitabh Bachpan' 'Amidab bacchan' while one said, "Bachan sahab dabbing is too cute", one more said, 'this is epic'.
For the unversed, dabbing is a style of hip hop dance that involves dropping one's head with one arm raised and resting the face inside the elbow of the other arm.
Watch the old video here:
Kaun Banega Crorepati has been ruling the roost for 20 years now. The 13th season started this Monday and it already got its first crorepati in a visually impaired contestant Himani Bundela. She successfully answered the Rs 1-crore question.
Speaking of hilarious moments, in one episode of this season - Kaun Banega Crorepati 13, while reading out one question, Mr Bachchan got stuck on the word 'mucormycosis'. He took several attempts to pronounce the word correctly but after failing to do so, he got a little fed up and said, 'Isko toh bolte bolte hi insaan bimaar ho jaaye'. LoL.
Image source: Instagram/ emoboisofindia/ SpotboyE archives