Khatron Ke Khiladi 11: Netizens Slam Makers For Recreating 'Frying Pan' Scene Featuring Vishal Singh Aditya And Madhurima Tuli-Watch
Fans are miffed with the makers of Khatron Ke Khiladi for recreating Bigg Boss 13's 'a** smacking with frying pan' scene involving Vishal Aditya Singh and ex-flame Madhurima Tuli. Netizens feel it was not funny and unnecessary. Read their comments here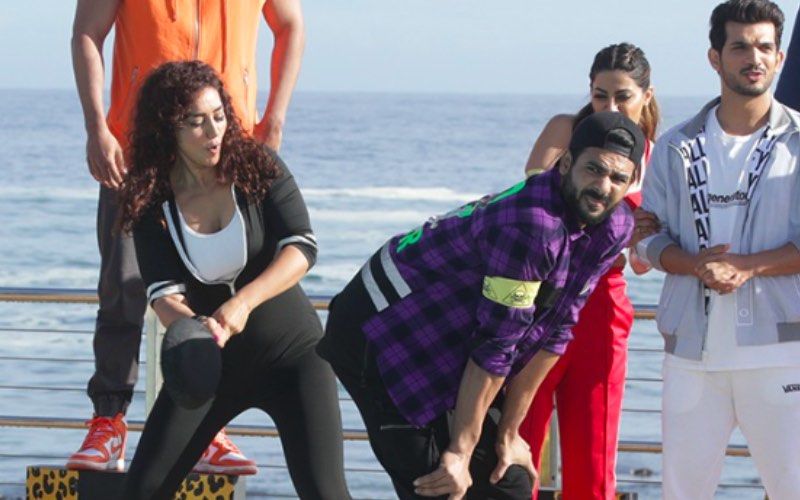 Sometimes the makers of reality shows go an extra mile to amplify the entertainment quotient, regardless of how the audience will react to it. A similar thing happened recently with the stunt-based reality show, Khatron Ke Khiladi 11 when contestants Vishal Aditya Singh and Maheck Chahal recreated Bigg Boss 13's 'a** smacking with frying pan' scene involving Vishal Aditya Singh and ex-flame Madhurima Tuli. Netizens are miffed with the makers and they feel the scene was not funny and unnecessary.
A fan commented, "this was so not funny and unnecessary! we all could see how uncomfortable #VishalAdityaSingh was and they didnt have to bring BB13 histrionics to his fresh new project. Its sad how one incident is defining his entire identity. Dont do this yall:("
Another one wrote how the clip was an unpleasant one, it said, "Idk much about #VishalAdityaSingh, but i guess the pan clip wasn't a pleasant memory from his expressions! They could've avoided it easily but…. Well kudos the way he performed! Strong Contender for sure! #KKK11 #VishalAdityaSingh"
There was another who commented, "That pan incident should not be included That was disrespectful #VishalAdityaSingh"
THIS IS NOT DONE! It's physical violence and he suffered so much cause of this! STOP THIS SHIT! 🤢

— P🌻 (@jadoreasim) July 18, 2021
It's not funny at all.
SHAME

— Sid❤naaz (@eye4sidnaaz) July 19, 2021
Stupid task she hit him so hard he was having whole night pain to top it up he was sent to jail that week no sense to add salt to someone's pain why hav u brought the pan joke and if u bring rahuls pain of bb it wont be good.

— RKV 🧡 Nmu (@NamuxoxoR) July 18, 2021
sorry but it's not funny, it must be very humiliating for him, and I am sure they will continue this throughout the season.

— Kenali (@Kenali98270770) July 18, 2021
In the name of fun, this is actually a pure case of mental and emotional harassment of Vishal Aditya Singh by the @ColorsTV channel. We've all seen in BB13 how badly the event affected him and traumatized him. Poor of @ColorsTV to do this.

— JJ (@ImTheDude11) July 18, 2021
The channel hitting on someone's past, digging out his/her vulnerabilities and bagging TRP for the same is nothing new & im not surprised. 🤷‍♀️

— 𝕮. (@cocodotcom) July 18, 2021
This isn't funny... This was never funny.. Stop making fun of vishal

— 𝘈𝘣𝘩𝘪 (@Awwbhishek_) July 18, 2021
For the unversed, in the Bigg Boss 13 house, Vishal and his ex-girlfriend Madhurima Tuli were at loggerheads. They were often seen fighting with each other on petty things. However, things escalated when Vishal provoked her and in a fit of anger, Tuli simply picked the frying pan and smacked his rear till it broke.
After the incident, during the Weekend Ka Vaar episode, host Salman Khan schooled her and asked to leave the house immediately as a punishment.
Image source: Twitter/ ColorsTV