Manish Naggdev Bares It All About Ex-Fiancee Srishty Rode- FIRST Interview On All That Went Wrong
Manish Naggdev created a buzz yesterday as he posted a long emotional note on his broken relationship with Bigg Boss 12 contestant, Srishty Rode. We got in touch with Manish to know why he opened up after so many months and what exactly went wrong between the two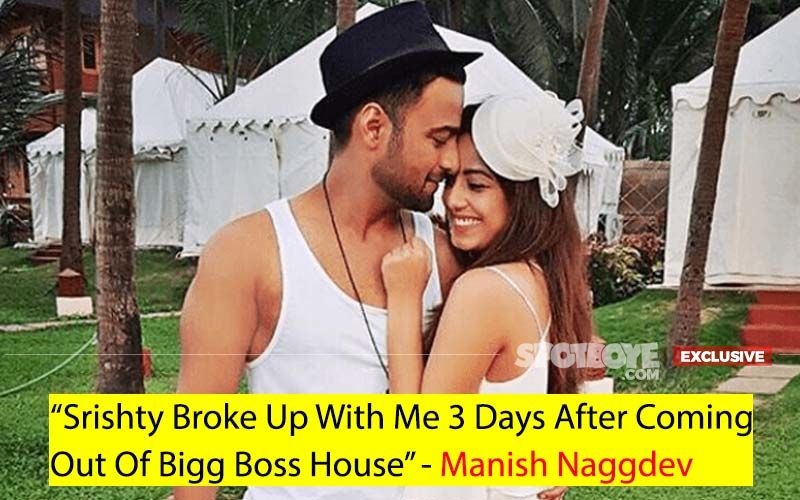 In January, Manish Naggdev and Srishty Rode announced that that they have called-off their engagement. This happened very close to Srishty's exit from the Bigg Boss 12 house. Yesterday, after 6 months, Manish posted a long note explaining his mental state. His friends, Divyanka Tripathi, Kamya Panjabi and a few more came out in his support.
SpotboyE.com got in touch with Manish to know why he kept mum for so long and finally, to know what went wrong in his relationship. The actor bares it all. Excerpts below:
Srishty Rode and you broke-up in January. It's been 6 months, why were you silent for so long?
I was trying to figure out things and just couldn't digest with the way things unfolded so fast. Since the time the news of our break-up came out in media, I was being dumped with hate messages from her fans and social media users. It was extremely disturbing because I was made to look as if I am the culprit and the one who ended the relationship. It was getting too much and that's why I decided that I will not let this impression go out when she is the one who has walked out of the relationship. In spite of me being the victim, I am suffering and she is busy enjoying her life.


Are you ready to face Srishty's reaction to the allegations you've made in your open letter?
My whole idea of posting the letter on social media was just to vent my feelings and convey the message to ones who think I am the reason for our break up. But in my post, I haven't defamed her as I had no intentions of mudslinging. Whatever I have written are facts.
So, what exactly went wrong that the relationship ended after engagement?
Nothing went wrong as such. The moment she came out of Bigg Boss 12 house, within three days, she decided to call it quits. She told me that she is detached and doesn't want to be in a relationship now because everything is in her favour and working out in a positive way. And mind you, she spoke all of this over a phone call. I told her let's sit and talk but she said, "I am detached from you, what is left to talk about?"
How did you deal with this sudden shock?
It was immensely disturbing. That was the time when I was shooting for Udaan and I can't tell you how difficult it was for me to handle it. I have always stood by her, even when she was inside the house, everyone saw how I defended her always, in spite of not knowing what's exactly going on inside the show. She comes out of the house and casually breaks-ups. Then I see her holidaying and posting pictures with different guys. It was extremely painful.
You're heartbroken but is this attempt also to get some sympathy from the public?
Not at all. My reason to come out and talk is because my relationship with her was public. I have never hidden my feelings for her and she also did the same.As I said earlier, I was continuously being questioned about why I broke-up with her and I decided finally to answer that. Without even mentioning her name I have just kept my side of story without blaming her.
You think Bigg Boss changed things between the both of you?
The reality show definitely played up on her mind. She started thinking 'I am this and I am that'. It happens with people who are overambitious. They tend to forget those who stood by them in crisis and move on easily. I guess same is the case here.
Speculations were that Rohit Suchanti was the reason for your split but you denied it....
Yes, at that time I said this. I also didn't know what exactly was cooking behind me.
What is the worst part in all this?
The worst part will always be that it ended on a phone call. Jabki families were involved. We had a Roka ceremony and were soon planning to get married. But ending all this on a phone call is very sad.
How are you tackling the situation post break-up?
It is difficult. The moment I post a picture or a story with a friend on social media, I start getting trolled. People DM me hate messages and comments. There are people who abuse me, which is like a harassment as they think I left Srishty because of her closeness with Rohit Suchanti. If I wanted to do that, I would have done that during the show and taken some good publicity out of it. But I didn't do anything because I had blind trust on her.
So, if we ask now, is Rohit the reason for your break-up, what will you say?
I don't want to blame anybody here. Because no person can just walk in and change you until you want to change. Honestly, I don't want to blame Srishty also for this as these are just phases! People change, break-ups happen. Again, I repeat, my idea to come out in open was only to clear the impression that I didn't leave her out of insecurity.
In your post, you have mentioned that a friend of yours told you some other story which forced you to come out and speak about the break-up.
A mutual friend of us was sitting with me yesterday and chatting. I can't take his name but the story which he was been told was absolutely wrong. And that definitely convinced me to come out and write whatever is true. Jab maine suna mere apne doston mein baat phaili hui hai ki maine usko chhod diya, yeh sunkar mujhe aur bura lagne laga. How would I be insecure of her closeness with Rohit when I have supported her sitting outside, in all my interviews. I would have created a havoc and got a wild card entry that time itself.
Well, in that case, Srishty too looked involved with you as she took your name inside the house multiple times
Yes, she did that because she knew very well that only Manish is there outside who is handling her social media marketing. No PR company was hired and I was solely promoting her. So, she knew if she will do anything against me I can do anything outside. And that's why she was not opening completely inside the show.
Now that you have cleared your part, you feel that it will help?
It's already helping me. I have got so many calls and texts from my friends, family. Fans have DMed me that they are happy with my decision of venting as now they are also connecting the dots and realizing who was right and who was wrong. I am being honest with what has happened and there is nothing fake about it.
Your post says men also have feelings...
Yes, because we all know whenever anything like this happens, a man's word gets pressed down. I just anted to convey the message that a man is not always the culprit when a relationship breaks. I wanted to motivate those who have felt the same but been quiet about it. I am not a man who is abusive, who believes in violence. It was my way of expressing my feelings, which I did.
What is your family's reaction on this whole matter?
My Mom was extremely attached to her and post our break-up, my mother went through a bad time. She keeps overthinking. She is worried about me all the time. In fact, today also she is very quiet.
Is she unhappy with the fact that you have gone out in open to write about your feelings?
Till your phone call she wasn't aware. But I don't think so she will have a problem because it's my right to share my feelings and no one can control it.
How difficult will it be for you to get into a new relationship?
Very difficult I would say as I have become very cautious. There is a saying, think twice before you do something. In my case, I will think thousand times and then do it.

Image Source:blogspot.com
They say the best things in life are free! India's favourite music channels 9XM, 9X Jalwa, 9X Jhakaas & 9X Tashan are available Free-To-Air. Make a request for these channels from your Cable, DTH or HITS operator.