Merry Christmas 2020: Rajveer Singh, Tannaz Irani, Pooja Banerjee, Mughdha Chapekar Share Their Memories Of The Cheerful Festival
As it is Christmas 2020, television stars Rajveer Singh, Tannaz Irani, Mughdha Chapekar have shared some of their good memories about the festival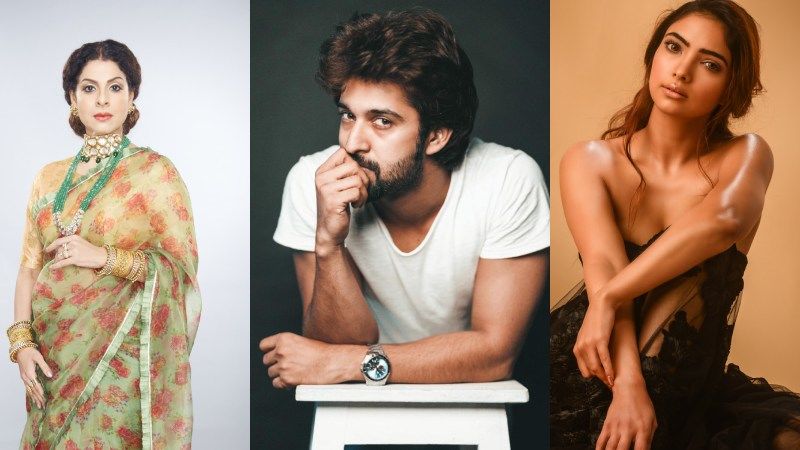 As it is Christmas 2020, television stars like Rajveer Singh, Tannaz Irani, Mughdha Chapekar have shared their excitement for the festival. The stars have also shared some of the good memories associated with the festival. Though the outbreak of Coronavirus has affected the Christmas plans, the enthusiasm is still intact.
Rajveer Singh who plays Neel in Qurbaan Hua said, "Christmas calls for celebrations and I truly wish for everyone to have fun, this festive season. We all have a childhood memory associated with Christmas and in fact, we associate the festival with red colour, cakes and Santa. As kids, we used to wish that Santa would come to our home and make our dreams come true. I hope everyone still believes in this and has that child-like innocence within them. Although, the Christmas and New year celebrations will be relatively different this year, I do hope everyone enjoys this new beginning keeping all precautions in mind. From the entire Qurbaan Hua cast a Merry Christmas and Happy New Year!
Tannaz Irani who plays the role of Maharani Rajeshwari in Apna Time Bhi Aayega shared, "The best Christmas and New year we've ever had was a house party I had hosted years ago at my house. The kids, grownups and grandparents danced the night away and it was quite a cosy yet a happening night. . I deeply cherish the Christmas and New Year celebrations of 2008 where we had quite a gala time in Goa. Back at that time, I was pregnant with my son Zeus, yet we stayed up the entire night. My dear friends Kishwer Merchant, Hiten Paintal, Sandip Sikcand and a few others from the industry accompanied us for on this trip. We had quite a blast and I still fondly remember the day and hold it extremely dear to my heart. On this New Year, while we had plans of travelling abroad but alas, we cannot make it this year due to the pandemic. While I might be shooting for Apna Time Bhi Aayega, I still plan to keep the celebrations cozy and vibrant like every year. Wishing every one Merry Christmas and Happy New Year!"
Mugdha Chapekar who plays the role of Prachi in Zee TV's Kumkum Bhagya mentioned, "Christmas to me is more about eating cookies and plum cake as well as wearing all the jackets and sweaters that I have! I grew up singing Hymns and Carols and I absolutely love watching Christmas movies these days. I really love this festival more so because Christmas is followed by New year and this year has been quite a ride for everyone. I hope the new year brings in joy and health and happiness in everyone's lives. Wishing everyone a very Happy new Year!"
Pooja Banerjee who plays the role of Rhea in Zee TV's Kumkum Bhagya said, "I have extremely fond memories of Christmas and New Year. I have always visited the Church on Christmas and New Year's Eve. I used to be a part of the church choir for the tradition of singing carols and I thoroughly enjoyed it. Christmas and New Year has been a festival very close to my heart. This year, along with celebrating the festival with my Kumkum Bhagya co-stars, I plan to decorate my house to keep the spirit of the festivities alive. While, I do not have travel plans this year, I do plan to host a small humble dinner party for my close friends. I wish the festivities bring light and happiness to everyone's lives. Wishing everyone a very Merry Christmas."
Sanjay Gagnani who plays the role of Prithvi in Zee TV's Kundali Bhagya mentioned, "Christmas has always been very special for me with all of us singing carols, mom baking cakes and stocking up on goodies while Dad decks up our home with the Christmas tree and all the decorations. This used to be our tradition since we were kids, and we used to attend the early morning church service as well. Amidst all this flurry of activity what stands out always is the happiness that we would get by sharing what we have with others. This is a lesson that our parents taught us quite early in life. We used to host friends and family for lunch every year, spend time with them, give them cake and gifts and this made us really happy. I feel the true spirit of Christmas is sharing and caring. That's what makes it so special. With these memories of mine, I set out to reminisce special childhood memories of friends, colleagues and relatives. I have the same plan this year too, decorate the house with a Christmas tree, invite some of my Kundali Bhagya co-actors and other friends over and celebrate the festival with plum rum cakes, yummilicious food and dance."
Nikki Sharma who plays the role of Kalindi in Brahmarakshas 2 shared, "A lot of my Christmas celebrations revolve around watching some of the best Christmasy movies. My favourite Christmas movie has to be Home Alone. I am a huge fan of Macaulay Culkin. Apart from this, I actually love playing Santa on Christmas and bringing joy, happiness and gifts to everyone's life. I feel Christmas is all about a family coming together and having a feast and I usually always try to plan something special for my mom on Christmas Day. While I would be shooting for Brahmarakshas 2 on this Christmas, I do hope to get some time to plan a special Christmas for my mom. For me Christmas has always meant gorging on plum rum cakes and reuniting with family and friends. I wish everyone a very Merry Christmas."
Siddhaanth Vir Surryavanshi who plays Kuldeep in Kyun Rishton Mein Katti Batti said, "I'd say every occasion and every festival is a special one for us as a nation. I simply adore the loving vibrant energy and the happiness that comes with Christmas, this time of the year. For me and my family, it's been a tradition s to beautifully set up the Christmas tree with all the decorations we can get our hands on and light it up. My kids, especially, look forward to getting gifts. My personal favourite is the plum rum cakes that we gorge on. It's simply delicious. This year I look forward to even celebrating the festival and new year with my Kyun Rishton Mein Katti Batti co-stars along with my family. I wish everyone a very merry Christmas."
Image Source: PR