Monalisa-Shalin Bhanot Hot Dance Video Goes VIRAL; Bhojpuri Actress Shows Off Her Sexy Moves In Saree On The Song 'Lollypop Lagelu'-Watch
Monalisa shares a video of her and Bekaaboo co-star Shalin Bhanot dancing to the Bhojpuri song 'Lollypop Lagelu'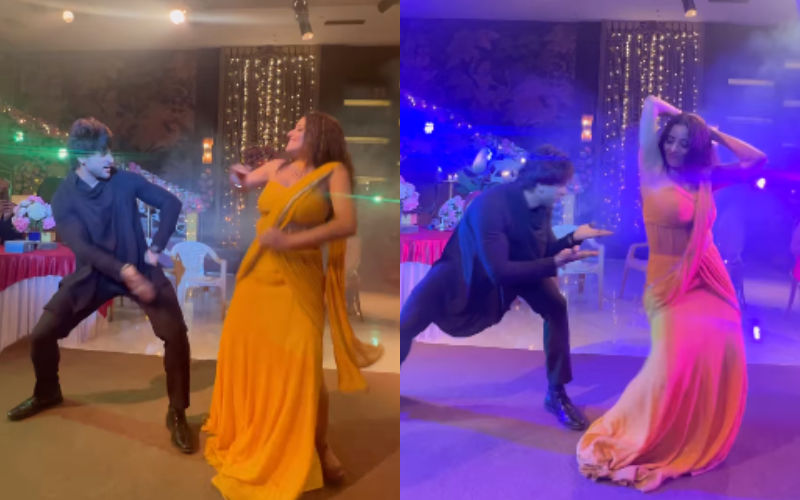 Bhojpuri actress Monalisa is burning up Instagram with her latest hot dance video. The actor, who is currently seen playing the lead role in Ekta Kapoor's show 'Bekaaboo' has dropped a video of her and co-star Shalin Bhanot doing a crazy dance on the viral Bhojpuri song 'Lollypop Lagelu'. Monalisa looked piping hot in a sexy yellow-colored saree as she showcased her sultry moves with Bhanot. The duo's crazy dance moves and sizzling chemistry has left fans in awe.
On Thursday, the actress posted their dance video from the sets of the show and informed fans how they all kept spirits high on the sets even after long working schedules. Alongside the video, Monalisa wrote, "Had To Keep The Original Sound… Cause This Is The Vibe We have On Set… Even after A very Long Day Shoot… Everyone Is So Energetic And Excited… @shalinbhanot you are always super energetic… And This "Song" Ohooo… Always have great Fun performing On this…AND OUR FAVOURITE "RANJAN SIR" @singhranjankumar YOU ARE SUCH AN AMAZING PERSON AND ALWAYS CHARGE US UP… YOU ARE ALL IN ONE."
From desi thumka's too-crazy dance steps, Monalisa and Shalin burn the dance floor with their electrifying moves. Many fans showered praise on Monalisa, calling her the best dancer. One netizen commented, "Madam at the age of 41 also you will dance so well and I am 44 years old so if I sit once I cannot wake up only."
Meanwhile, Shalin Bhanot, Eisha Singh, and Monalisa starrer fantasy revenge drama 'Bekaaboo' explores the realms of fairies and demons. The epic story revolves around Rakshas and Pari who are unaware of their magical ancestors. The supernatural thriller series premiered on 18 March 2023 on Colors TV.