Neha Kakkar And Rohanpreet Singh Engage In An Physical Fight As They Promote Their Upcoming Song; Netizens Find It Too Cute- WATCH
Neha Kakkar and Rohanpreet Singh engage in a fake fight to promote their upcoming song Khad Tainu Main Dassa. Neha's fans found the video cute; take a look!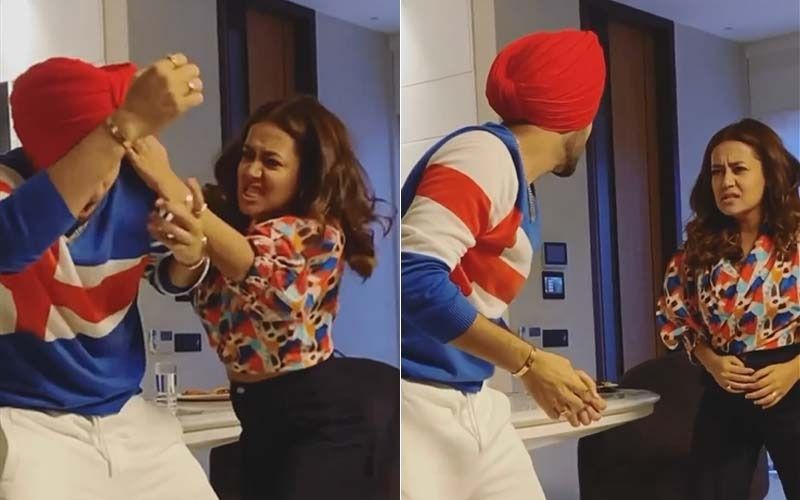 Neha Kakkar and Rohanpreet Singh, who tied the knot in October last year, will soon be seen together in another music video. Neha and Rohanpreet have featured in 'Nehu Da Vyah' and 'Khyaal Rakhya Kar' together, and fans are pretty excited for their upcoming single 'Khad Tainu Main Dassa'. Neha Kakkar is quite active on social media, and is often seen sharing the most entertaining videos and reels on Instagram, keeping up with the trends. This time around, she posted a video of her and Rohanpreet getting in an ugly fight, to promote their upcoming song.
The video shared by Neha Kakkar shows her and Rohanpreet getting in a physical brawl. Of course, it is a fake fight, and the video is just to promote their song. In the video, the two are seen angry at each other, and as they fight, Neha later storms off. Sharing the video, she used the hashtag "#KhadTainuMainDassa." Rohanpreet also reposted this video, and wrote, "Hadd Hai Yaar! @nehakakkar." The video soon garnered a lot of attention, and while a few who didn't know about their upcoming song were worried about why Neha and Rohanpreet were fighting, many others found it cute.
Manmeet Singh from the Meet Bros wrote, "Haha. Cutest fight ever," while another social media user commented, "Oh God youu two.... cutiees." A lot of them expressed their excitement for the song. Take a look at the video below:
A few days ago, Neha Kakkar shared the first look poster of Khad Tainu Main Dassa. Yesterday, she shared some BTS pictures, and revealed that the release date of the song will be announced soon.
Image Source: Instagram/Neha Kakkar