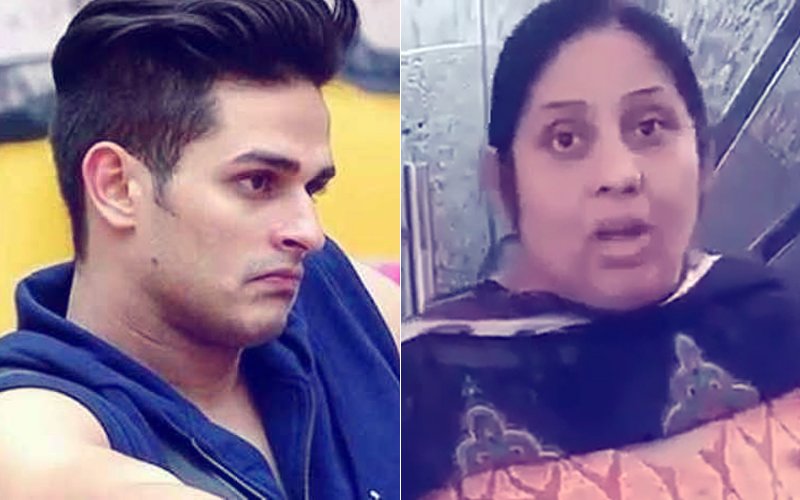 Moms will be moms. Regardless of how famous you get, none of us can escape yellings by our mothers. Same was the case with Bigg Boss contestant Priyank Sharma who was at the receiving end for the increasing number of clothes and shoes in his wardrobe.
A video on Priyank's fan page has surfaced where his mother is seen scolding him for the excessive number of fancy attires. Of course Priyank's mother was unaware of him recording the video and must be more upset with him. Watch her threaten to throw out his clothes and shoes if he buys more of them.
Check out the adorable video:
Recently, Priyank was in the news for an adorable gesture when a fan proposed to him on Rose Day. She showed up with a bunch of deep red roses and went on down on her knees as she proposed to the reality TV star, her eyes moist with emotion...
The actor posted the moment on Instagram captioning it, "And she made the entire jury panel cry today along with me. I just wanna thank you for the kind of emotion you have for me and to all the people who have the mutual feelings. I just feel a little bad that I fail to reply each one of you since it's next to impossible for me. But just want to tell you all and the entire family of mine that I am really thankful to all of you. Without you guys I ain't anything! It just makes me nostalgic right now, I LOVE YOU GUYS whatever I am becoming and reaching is because of you guys." (SIC)
When the fan went down on her knees to propose to Priyank, he was visibly overwhelmed with emotion. No words were exchanged, only a very long and tight hug.
Image Source:twitter/biggboss11/priyank_meri_jaan_