Rakhi Sawant Gets Nervous Before Meeting Boyfriend's Family For Dinner At Taj, 'Mere Aur Adil Ke Liye Dua Kro Ki Mein Unki Family Ko Mein Pasand Aa Jaun'
Rakhi Sawant stepped out of to meet boyfriend Adil Khan Durrani's parents but the Bigg Boss star, who is known for her bubbly demeanor, appeared nervous about the meet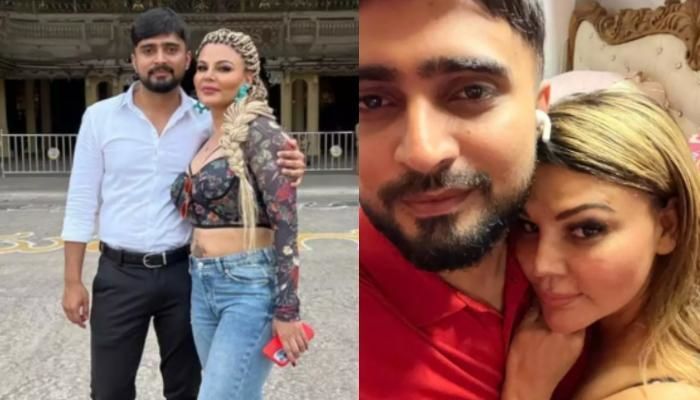 Rakhi Sawant has entertained the audience with her unusual and fun demeanor. Whenever spotted by fans and paps she has welcomed them with a smile. She is currently dating Mysore-based businessman Adil Khan Durrani and is madly in love with him. Recently, she was spotted with him as they stepped out to meet Adil's family.
However, Rakhi seemed considerably quiet, despite being known for her bubbly nature. Rakhi and Adil met the latter's parents, but our Bigg Boss star shared she was anxious and nervous about the meet.
In the viral video, shutterbugs greet her and asked her if she has come to meet Adil's parents and family. To which she replied saying, "Haan unki family aai hai, Taj mein sirf dinner krenge. I am happy. (His family has come and we'll have dinner at Taj)".
Meanwhile, the paps again asked her "Milne ke baad aap kuch bolne wale ho? (Are you going to say anything?)" The Bigg Boss contestant promptly replied, "Kuch nai, just dinner krenge aur woh mujhe dekhenge." She futher added, "Mom dad matlab real mom dad nahi cousin mom dad aaye hai." The paparazzi even asked Adil what has he said to his family about Rakhi, he also quickly answered saying, "Mere family almost har chiz jante hai Rakhi ke baare mein. Aisa kuch nai ki they don't know (My family knows everything about Rakhi. There's nothing they don't know.)".
She further added, "mere aur Adil ke liye dua maango, aaj jo mein dinner pe jaa rahi hun unko mein pasnd aa jaun. Unki family ko mein pasand aa jau. Waise unki family broad-minded hai. Sabse jyada broad minded Adil hai. Woh mere saare nakhre uthata hai (Pray for me and Adil that his family likes me. His family is broad-minded, especially Adil. He takes care of me)".
Earlier, in the interview with ETimes she opened up about getting married to Adil. She was quoted saying, "It all depends on Adil. Aur Waise bhi maine ek baar Shaadi ki Na, kya kar liya? We are happy without marriage, we are together and everything is going good. Now, we will work together, run our business. Don't you guys feel happy seeing me arriving in different cars? We are getting offered films, songs and web series and we are ready to work. Adil will not work with any other heroine, I am his manager and heroine both (laughs)."
Image Source: SpotboyE