Rakhi Sawant On Afsana Khan Age-Shaming Shamita Shetty On Bigg Boss 15: 'She Shouldn't Have Said That But She Got A Panic Attack'
Rakhi Sawant weighed in on Afsana Khan's comment about Shamita Shetty's age and revealed if she has ever encountered such issues in her career.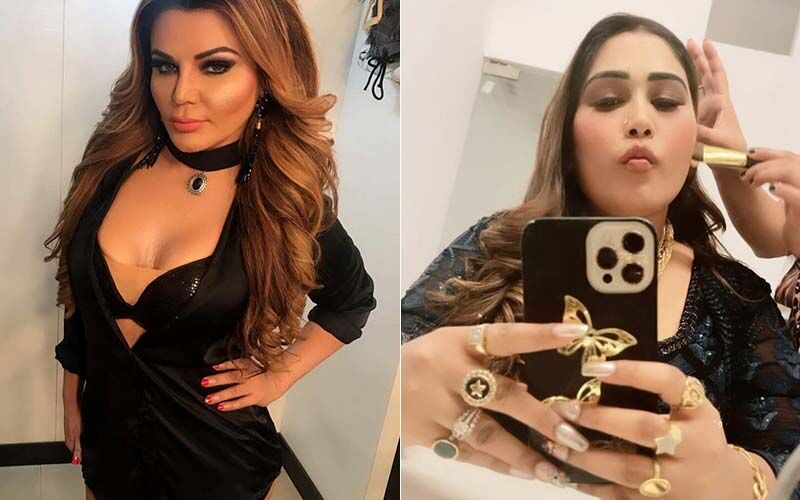 Bigg Boss 15 has seen multiple controversies since the day it premiered. One such issue erupted when contestant Afsana Khan age-shamed Shamita Shetty and called her 'buddhi'. Host Salman Khan did not hold back from giving Afsana a piece of his mind. Fans and followers of the show have also been discussing the age issues since then.
Now, former Bigg Boss contestant, Rakhi Sawant has reacted to Afsana's comment and recalled a similar incident that happened when she was on Bigg Boss 14. Aly Goni had then called her 'Bua'.
Rakhi told ETimes, "What Afsana has done is wrong. I was also attacked by Aly Goni who called me Bua on the show. I politely said that he would also grow old in some years. But there is one thing you have to know: everyone who enters the Bigg Boss house panics sooner or later."
Taking a peek into Afsana's personality and her psychological approach towards life, Rakhi Sawant pointed out, "She [Afsana] is probably a lonely person who has struggled in life and hasn't received love or even education. Such people want attention from people."
Speaking of her personal experience and how she dealt with her problems, Rakhi said, "I also had it in me and wanted that attention. But I started living my life and surrendered myself to God. I grew up in a chawl and didn't have an education. I was also lonely but I worked in my life. People can judge you, curse you and talk anything about you. I don't believe in hitting back at people. And Afsana is like me. We have not been taught how to speak softly. I respect both Shilpa and Shamita. They are celebrities and Bigg Boss is a place for people from all strata of life."
Rakhi then recalled Aly Goni's comment in the previous season of Bigg Boss, and said, "I was in the Bigg Boss house when Aly Goni called me Bua. But I did not panic and did not allow him to gain TRPs for himself. I did say that he has an elder sister. Did he call her buddhi or his mother buddhia?"
The former Bigg Boss contestant was also asked if what Afsana Khan said was justified about Shamita Shetty. She said, "She should not have said that but she got a panic attack. She had one while she was in quarantine and was sent back to her hometown and later called back by the producers of the show. Also, like I said, everyone doesn't come from the same background. Those coming from villages have not seen the glamourous world. They behave on camera the way they behave at home. And I also know people who don't show their real face in the Bigg Boss house."
Rakhi, who managed to entertain the audience with her funny tactics and drama in Bigg Boss 1 and BB 14, recently shared that she wishes to go in as a contestant again but with her husband, Ritesh.
Image Source: Instagram/rakhisawant2511/itsafsanakhan