Rakhi Sawant's Mother PASSES AWAY: Actress Breaks Down In TEARS As She Takes Her Mother's Mortal Remains To Home
Rakhi Sawant breaks down in tears while taking her late mother Jaya's mortal remains home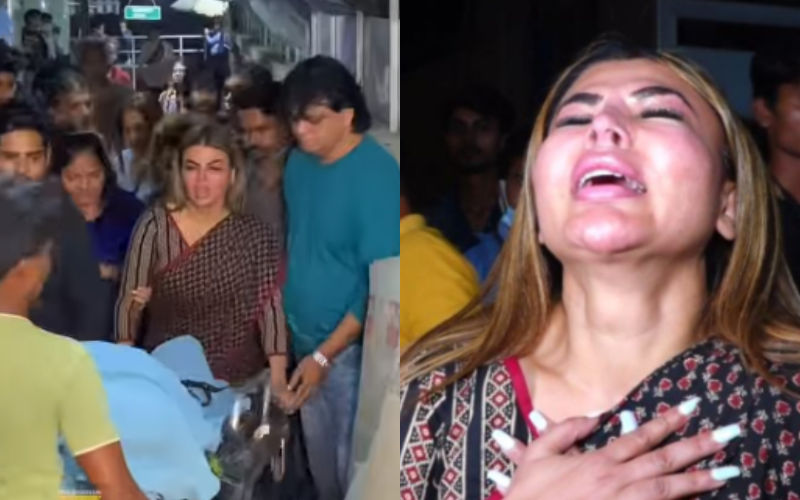 On Saturday, Rakhi Sawant's mother Jaya Sawant passed away after a long battle with cancer and a brain tumor at a hospital in Mumbai. She was 73. Over the past few days she was seeking treatment at the hospital but yesterday Jaya suffered from multi-organ failure as cancer spread to her kidneys and lungs. Rakhi was seen in an inconsolable state as she broke down in tears while taking her mother's mortal remains.
Several videos of Rakhi crying, and sitting beside her mother have surfaced online and it has left everyone numb. In one of the videos, Rakhi was seen crying inconsolably and kept saying in Hindi, "My mother has left me." Rakhi also shared a video of herself sitting on the floor inside a hospital room with her mother and wrote in the caption, "Aaj meri maa ka haat sar se uth gaya or mere pass khone ke liye kuch nahi bacha. I love you MAA. Aap ke bina kuch nahi raha, ab kaun meri pukar sunega or kaun mujhe gale lagayega maa. Ab mai kya karu… kaha jauuuu... I miss you Aai (today my mother's hand was lifted from head. And I have nothing left to lose. I love you mother. Nothing is left without you, now who will listen to me and who will hug me. What should I do now, where should I go. I miss you, mother)."
We, at SpotboyE, express our deepest condolences for Rakhi Sawant and her family. May Jaya's soul rest in peace!