Rashami Desai And Devoleena Bhattacharjee Want To Be Known As #Devoshami And Their Latest Pics Are Lit
Bigg Boss 13 got housemates Rashami Desai and Devoleena Bhattacharjee bonding big time which is very much visible outside the house as well. The two actresses posted several pictures from their recent outing, introducing a new nickname for themselves and it's too cute!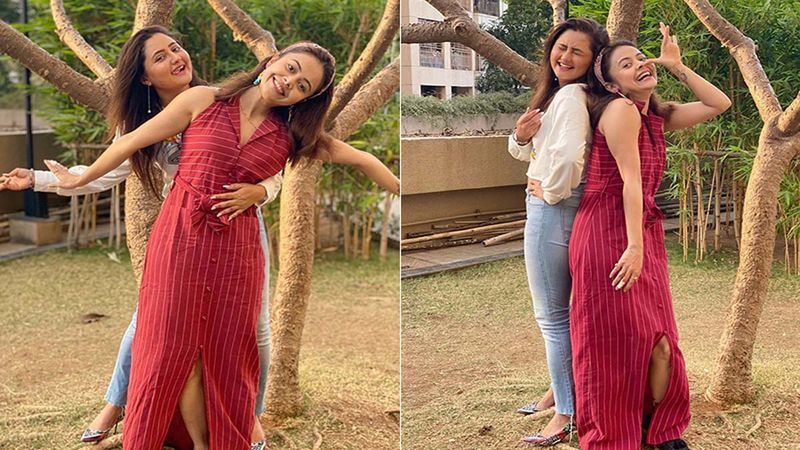 Few bonds formed in the controversial TV reality show, Bigg Boss 13 fizzle out whereas few remain true and pass the test of the time. One such bond which was only formed to be bloomed even outside the BB13 house was between TV actresses Rashami Desai and Devoleena Bhattacharjee. Being each other's support system just like true friends, the two had each other's back even in the show and the same can be witnessed off-screen as well. And the proof is there Instagram accounts.
Seems like both the divas were on a girlie date today; both posted several pictures on the respective Instagram accounts. While they did so Rashami as well as Devoleena just couldn't stop gushing over one another, setting friendship goals for their Instagram followers. In the pictures, Rashami was seen in casuals sporting a white cropped top paired with a light blue pair of denim and classy black pair of heels. Meanwhile, Devoleena donned a maroon maxi dress with white stripes all over it.
Rashami shared a series of pictures goofing around with several different captions. Such as, "That's how happy, positive and peaceful my space looks like! Two happy souls," "#Devoshami reunited. A day well spent with my constant" and lastly "You know you're in best company when your awesome friendship with your buddy instantly lightens up everyone's faces."
Image Source: Instagram/imrashamidesai