Roadies 19: Sonu Sood Turns Chef For Rhea Chakraborty On Sets; Internet Fumes Over Him Calling Crew Member 'Chinese': 'Sir, Have Some Shame'
Sonu Sood shared a video of him standing near a dosa stall and prepping his tawa as he declares, "Hyderabad me dosa ki dukaan kholi thi, aaj yaha pe khuli hai"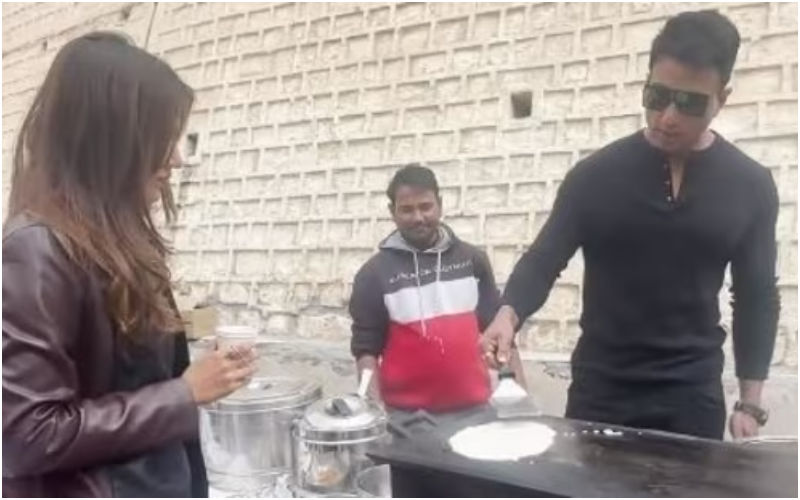 From being an actor to a widely admired philanthropist, Sonu Sood has proved he can easily juggle his talents. This time, the actor decided to don the chef's hat while shooting for MTV Roadies 19 recently. The actor was seen showcasing his culinary skills while shooting for MTV Roadies 19 recently. The actor prepared and served dosas and bhatures to the crew, including actor Rhea Chakraborty, who is one of the gang leaders on the show, while Sonu is the host.

Taking to his social media handle, Sonu shared a video of him cooking. The clip featured him standing near a dosa stall and prepping his tawa (pan) as he declared, "Hyderabad me dosa ki dukaan kholi thi, aaj yaha pe khuli hai (Earlier, I opened a dosa shop in Hyderabad, and now it is open here)."
Later, he invites Rhea and asks if she wanted a dosa. "Aap banaenge to kyu nahi khaungi (Why won't I eat it if you prepare it)," she responds as she walks closer to him. He even asked for her filling preferences and she demanded a plain dosa without the potato mash.
Sonu assured her, "Itni badi star aayi hai (Such a big star is here) so the dosas will certainly be as crispy as she likes." Rhea also asked for the price of Sonu's dosa but he said, "Arre free me hai, le jaao (It is all free, take it along)."
As he hands over the plate to Rhea, Sonu also called for another person and said, "Ye China see yaha sirf dosa khane aayi hai (She came from China, just for the dosas)." He also rolled and fried a few bhaturas.
Sonu shared the video and wrote, "Dosa aur bhature ki franchise chahiye to sampark karein (Contact if you want to get the franchise of dosa and bhature)." Fans flooded the comment section of the post with praises for the actor. One wrote, "Sonu Sood sir ke real fan's respect button."
However, Sonu chivlrous act did not go well with the netizens owing to his comment on his crew member.
One internet user wrote, "Did he just call her Chinese?" while another one commented, "Sir, have some shame. That girl whom you are calling is from our country. She can be from North East or Ladakh. She is not from China. Have some shame, what example you are setting?"
This wasn't the first time Sonu Sood donned the chef's hat. In April 2021, he was spotted preparing dosas on the sets of Acharya in Hyderabad.
Image Source: Instagram