SHOCKING TWIST! Anupamaa SPOILER: Kinjal Gives A Second Thought To Anupamaa's Responsibilities Towards Her And Unborn Child
Kinjal gives a second thought to Anupamaa's responsibilities towards her and her unborn child in the upcoming episodes of Anupamaa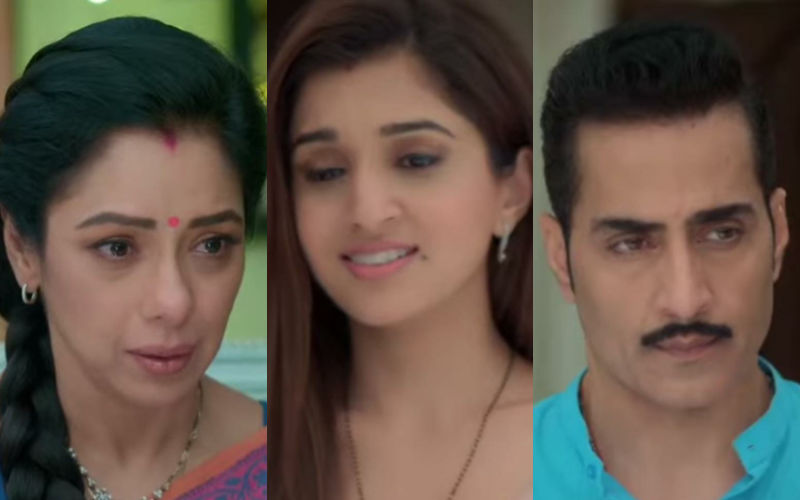 Anupamaa has been topping the TRP chart ever since it premiered on Star Plus. The titular character Anupamaa has become a household name. The daily soap has a loyal audience who does not even miss a single episode and even watch it on repeat. In the recent episodes, we have seen Anupamaa get married to her love Anuj and she juggles with issues of the Kapadia and Shah families.
The current narrative seems more interesting to the viewers as there are a lot of things happening in the show. Both Shah's and Kapadia's are dealing with Adhik and Pakhi's love story. Anuj has learned the truth of Barkha and Ankush. And Anupamaa is in a fix to handle Varaj and Pakhi. Meanwhile, Anuj and Anupamaa have adopted a daughter Anu.
In the last episode, we saw Baa discussing with Anupamaa that her decision to adopt a child is wrong. She questions how will Anupamaa manage the responsibilities of her child Anu and grandchild. It is going to be tough for her. Vanraj, who was already against the decision of Anupamaa adopting a kid also doubts her capability to manage both responsibilities.
On the other hand, Anuj and Anupamaa are frowned upon by Barkha and Ankush for adopting Anu and becoming the foster parents, without informing anyone. They are upset that Anuj and Anupamaa took such a huge decision by themselves and questioned both.
In the upcoming episode, with all these new developments around Anupamaa's life Vanraj questions her about her responsibilities of her towards Kinjal and Kinjal's unborn baby. He questioned because Kinjal told him that she'll go for a sonography test with Anupamaa. Vanraj also questioned Kinjal will Anupamaa make time for her as she already has the responsibility of adopting kid Anu.
With these questions, Kinjal gives a second thought to Anupamaa's responsibilities towards her.
Well, the upcoming episodes will be surely filled with twists and turns that would entertain the audience.
Image Source: Instagram