Shweta Tiwari, Debina Bonnerjee, Sharad Malhotra's Fans Ask 'Why Promote Domestic Violence' As They Take Up Hit Me Challenge
Television stars Shweta Tiwari, Debina Bonnerjee, Sharad Malhotra, Donal Bisht, Priyanka Kalantri and others took up the hit me challenge while they are self-isolating at home. Fans blamed them for promoting domestic violence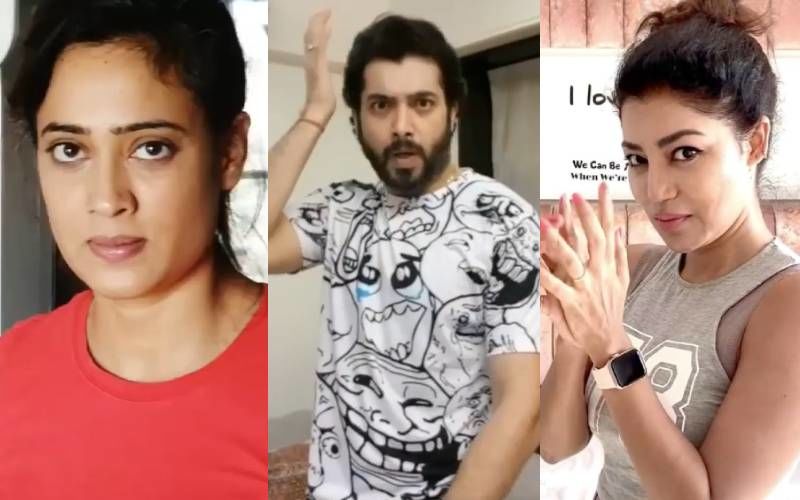 Since everyone's self-isolating at home, they have enough time to make videos at home. TV celebrities recently got together to take up the Hit Me Challenge. In this challenge, you have to act as if you are hitting someone. With this, celebs urged fans to stay indoors. Stars like Shweta Tiwari, Sharad Malhotra, Debina Banerjee, Priyanka Kalantri and husband Vikaas Kalantri, Donal Bisht and Krip Kapur Suri came together to make a video. Of course, by being in their own homes. However, this video has sparked a new controversy.
The video has left fans asking, 'Why promote domestic violence?' In the video, we see Shweta Tiwari attacking Karan Veer Mehra. He then attacks Rishina Kandhari with a musical instrument. She then throws a TV remote at Priyanka Kalantri who then hits Vikaas Kalantri with a broom. Vikaas hits Sharad Malhotra with a cricket bat. Sharad retaliates by throwing an apple that hits Debina Bonnerjee. The lady then slaps Romanch Mehtha who then attacks Donal Bisht. In the end, it is Krip Kapur Suri who is hurt and starts playing the guitar.
This video shared by Shweta received messages like, "u are accidentally promoting domestic violence." Another one wrote, "Funny but y mar peet do something constructive."
A netizen wrote on Debina's post, "This is not funny at all...this aggravates anger and violence amongst people including youngsters and kids..shame on you guys..this is how you guys are going to set an example being from the bollywood industry?" Another one mentioned, "I guess you guys are influencers and this might not end in a very positive way. spread love, peace and happiness. Kalesh toh duniya mein pehle hi bhot hai..".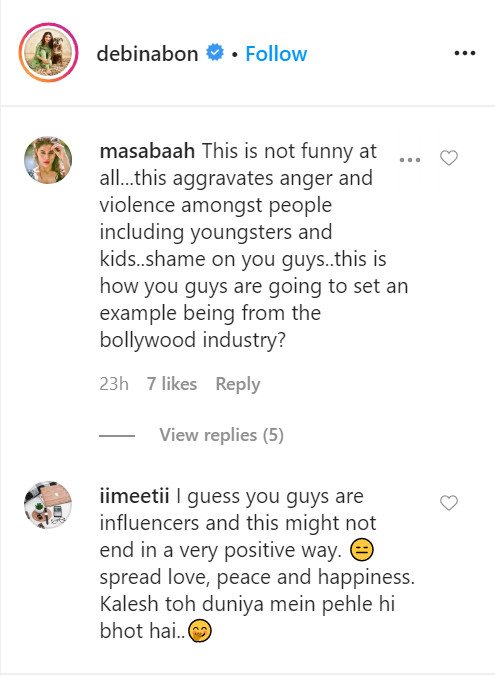 Image Source: Instagram/debinabon