Sidharth Sagar To Fiancee Subuhi And His Mother: "Stop Mudslinging, Take A Legal Course If You Have A Problem"
SpotboyE.com met with the man who is embroiled in a controversy yet again. Comedian Sidharth Sagar has been accused of domestic violence, after his fiancee, Subuhi Joshi broke her engagement with him. Here's what he has to say to all the allegations. Watch the video below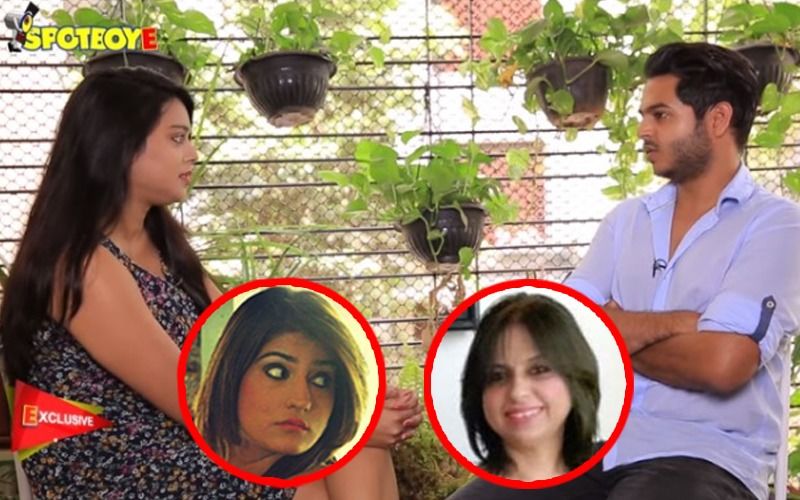 Sidharth Sagar is once again involved in a big controversy. Actor who is popularly known as selfie mausi made headlines last week, when his fiancee, Subuhi Joshi announced that she has broken her engagement and accused him of domestic violence.

Also, talking to SpotboyE.com recently, Sidharth's mother, Alka Sagar had said that she isn't surprised with her son's break-up and domestic violence news. She also mentioned that Sidharth changed after he fell under the influence of drugs. Hence, we decided to meet the man himself for an elaborate chat and know what he has to say on the allegations put on him. Watch the video below to see what Sidharth has to say:

Talking about domestic violence, Sidharth said, "If self-defence is domestic voilence then yes, I did it. I will say I am guilty."

Explaining what actually transpired between the two, Sidharth recalled the time when the duo was having quarrels almost every day. He talks about one of those days when in the heat of moment, Subuhi punched him in the nose and he pushed her back in self-defence. "I was telling her that let's end this relationship but she was not ready. She said, "even if you die, I wont leave you." Amidst the argument, she punched on my nose and in self-defence, I pushed her and ran away. But when I came back she had already called the cops, who took us to the hospital and our medical test was done. She must have remembered to click the pictures and kept them as a proof for future. Unfortunately, I didn't do anything as such."



Sidharth also claimed that both of them mutually decided to part ways, two months back. "Subuhi's whole idea of bring the matter in the public now is just to get some fame. She could have taken the legal way if she felt that I have physically abused her. What's the point in mudslinging?," Sidharth told us.

The comedian even spoke about Subuhi's allegations about he asking for money from her parents. He said, "I never asked for money from her parents. In fact, I have done transactions worth Rs 35 lakh in her account, in a year, which I can prove with by bank statement. I also gifted jwellery to her and her mother. I have no credits on my head and if Subuhi is saying that creditors are coming to her door, I will just request her to present one of them and I will pay them 10 times more. Subuhi is lying in this case absolutely."



Sidharth also reacted on his mother's allegations of him being a drug addict. "My mother only gave me drugs which made be bipolar. And when I tried to retaliate, I was sent to rehab. Not only me, but the family (relatives) she was staying with recently is equally harrased by her as she has started giving drugs to them as well," said Sidharth.


When asked about the financial crisis and creditors, Sidharth told us he has liablities to pay which is courtesy his mother and her boyfriend.


Sidharth added, "My mother had a lot of affairs and that changed her towards me. Surprisingly, after I left her, she is back with my father."

The comedian concludes by saying, "I would request Subuhi to give auditions and get work and stop making my life hell as this is my last interview, where I am explaining things. And now, if Subuhi or my mother want to create any more controversy around me, then they better go the legal way and I will also answer them with proofs."


Image Source:- Instagram/sidharthsagar.official/subuhi077