Sidharth Shukla And Shehnaaz Gill's Unreleased Music Video Gets A New Title, 'Adhura'; Music Label To Release It Soon
Sidharth Shukla and Shehnaaz Gill's music video will be released as a tribute song to the late actor.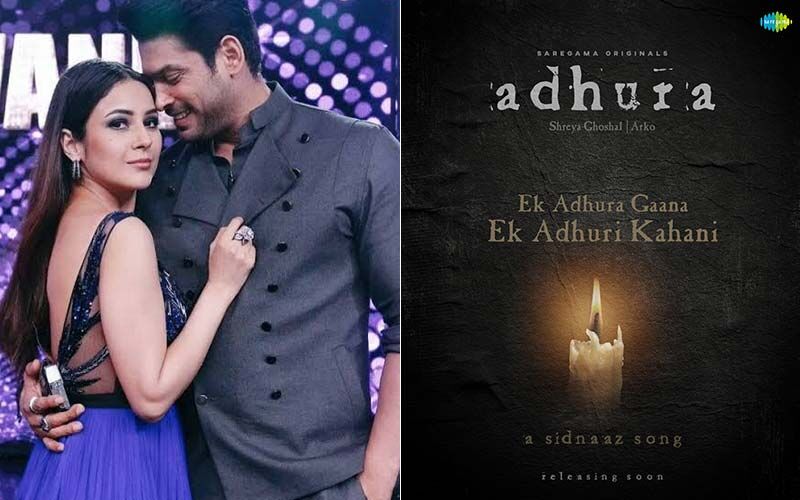 Sidharth Shukla left for his heavenly abode on September 2, leaving behind a heartbroken Shehnaaz Gill and an army of numb fans. Shehnaaz has since kept away from the media glare and social media. She made a public appearance only recently - for the promotions of her upcoming movie, Honsla Rakh.
Sidharth and Shehnaaz were reported to be working on a peppy dance number, which remains unreleased. It was titled 'Habit', and was reportedly based on the theme of Goa where both of them were seen resting on the beach. They had signed for this music video under the label Saregama, and had even shot for its portions in Goa. Several videos and pictures from their stay in the state had then gone viral. The song, penned by Arko and sung by Shreya Ghoshal, was reported to be a romantic one.
This song now reportedly has been revamped, and will be released with a different title. The music label, Saregama, Wednesday announced it would launch the 'SidNaaz' song, 'Adhura' soon. The poster reads, "Adhura... Ek Adhura Gaana... Ek Adhuri Kahani... A SidNaaz song... Releasing soon..."
The development came in the wake of Sidharth and Shehnaaz's fans' constant requests to the music label to release the unfinished song.

Sidharth and Shehnaaz's gazillion fans however seem to be divided over this. Some are upset with the makers for changing the title of the song, and associating the actor with a project he never actually signed for.
Did you guys change the song?#Habit is a peppy number right?
What is this Adhura & all?
Is this the poster?

That's how you release someone's last project?

— निष्ठा★ (@Choco__barr) October 13, 2021
First of all why titled it as adhura kind of sad song!..this is really triggering fans!where's habit song..?don't make it as businesses! U don't even tagged sid,at least u guys can use his hashtag!tbvh its v dissapoiting!
Better u guys release habit song instead of this!

— 🌸Tanima🌸 (@TanimaHossain2) October 13, 2021
Saregama team, it's a humble request if you could simply release the original song titled - " habit" with whatever that had been shot. Be it even a minute of Song, just don't turn it into something else because of what happened. I wish to see SidNaaz last time as it is!

— Nat (@imnutellala) October 13, 2021
If I'm not wrong the song was named HABIT and it was supposed to be peppy number different track as told earlier by shreya ma'am in an IV. Why did they change it to adura and seems like some sad version looking at the title? #SidharthShukla

— सिद्धार्थ शुक्ला ™🖤 (@Sid_ShuklaFC) October 13, 2021
Some fans are happy with the development and have expressed their heartfelt gratitude to Saregama for announcing the tribute song in memory of the late Sidharth Shukla.
So kind of you to release his last song, but we have a sincere request to you all that please release the song which they actually shot for you "Habit" is the name. As, this song is gonna trigger many people and they have seriously waited an year for this song. Release Habit ❤️🙏

— Sidharth A. Shukla 🇵🇰 FC (@TeamPakSid) October 13, 2021
Sidharth and Shehnaaz's music video, Shona Shona, recently hit 200 million views on YouTube. Sung by the Kakkar sibling duo - Tony Kakkar and Neha Kakkar, the song was a peppy dance number that went viral in November last year. The two were reportedly planning to get married in December this year.
Image Source: