Ssharad Malhotra Tells You What's Changed After His Marriage To Ripci Bhatia
Is there any habit that Ssharad Malhotra had to change on wife Ripci Bhatia's request? In his recent conversation, the actor opens up about life post-wedding and also spills the beans over his honeymoon plans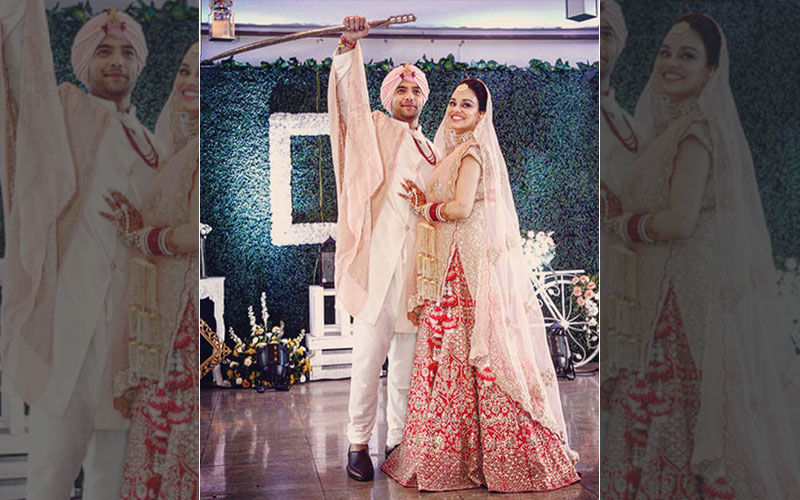 Television hunk
Ssharad Malhotra
broke hearts of many female fans when he tied the knot with Delhi-based designer,
Ripci Bhatia
.
The duo got hitched on April 20, in an Anand Karaj ceremony followed by a Hindu wedding
and and a reception at JW Marriott. We had brought to you many pictures and video from their dreamy wedding.
Now, during his recent conversation with Bombay Times, the actor has opened up about his life post tying the knot. The Kasam Tere Pyaar Ki actor has spilled the beans if he has kicked any of his habits on Ripci's request. Replying to which he told BT, "None so far. Marriage is all about accepting another person in totality. But I think time management is something many have been telling me about for years now, including Ripci. So, I am trying my best to improve that."
Not only this the actor also spilled the beans over their honeymoon plans, he said, "I plan to go to Paris as it's been there on my wish list for a long time now. I need to figure out my work schedule and then plan my honeymoon, but tentatively I am planning to go around June or July. It's difficult to take out time if you are part of a daily soap, but even if I get four or five days off, I will make the most of it. I have put a request to my producers, and they have been kind enough on agreeing to adjust my schedule."
When asked about how the life has changed for him, Malhotra told BT, "I am really excited to step into this new phase of my life. I am trying to adjust both my personal and professional lives. The production house of Kasam Tere Pyaar Ki has been very adjusting during this time. Also, my gym timings have changed. Previously, I used to hit the gym after wrapping up my day's shoot, now I am going early in the morning, so that I can come home as soon as I am done with my work."
Further asked about how the actor's female fans are reacting to his wedding, he said, "I am happy that the majority of my female fans have reacted very positively to this decision. Many were waiting for my marriage to happen and they are happy for me now. But as expected, a few of them are definitely upset."
Talking about if those reactions make Ripci insecure, Ssharad said, "Initially, it was a bit difficult for her to understand the situation since she is not from the industry. But now she is really very happy with the idea that my fans are reacting so positively to my marriage and the way they have accepted her. Even I am very pleased about this. Ripci is ecstatic with the fan following and how everyone is welcoming her with open arms."
The Maharana Pratap actor lastly spoke about his work and said, "I have done two Bollywood films already. But at the moment, I am enjoying my television phase. I am getting a lot of adulation and appreciation for my work. But just like every actor wishes to be a part of the film industry, even I am open to doing more Bollywood films. I am also getting a lot of good offers in terms of short films and web series. I am sure films will happen eventually. But I will be choosy about projects now. I am also open to working in the Bengali film or television industry. It is flourishing a lot these days. I have been part of the Hindi television industry for 12 years now, so it is very difficult to take out time now if I want to work in the Bengali industry. I have got offers earlier and would love to do a Bengali film. I also know the Bengali language very well, so I am sure that will help me if I get any work opportunity here."
Image Source: Instagram/sharadmalhotra009