Teachers' Day 2020: TV Celebs Vijayendra Kumeria, Ankit Siwach, Angad Hasija And More Talk About Their Gurus and Share Fond Memories
Here's what TV stars such as Vijayendra Kumeria, Ankit Siwach, Angad Hasija and more have to say about their fond memories on the occasion of Teachers' Day 2020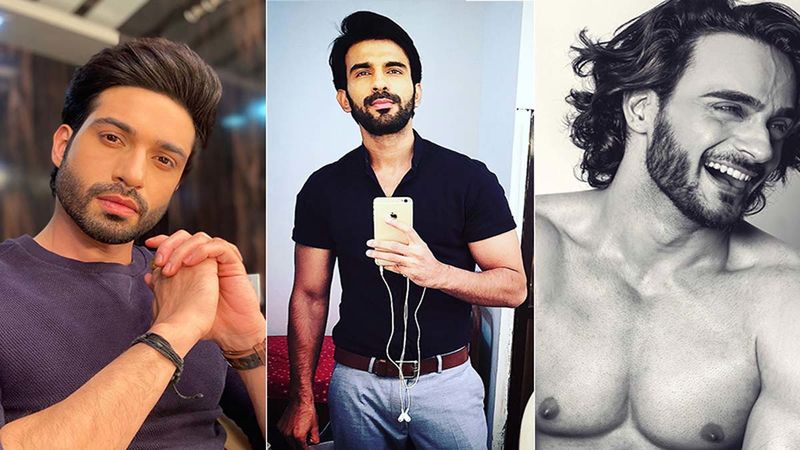 It is said that everyone, in some respect, is a teacher, some just work harder to do it better. And we couldn't agree more. A teacher doesn't necessarily have to mean someone teaching in school or college, and a teacher can be that one person who taught you the meanings of life, or who pushed you and motivated you and encouraged you, to do better. So on the occasion of Teacher's Day, celebrated on September 5, celebs talk about their teacher, mentor and guru.
Amal Sehrawat: A person that helps and trains you to look at life objectively and optimistically is the right mentor. My parents and Atul Mongia Sir have been the most important mentors in my life. I still remember the day when I lost all hopes of getting an acting job and my confidence had hit rock bottom, then, my mentors taught me The Art Of Mindfulness i.e. not to judge the situation in light of good or bad, rather accept it the way it is, do my best without thinking of the past or future and only concentrate on the present. It helped me by lightening the burden off my shoulders and maximize my potential.
Vijayendra Kumeria: Guru or mentor for me is the one who shows you the right path and encourages you to do your best. For me, my father is a friend, a mentor, a guide, and also a teacher. When I feel lost, he is the one who guides me. My brother and I studied in the same school, and he is three years elder to me when I was in Jr. KG he was in second, so I used to meet him in his class sometimes. His class teacher was a beautiful Parsi lady, and she used to give me chocolates and I even told her that I will marry her once I grow up. We still remember that and in fact, her kids, who are way elder to me, also laugh about it.
Dhruvee Haldankar: Teaching is a very noble profession that shapes the character, calibre, and future of an individual. I am lucky to have found the best teachers one could get to learn from. Mamta Maharaj Ji, daughter of Pandit Birju Maharaj Ji, is my spiritual guide, who helped me discover the same potentials that she had already realised. Mamta Maharaj is my teacher, trainer, guru and my didi. She taught me kathak, perseverance and how to love. At school, all my teachers loved me, Mrs. Aneeta Arora and Ms. Veena Malik, who would teach me English, Mrs. Branda Briganza who would teach me Maths, were all very fond of my mummy's pickles and would often ask me to bring new bottles to school.
Ankit Siwach: A guru or mentor need not necessarily be a school or college teacher, and he or she can be any person in life who is directly or indirectly showing us the guiding light. A person who we show full faith in, without any apprehensions, someone who can hold our hand and pull us out of the darkness we might have fallen into. I respect and love all the gurus I have in my life, but I consider my family to be the most important teachers, it is because of them that I shall always remain rooted and place ethics over any temptation. One incident from school I can recall is that when one of my favourite teachers got to know about my feelings for Nupur, I was in class 9 then, and It was very embarrassing and terrifying. I could not sleep for days out of the fear that the news could break out everywhere, but now when we look back and discuss the whole situation, it seems hilarious.
Rajit Dev: My guru or mentor is like a family figure because after my parents it's my guru who I have always looked up to. I've met many teachers, gurus in my life, and everyone has been such an inspiration to me from my school days to working in the film industry. I'll never forget my teacher Anita Balan from my school days. She is the one who always supported me for inter-school dance competition to even paying my fees when my family was going through a rough time. When I was in college, she gave me her mobile phone and I still have the same number which she gave me. I look up to her on another level. She's like a mother. Santosh Kale and Mehul Gadani were my first dance teachers who taught me the basics of dancing. I will always be thankful to them my entire life. My favourite mentor is Vaibhavi Merchant, who I worked with for more than 10 years from being a dancer to her chief assistant. Guru is like God. They always give you the right advice to go to achieve your dreams.
Shamin Mannan: A real guru or mentor is someone who not only just sticks to teaching a particular craft or subject but also gives life gyan, which stays as real wisdom helping us through life. At different stages, I had different mentors who really carved my life. I would like to name Neeraj Kabi Sir from whom I had not only learnt the craft of acting and its intricate details but also learnt a lot about seeing life from a different perspective. He taught me that in order to be a good actor, you need to have a lot of experiences in life, good or bad and not to ever judge the process called life. My most memorable incident from school is when I was in class 10, and I was kicked out of the classroom by my science teacher and was asked to stand outside for the entire period, where she asked me to face the playground without hiding my face, just because I was exchanging smiles with my best friend across the classroom. For me, it is memorable because it was embarrassing for me as my juniors laughed at me and I literally had to hide my face from my teacher and those juniors after the incident. Now that memory makes me laugh that I was so silly to cry for it the whole day!
Aashish Mehrotra: Right definition of guru or mentor is someone who selflessly teaches everything that he has experienced in his life. I believe in my life there hasn't been just one mentor who has always shown me the path but I think as you grow up you find those mentors just next to you, maybe your dad, neighbour or student as I have been a dance instructor for about twelve years. At school, teachers like Maadhvi ma'am, Saloni mam, Mukta ma'am, Ajay sir and other teachers, would save me from going to the principal and in college Swarna and Abhilasha Mam. In Mumbai I have two strong teachers one is Mr. Kavish Sinha, he is a casting director now but earlier he was into marketing. When I came to Mumbai he guided me a lot and he was the one who sent me to Saurav Sachdeva. I am blessed to have my classes with Saurav sir and Prashant sir.
Rohit Chaudhary: One true guru or mentor is who can recognise you and understand you, your ability, your hidden talent and what you want to achieve in life and who always pushes you, motivates you and guides you to achieve your goal. My mentor is my father who has shown me the right path. He has taught me to always, to tell the truth. He taught me not to hurt anyone emotionally, financially and physically, he has taught me to be disciplined in life, he told me to be the man of words and make sure I fulfil all my commitments. I want my children to learn the same. I lost my mother at a very young age, so at school, everyone used to have lunch during breaks, but I never carried one, then my teacher Mrs. Walia ma'am would share her tiffin with me. On teacher's day, I would like to remember goddess Saraswati and my father for guiding me. And I also remember Mrs. Walia.
Shilpa Raizada: We should always have one guru or mentor in our life because he will always guide us to take the right path. In this field, my guru and mentor, whom I respect the most after my parents, is Ravi Williams sir. He is a director, writer, producer, he is a self-made man. I know him for the last 14 years and before coming to Mumbai I worked with him as an anchor. I always remember this one incident, and I forgot a line during anchoring as it was in pure Hindi and there were a huge number of people present and it was very embarrassing for me. I cried a lot and at that time sir told me that you have the ability to work hard and you will definitely grow. Due to this pandemic, he always calls me and asks me to take care of myself as j have to do more work. We have a father-daughter kind of relationship. Even during school and college days, my teachers always motivated me.
Angad Hasija: The person whom I call my guru, my mentor is my mother. I have learnt so many things from her. She taught me how to take a decision or how to handle a situation and how to be strong while facing any problem even though you have achieved everything. I remember something that she told me when 'Sapna Baabul Ka... Bidaai' became super hit. She said now you will become a star but always remember one thing that 'jhukhe huye ped par hi phal lagte hain'. What she said has a very deep meaning, and I always follow it. I remember my school teachers loved me a lot and now they give my examples to other student and it is a very big achievement.
Urvashi Upadhyay Sharle: It's very difficult to define a guru or mentor. However, I believe our first teacher is always our mother because she is the one who introduces us to the world. I have explored a lot like I am a trained classical dancer, I have done B.Ed too. I have learnt a lot from being a teacher and my students have also taught me a lot. Even during my theatre days, I had a guru, who taught me how to an actor on stage as being a dancer it can sometimes be difficult. I then learnt Bharatnatyam in Surat, my guru was a Parsi lady, and she had a gold medal. She supported me a lot and even used to come on the set of 'Hamari Devrani' to teach me the dance form. I learnt Tarot in 2011, I was pregnant then and my guru used to visit my home to teach me. My biggest guru is my husband. An artist is very emotional, but he is so practical and always gives me a reality check. He has guided me through a lot of things, and I always talk to him before taking any decision. He has been unbiased with all his suggestions and decisions and it has helped me a lot. I just want to mention that life teaches us a lot, and we meet a lot of people who teach us different things, but guru is someone who stands by us and supports us and I am lucky to have found these gurus in my life.
Amit Sarin: People think only a teacher can be called a guru or mentor, but I think otherwise. Guru or mentor can be anyone who guides you on the right path and teaches you the hard lessons. My guru or mentor is life itself. It's life where you meet so many people, it's life that takes you to various destinations and it's life that teaches you how to trust and how to love. It's a big circle and if you do something wrong, you pay for it here and learn from it, and if you do something good, you get rewarded, and that's also learning.
Kettan Singh: Guru or mentor is someone who guides you rightly and supports you even in the times of crisis. My guru is life itself, whenever I lost the path, life taught me a lesson to stand up, and focus on the positive side. One interesting incident from my school days that became learning for me was something that I saw my Hindi teacher doing. I had a huge crush on her then, and her smile was so infectious that I didn't want her class to end ever. I learnt to smile at every situation from her.
Rahul Sharma: The right definition of guru and mentor is one shows you the right path, and makes you aware of your abilities. I think life itself is a mentor and guru because it has taught me a lot of things, it has given me situations where I was stuck, it gave me the opportunity to grow and learn lots of things about life, it has taught me how to handle any situation, how to grow as a person, how to learn about emotion, life journey and that has been my guru from the past ten years. I met a few people whom I can say they are my mentor. A friend of mine, Mr. Harshit, whom I call my big brother is one of my mentors. My father is also my mentor because he taught me a lot, challenged me a lot, he has taught me the lessons in a very hard way so in the initial part of my life he has been my mentor. When I was 20-21, I met Rachna Yadav in speaking classes, when I was preparing to come to Mumbai. I told her that I have a crush on you, I like you I would like to have a wife like you, she sweetly told me that you are so sweet and was very cutely explained to me how the things are and eventually we became friends. She told me lots of things about life and how to take steps in life so that's how we really shared a bond. I am not in touch with her but definitely, she is one teacher whom I remember the most.
Mou Das- I believe mentor and guru are two different things. Guru is predominantly a spiritual, religious teacher who will teach you about the ways of life - based on Hindu scriptures and beliefs. Mentors are the ones who can be your guides or teachers. Although there is not much difference, in a way, they both are teachers. Gurus are mostly priest or learned religious elders who help you understand the ways of gods and his worship. However, this can be debated by some by saying that teachers and professors are also gurus. I have no dispute here in this but if you ask me, I reckon I strongly believe this about them. Mentors, on the other hand, are more of the formal and chosen heroes of our life whom we choose to follow or at least go to them for the right advice on various issues including personal problems. Mentors play a vital role in everyone lives. They are the ones who lay a foundation in your mindset and help you create a perception of your own self or make you believe the one's they have. For me, both being teachers, Gurus are generally not chosen and Mentors are predominantly chosen by us.
Image Source: Instagram/siwachankit/PR