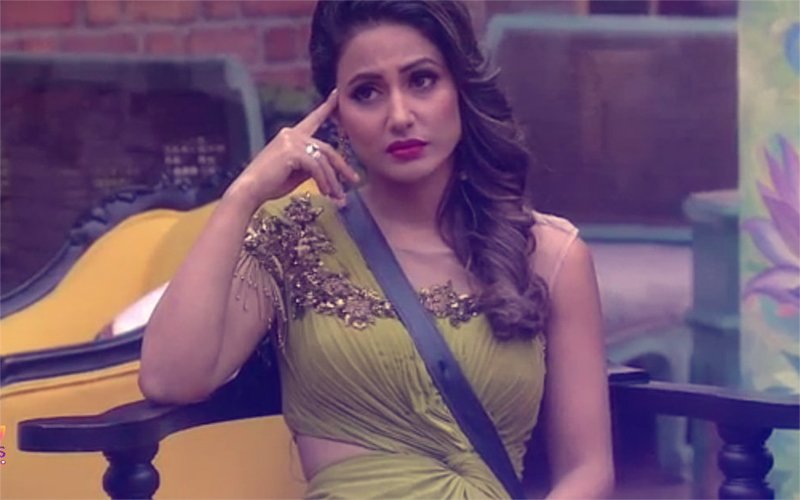 It came as a surprise when contestants of Bigg Boss 11 found themselves amidst media personnel at a press conference held inside the house on Monday. The participants were greeted by the press who were waiting eagerly to interrogate them.
During the media interaction, one journalist questioned Hina as to why she always tried to be the typical Indian 'Mohalle Ki Aunty'? While Hina didn't have any answer and couldn't stop laughing after listening to the query, Twitterati wasted no time and had a filled day calling Hina the same.

Here are a few such tweets:
Hina Khan and Vikas Gupta gang up against Shilpa Shinde.
Insecurity, jealousy. #shilpa's massive votes the reason
"Mohalle ki Aunty" 🤔😂😂😂😃😃
#BB11 #BiggBoss11

— sabina lamba (@SabinaLamba) January 8, 2018
#BB11 A reporter called Hina "Mohalle ki Aunty" 😂😂😂
Hats Off 2 U Lady... Bang on👏👌
Hina was lyk ab main kya karun 😂😂😂😂😂😂😂😂😂😂

— Bhavna (@bhavna_gehani) January 8, 2018
Hina was literally on the verge of banging her head with the table when Journalist called her - Mohalle ki aunty 😂😂😂😂

Whenever she lacks anything to defend, She started saying - Kabhi ek week bhi yha reh k dikhao.. 😂😂😂#BB11#BiggBoss11

— Isha Khanna 🌹 (@Khanna2412) January 8, 2018
I think Hina khan is suffering from short term memory loss when she said ki maine ye kbhi nhi kaha ki maine 8 saal tk kaam kiya h....#BB11 #MohalleKiAunty

— Ankur (@Ankur_ppt) January 8, 2018
It seems that Hina, Vikas Gupta and Akash Dadlani have started ganging up against Shilpa. The hygiene conscious Hina accused Shilpa of not maintaining cleanliness in the house recently, and Vikas added fuel to the fire by blaming her mentality. Standing up for herself, Shilpa took a stand and refused to cook for the two of them, while Hina and Vikas commented that Shilpa was showing her true colors only towards the end.

Coming back o Hina, let's if the new negativity around her has an adverse effect on her chances of winning the show. Or, will it in fact give her publicity to race ahead of the current favourite Shilpa?

What do you think- Is Hina indeed a 'Mohalle Ki Aunty'? Share your thoughts in the 'Comments' section below.