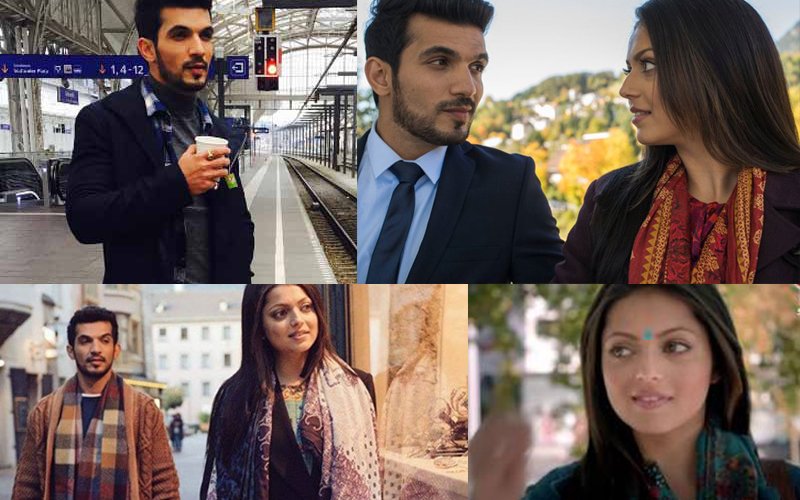 Rishta Wahi Soch Nayi is what Star Plus believes in. And with this 'Nayi Soch' the channel has offered its audience a new show - Pardes Mein Hai Meraa Dil, which stars television's popular faces Drashti Dhami and Arjun Bijlani. The first episode which aired last night introduced Drashti as a 27 years 'old-school unmarried' Naina Batra, a college professor.

Well, I purposely wrote 'old-school unmarried' because that's what her students call her behind her back and that my friend turns Naina into an emotional tear jerker machine all the time. While you have seen many Bollywood films having a fairytale end at the airport, Naina Batra starts her story at the airport as she is shown flying off to Pardes - Austria. (Yeah, a major portion of the show has been shot here)

Naina bumps in to an irritating co-passenger who dumps her opinion on Naina and labels her as a selfish daughter as she has left her ailing mother behind to get married in Pardes. Have I used Pardes too many times already? It's because 'Pardes' has been said way too many times in the show as well.



Image Source: adgully

Anyway, that's how Naina starts her story. A dutiful daughter gets a jolt when her love of life dumps her for not being able to leave her mom after marriage. Excuse me, is that even a reason? Even more shocking-Ms. Hurtful Naina agrees to marry the same guy after two years when suddenly he bumps into her. Wow! No self respect?

On the engagement day Naina's mom gets a heart attack, while the scheming MIL(Mother-In-Law) complains to her son by saying, 'Yeh Buddhi Abhi Bhi Zinda Hai? Naina will never leave her mom.'

Hai Daiyya! Bechaari Maa! Though unable to bear the insult, yet she fights for her life and convinces her daughter to go ahead with the engagement.

While I don't have many expectations from the show, I still want to know what is waiting for Naina in Pardes. Oh! BTW, Mr. Perfect Arjun Bijlani hasn't made an entry on the show yet.

As per the promos of the show, Naina's love for her mother is evident and it focuses on a beautiful bond that the two share. Naina tries hard to convince us about her heart warming story which is about her search for Sachha Pyaar in Pardes. How? You'll get to know if you are interested in the coming episode.

I would have given up on it, had it not been for Drashti and Arjun. The two share great friendship off-screen from their Mile Jab Hum Tum and Dill Mill Gaye days. Although they didn't work together that time, but as both the shows were produced by the same production house, they bonded well since then! So, now as a fan, it is really exciting to see the two share screen space together for the first time!



Image Source: tvgupshup & veethi

Directed by Neeraj Baliyan and produced by TV Czarina Ekta Kapoor, let's see if the makers are able create some magic in the next episode! We're sure once Ekta is back from her Australia holidays, she will use her magic wand on the show to set it on the right track, coz doesn't she always do that for all her shows?


Thumbnail Image Source: indian364, twitter/pihupihu530 & vidsn