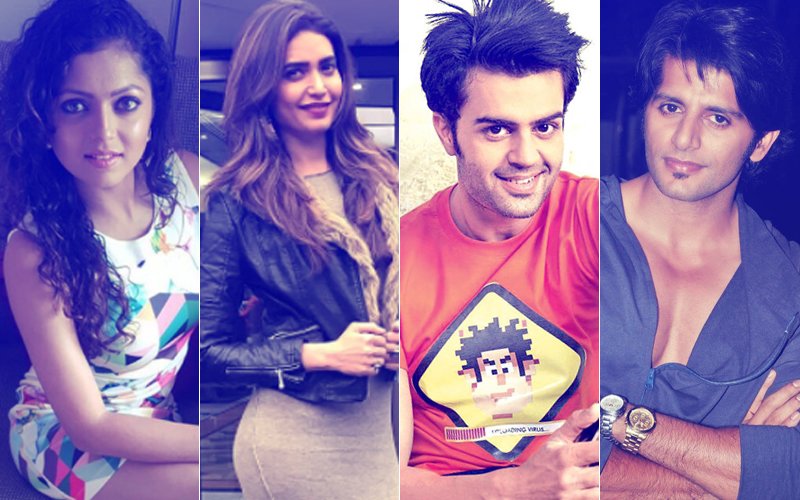 Today is Mother's Day and our TV stars are letting the world know how much they love their moms on social media.
From TV bahu turned politician Smriti Irani to the reigning stars of the small screen like Drashti Dhami, Shweta Tiwari, Karanvir Bohra, Aditi Gupta, Manish Paul and many more have sent sweet messages for their mothers.
The popular face of Balaji Telefilms and one of the most famous discoveries of Ekta Kapoor, Smriti Irani posted a throwback picture of her mother with a beautiful caption. She wrote: "#theysaid she is an #audacious child but she #stoodlikerock and let me #dream, #grumpy me with Ma #memoriesforlife #mothersday (sic)"
Drashti Dhami uploaded a cute selfie with her mother and grandmother on her Instagram account with the caption "Happy Mother's Day."
New mom Shweta Tiwari shared a beautiful picture of her posing with her baby to celebrate Mother's Day.
Former Bigg Boss contestant Karishma Tanna, surprised her mother with cake and flowers. She then shared a picture of their happy moment with the caption "Love you Maa. #HappyMothersDay."
Yeh Hai Mohabbatein star Aditi Bhatia also shared a throwback picture with her mother on Instagram and put a sweet caption that stated: "Happy Mothers Day mumaaaa. Love youuuuuuu."
Pooja Banerjee who is all set to make a comeback on television, shared a picture of her mother kissing her on her wedding day. She captioned it: "Happy Mother's Day to my mom who has given me the most precious person @sandeepsejwal."
Manish Paul shared an adorable collage of pictures of his mother. He added a heartfelt message that said: "My maker..my creator..I am Wat I'm because she gave me birth...she taught me to be way I'm today!! Always touch her feet before leaving for work as that give me the confidence to conquer d world..wishing happy Mother's Day to all the mothers in the world..#mp #mother #mom #life #love #happy #always (sic)."
Suyyash Rai shared a sweet collage with his mother and sister. He added the caption "My makers #HappyMothersDay @rai_shruti_rai @rai.ranjana i love you both..my supermoms. Wishing all d super moms Happy Mothers Day #SpreadLove.. (sic)"
Bigg Boss winner and TV heartthrob Gautam Gulati also shared a sweet picture of him kissing his mom. The caption read, "God is the word. #happymothersdaytoall."
Karanvir Bohra who has recently become father to twin girls, wrote an emotional letter to his wife Teejay Sidhu on Mother's Day.
He wrote in the letter," Happy first Mother's Day! I still can't believe it, you're a Mom. (And I'm a Dad!) It took me long enough getting used to calling you my wife, and now you're a mother! I always try to give you something unique, and this year I thought I'd write this open letter to let you know how much I cherish you. Of all the way you've made my life wonderful, giving me two beautiful baby girls, is the best by far. In one day, you turned us from a couple into a family, and I can't ask you for anything more in this lifetime."
Thumbnail Image Source: instagram/karishmatanna, instagram/drashtidhami, wallpaperslog & storypedia