WHAT! Rakhi Sawant's New Boyfriend Adil Khan Durrani Has Gifted Her Swanky BMW-See VIDEO
Rakhi Sawant has announced she is in a relationship with Adil Khan Durrani who gifted her BMW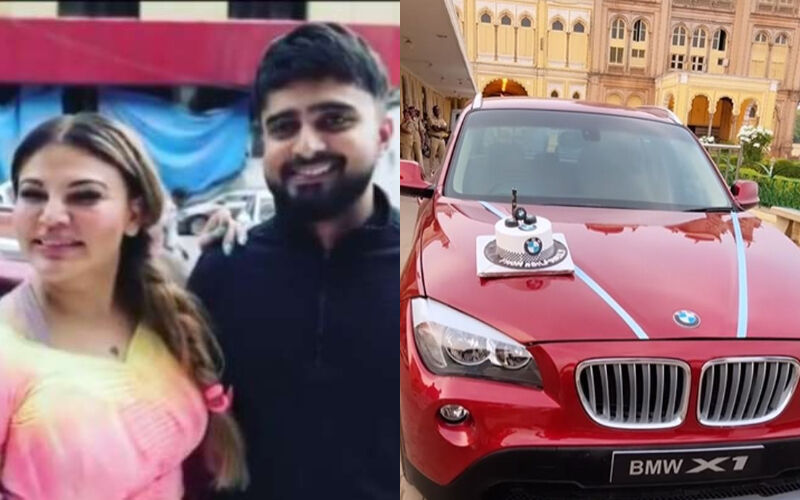 Rakhi Sawant and controversies go hand in hand. Known for her outspoken personality and crazy antics, Sawant is making headlines again because of her love life. She has found love again and has confirmed dating Adil Khan Durrani. The controversy queen introduced her new 'sweetheart' to the paparazzi and announced she is in a relationship with him. Sawant has been sharing her mushy videos with Adil on her Instagram handle.
Notably, Adil has been pampering his ladylove Rakhi with expensive gifts. He gifted him a swanky BMW X1. Yes, you read that right. The Bigg Boss contestant shared a video of herself where she is seen driving a BMW and thanked Adil Khan for giving her such a great surprise. Alongside the clip, Sawant wrote, "Thank you so much my dear friend @shellylather raj bhai and @adil__khandurrani for giving me such a great surprise !! Thanks a ton means a lot to me !! God bless."
Meanwhile, Rakhi recently attended an award function, and on the red carpet while posing for the paparazzi she did a video call to her boyfriend Adil and showed him to the media. Notably, the media asked the actress to give him a kiss, and she obliged their request and gave him a kiss.
Earlier, the controversy queen was spotted with Adil and the couple posed together for the paparazzi. Talking to paps, she said, "Meet my sweetheart Adil. Kya aap chahate hai ke hum dono ki jodi jaaye Bigg Boss mein? (Do you want our jodi to go in Bigg Boss?) He is my boyfriend."

In February this year, Rakhi Sawant had called it quits with her husband Ritesh, with whom she had participated in Bigg Boss 15. She issued a statement on her social media accounts and announced their separation. Rakhi had written, "Dear fans and well-wishers, Just wanted to say Ritesh and I have decided to part ways. After Bigg Boss a lot has happened and I was unaware of certain things which were out of my control. We have tried to work out our differences and tried to make things work but I think it's best we both move on amicably and we both enjoy our lives separately."