Will The Most Expensive Show On TV – Karmphal Data Shani – Click? Look At The Pictures!
SpotboyE.com got a glimpse of the grand sets of Karmphal Data Shani designed extravagantly in a sprawling set spread across 65,000 sq ft in Umbergaon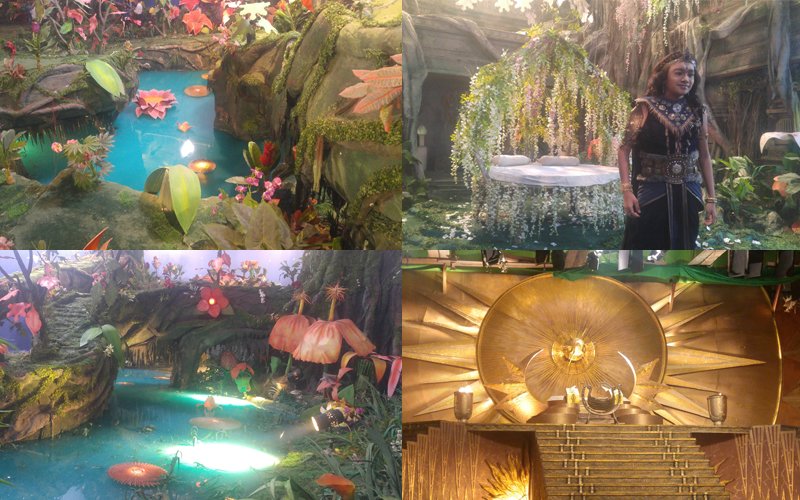 When we set our foot inside the beach side Umbergaon set on a Saturday afternoon, we were just being told about four sets created as – Swarglok/Indralok, Patallok, Suryalok and a dense forest.

We hadn't expected much until we stepped inside the set and got a glimpse of the jungle area, where Chhaya resides with Shani (size: 25,000 square feet). It was just wow! The opulence of the set surprised us. It looked stunning with big flowers, fountains, trees and a floral decorated jhula.




Karamphal Data Shani is one of the most ambitious projects of producer and creator Siddharth Kumar Tewary, founder of Swastik Productions. Speaking to SpotboyE, Siddharth says, "Shani was born before earth came into existence. He was born in Suryalok and we don't know how it looks. We can only imagine. Hence we created this mystical world. The larger-than- life sets have been built to showcase four distinctly different and attract audience."




More than 600 workers have built the sets based on the representations from age-old Indian texts. Each set is almost double in size compared to the set of any other show on Indian television. As the show will take the prime slot of 9 pm, we wonder if the producer is really worried about the TRPs. Does he feel safer than otherwise? With much confidence he said, "Karm karo, phal ki chinta mat karo. That is story of Shani and that is what we believe in. We have put in lot of hard work and this it us around five months to build this set. Things will be good for sure and it will be at a slow pace. I am not an astrologer to foresee the TRPs. I have made this with good intent. After Mahabharat, I wanted to create something different. Though it is in the mytho space, you will be surprised to see the elements I have put in the show."

Speaking about the production values, Siddharth says, "By far this is the biggest production in Indian television. Financially, I won't be able to tell you the numbers. But nothing of this magnitude has ever been attempted earlier."




Lord Surya's throne placed in the Surya Mahal is undoubtedly the highlight of the entire set. Made of a solid gold base with elements of black, the throne is designed to make Surya Dev stand apart whilst in front of the all-gold environment.




Not only the set, much attention has also been paid on the minute details of the costumes of the characters. Every character has a signature gemstone which has been used to design their accessories. For Shani, there is a blazing blue sapphire, Surya Dev has a fiery ruby, Shukracharya has a sparkling diamond and Indra Dev also has a sapphire.

Here's who plays which character and details about their respective costume:

Kartikeya Malviye as Shani: Monochromatic clean silhouette with signature blue and black colours. He also has a distinguishing headgear with a central gemstone. Overall, a raw look has been maintained for him keeping in mind that he was raised in a jungle.




Salil Ankola as Surya Dev: His look has been designed with the signature colours of the Sun - gold, white and scarlet. The elaborate costume including his sword weighs a total of 45 kg.




Juhi Parmar as Sangya and Chhaya: While Sangya's look has been designed keeping in mind the class and aristocracy of a queen, Chhaya's look incorporates many dark colours and shades including blacks and red. Both the costumes weigh about 25 kg.




Kunal Bakshi as Indra: Being the king of Gods and Rain God, Indra's colour palette mostly is in pastel blue, white and silver which is synonymous to the colours of sky and rain. An elephant motif is incorporated in his jewellery to depict his vahan (vehicle) airavat.




Surendra Singh as Dambhanath: A creature from Patallok, Dambhanath is a scary looking asura from Patal. Building on the authenticity, full body prosthetics have been done for the first time ever on Indian television, which takes nearly 4 hours. His long nails and animal feet add to the entire look and feel.

Clearly, Siddharth Kumar Tewary has put his heart and soul in to the making of Karmphal Data Shani. Will it grab the desired eyeballs as well? We shall soon know.

DON'T MISS OUR REVIEW OF THE SHOW TOMORROW


Thumbnail Image Source: SpotboyE Team