Yeh Rishta Kya Kehlata Hai Actress Parul Chauhan Was Ordered, "Don't Serve Notice Period. Your Services Stand Terminated From Today Itself"
Parul Chauhan of Yeh Rishta Kya Kehlata Hai: Can I serve my 1-month notice period? Production Team: No. leave rightaway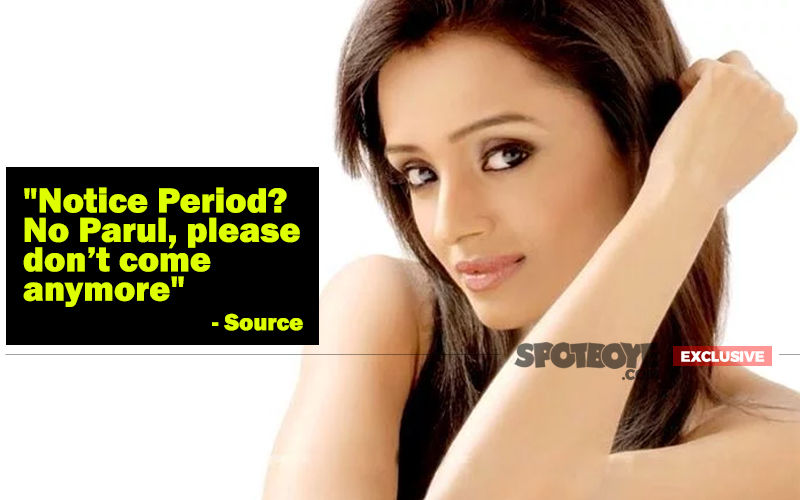 Parul Chauhan got quite a bit of shock when she quit Rajan Shahi's Yeh Rishta Kya Kehlata Hai aired on Star Plus
. Here goes the story: So you know from morning that Team Shahi was extremely upset with her from her truant on the sets since nearly 2 months. The flashpoint was reached when she sent her resignation to the reception counter at Shahi's office. And imagine, this actress has addressed Shahi as 'father' in her quote to Hindustan Times, "Ek baap apni beti se bahut dino tak naraz nahin rahe paayenge. I will make it up to him." Never say never, but we don't think Shahi will work with her ever again, not because she quit but because of the manner in which she quit.
Parul who played Shivangi Joshi aka Naira's mother-in-law in Yeh Rishta Kya Kehlata Hai didn't want to age in the show. Sources say that Shahi was keen that she continues but had understood her perspective. Yet for some strange reason, rumour has it that she did not report on the sets on certain occasions when she was required. Team Yeh Rishta Kya Kehlata eventually realised that Parul's absence was not affecting the show at all, in fact Hina Khan's absence too has not had any adverse effect. On the contrary, the show started registering ascent in certain weeks in both cases- Hina's and Parul's.
Parul was all within her rights to resign, but. considering her track record and rapport with Rajan Shahi- shouldn't she have had the basic courtesy to call or text Shahi at least once before/after sending the letter to the reception desk?
What lay in store for her must have shocked her. When Parul told the production team that she would like to serve her 1-month notice period, she was told in no uncertain terms that she should leave immediately instead. Parul had assumed that her request will be considered and accepted, she had informed Team Yeh Rishta Kya Kehlata Hai that she will report on the sets at 10 am the following day. But around 7 am, she got that message which we are talking about. A source says, "It was: Notice Period? No Parul, please don't come anymore". Parul was taken aback, but there's little she could do. Buzz is, Rajan Shahi believes that no professional gives 100 per cent in his exit mode, so he ensured that she was informed about the same. It is better to relieve that person if his/her is not in the project, Shahi feels.
We now throw the ball in the centre of the court. Our pages are always open for Parul and Shahi if and when you guys want to talk.
Image Source:- Starunfolded