Yeh Rishta Kya Kehlata Hai SPOILER 3rd July 2023: Abhir Goes Missing As Manjiri Ignores His Request Of Wanting To Meet Akshara
In the episodes of Yeh Rishta Kya Kehlata Hai, Abhir will be going to stay with Abhimanyu in the Birla house, however he will miss his parents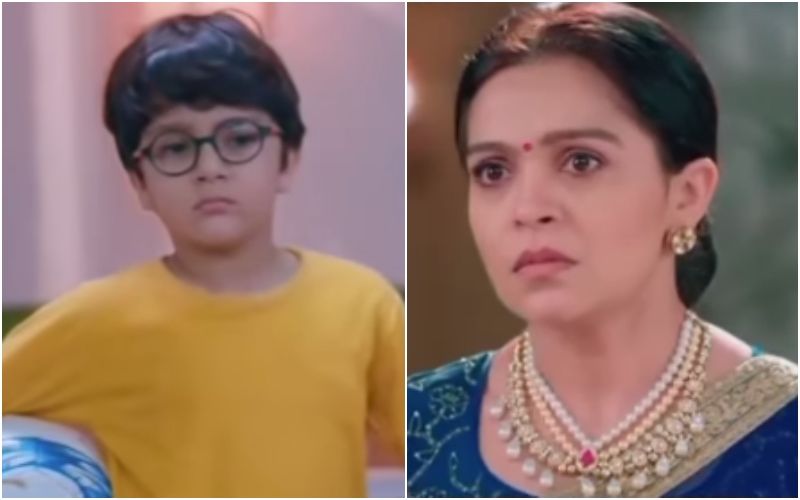 Produced by Rajan Shahi, Star Plus' show Yeh Rishta Kya Kehlata Hai has been running successfully for almost 15 years now. Starring Pranali Rathore, Harshad Chopra, Shreyansh Kaurav, Jai Soni and many more in pivotal roles, the current track of the show has left the fans divided. It was seen in the previous episode, that Abhir's custody is given to Abimanyu as he is more financially stable.
In the upcoming episodes it will be seen that an ecstatic Manjiri will tell Anand and Shefali that Abhir will finally be coming to live with them in the Birla house. Mahima will warn her and give her a reality-check. She will express how Abhir is quite young and will need Akshara and Abhinav so that he can stay happily. Dismissing the concerns, Manjiri will state that Abhir will be happier staying with her and his real father. Even Ruhi will tell her that Abhir won't be happy if he stays with them.
ALSO READ: Yeh Rishta Kya Kehlata Hai SPOILER 2nd July 2023: Abhimanyu Gets Abhir's Custody; Leaves Akshara And Abhinav Shell-Shocked
In the future episodes, it will be seen that while Abhir will move to Abhimanyu's house despite not knowing that his DocMan is his blood father. After living in the Birla mansion for a few days, he will get restless and start missing his parents. He will request Manjiri to take him to the Goenka house, so that he can meet Akshara and Abhinav. However, she will ignore his requests as she doesn't want him to go out.
ALSO READ: Yeh Rishta Kya Kehlata Hai SPOILER: Abhimanyu And Abhinav Immediately Rush To Save Abhir-READ BELOW
Upset with his Dida's behaviour, Abhir will leave the house without informing anyone. After getting to know that their son went missing, while in the care of the Birla's, Akshara and Abhinav will lash out at them. They will unleash their anger on everyone and warn them that if anything happens to their son, they will not spare anyone. Abhimanyu, who is clueless of what really happened, will also be concerned about Abhir.
Only time will tell if the parents will band together and find Abhir before he gets into trouble or not.