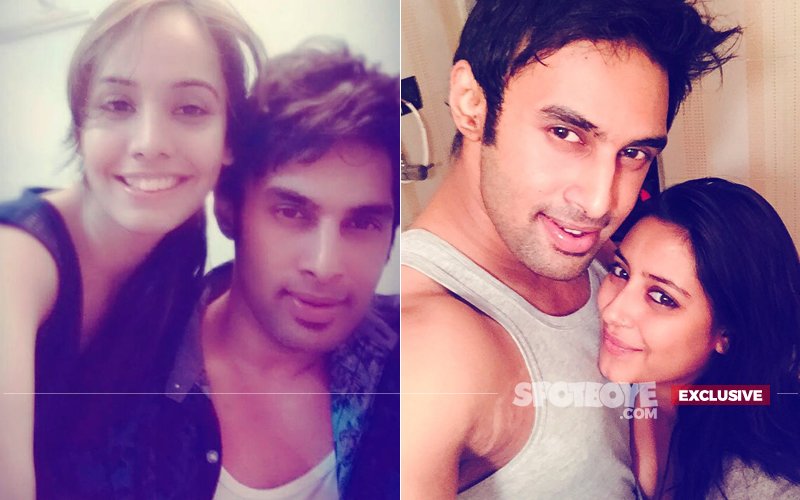 Over to Varsha. Read on...
Did you know Rahul Raj Singh before Pratyusha Banerjee's death?
No, I only knew Pratyusha. I met Rahul through a mutual friend only after Pratyusha passed away. We went to party at Trilogy and he said that feels a certain connect with me.
But you knew of him?
Yes, I knew of him. Ek raat he had done some paise ka jhol and the cops had gone to his place. That time, Pratyusha was alive and I had just parted ways with Mrunal Jain.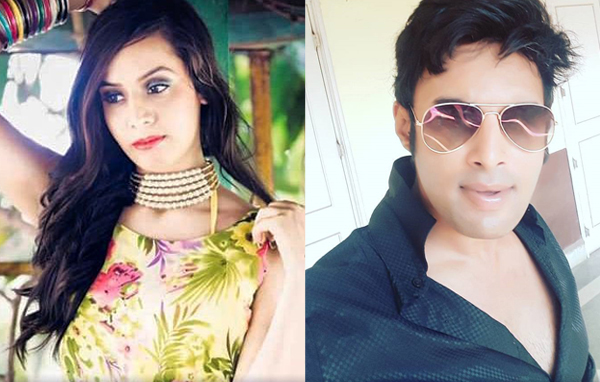 Varsha Bhagwani And Rahul Raj Singh
What happened at Trilogy after he told you that he's feeling a certain connect with you?
A girl called Jazz turned up and started attacking me. She was extremely flustered that Rahul was spending time with me. Jazz is the same girl who was with Pratyusha on the same night when Pratyusha hung herself. After the party, Rahul and I went to my place and chilled out for some time.
And then?
Rahul and I started meeting every day. I had developed an emotional soft corner for him.
We celebrated his birthday on May 29, 2016 at Sahila's place in the night, after which he was with me at my house from 7 am to 12 noon. Mind you, he lied to the media that he did not celebrate his birthday as Pratyusha had died.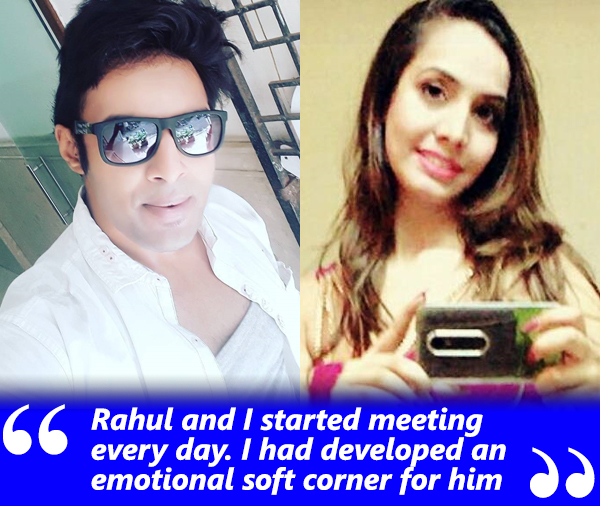 Rahul Raj Singh And Varsha Bhagwani
Continue...
After a few days, a girl called Heer Patel called me and told me a lot of things about Rahul. When I confronted him, he abused me. I abused him back. After that, he came to my building with Sahila and created a scene. I filed a NC against him in Oshiwara Police Station.
We stopped talking after that. Suddenly, one day he called me and said he is in Kodaikanal and trying to beat stress. I was in Addiction, a club in Versova. As soon as I came out, I saw he was there to pick up one of my friends! Imagine my horror! And before I could recover, he almost ran his car over me, my knee got hurt and I again filed a NC against him, this time in Versova Police station.
Why are you talking about all this now?

I am sorry Pratyusha for being quiet for more than a year. I was scared of my name getting spoiled but now I realise that Rahul's real face needs to be exposed. He is manipulating Sahila (Chadha) ma'am as well. I really respect her and her husband Nimay BalI(
who is now living separately and had spoken to SpotboyE.com about his trauma
). They are like my guardians and Rahul doesn't deserve anyone around.
I was Rahul's best friend and he did the same with me. I was so frustrated because of him but Pratyusha's mother, Soma aunty, proved to be a great support. Meanwhile, Kamya Punjabi and Neerusha (who made the short film Hum Kuch Keh Na Sake which was said to be on Pratyusha) counselled me, else I would have been another Pratyusha, not in love but in friendship.
Did you consult a shrink?
Yes, I did. I am out of my depression now.
How would you describe Rahul?
Big manipulator.
WE CALLED RAHUL RAJ SINGH. EXCERPTS FROM THE CONVERSATION THAT FOLLOWED:
SpotboyE: We wish to talk to you about Varsha Bhagwani...
Rahul: I don't know who this Varsha is. She says that I was her best friend? Gosh!
SpotboyE: She says that she has met you several times...
Rahul: I meet many people. I am a producer and an event manager. I have a turnover of Rs 36 crore.
SpotboyE: She says that you almost ran her over with your car...
Rahul: Oh, that girl? Yes, I remember her. She has written at the police station that she filed the NC under the influence of Heer Patel.
I was getting calls from Varsha. She was calling me in the middle of nights. I got a big card from her on my birthday saying that she wants to know me. Getting fan mail and fan cards doesn't make me everyone's friend na?
SpotboyE: She says that she had developed a soft corner for you...
Rahul: Why should importance to creatures who are out to malign me with their bu****it to get their 15 seconds of fame? Who the F are these creatures? Hema Maliniji, Salman Khan bhai have spoken good things about me. Importantly, Pratyusha was dating me. Kuch toh sahi kiya hoga maine! Today, I am roaming free means that I am innocent.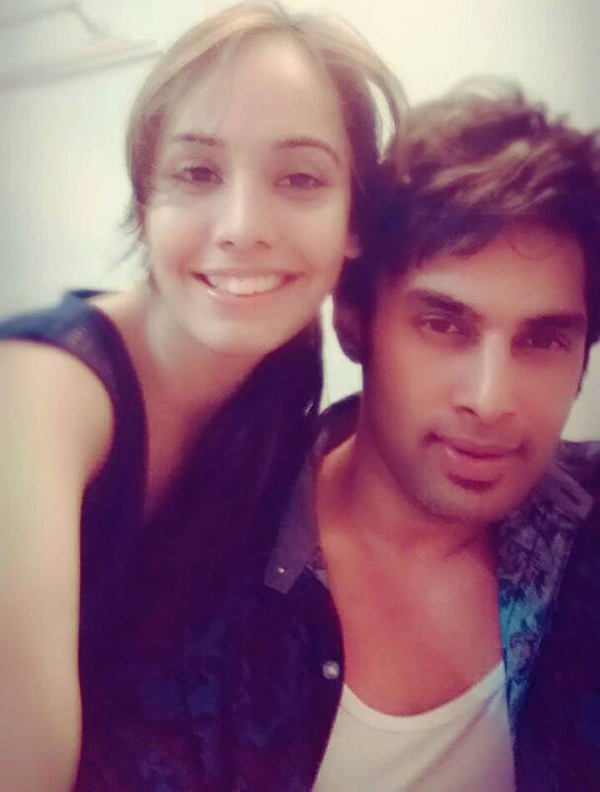 Varsha Bhagwani And Rahul Raj Singh
Varsha shot back : What rubbish is Rahul taking? He says that he is a producer and event-manager with a turnover of Rs 36 crore! How dumb! And he couldn't return Rs 12,000 which he took as loan from me!
I am sending you a picture to prove that we were very good friends.
I am also sending you WhatsApp messages from him, begging me to talk to him.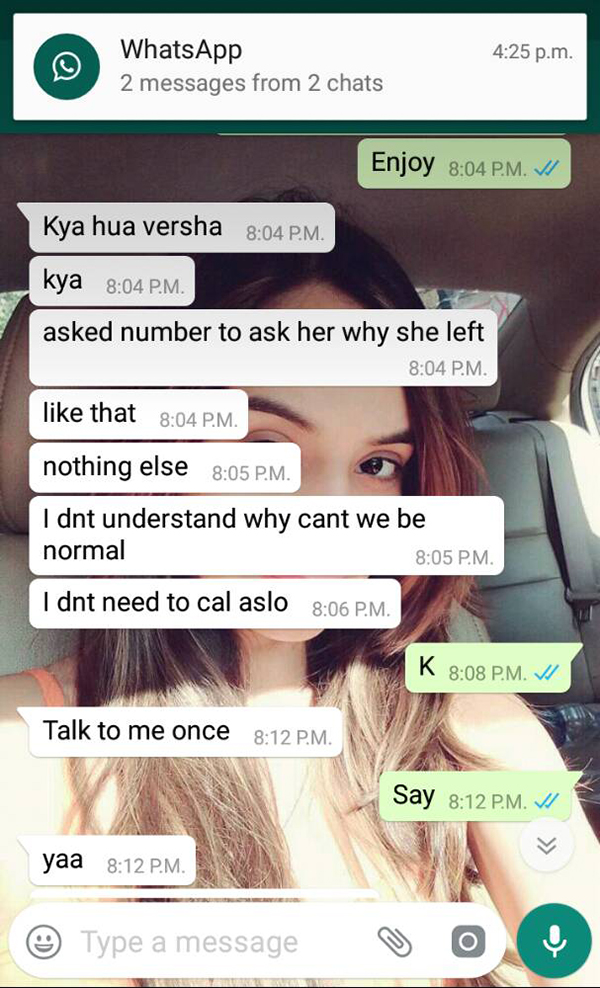 Varsha Bhagwani And Rahul Raj Singh
WhatsApp Conversation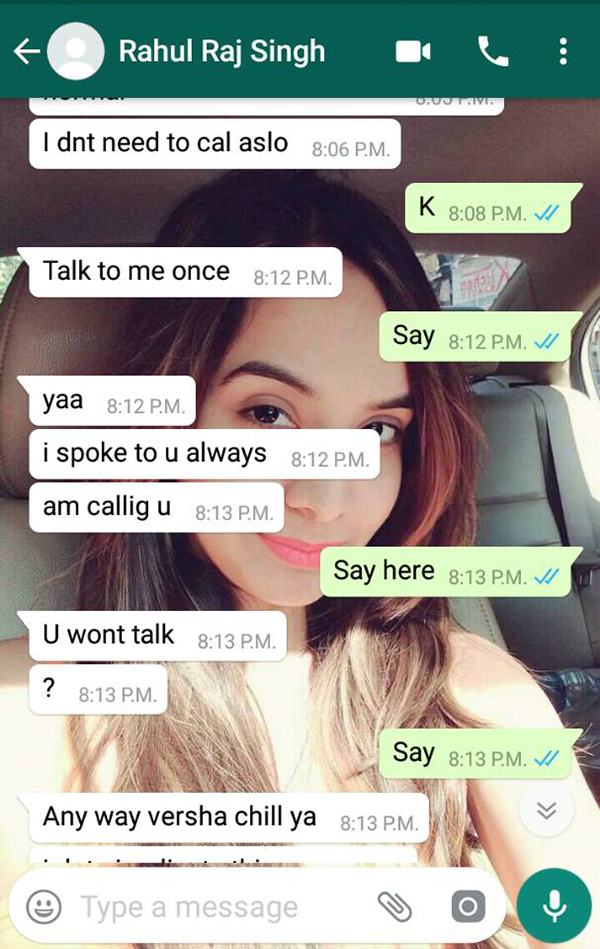 Varsha Bhagwani And Rahul Raj Singh
WhatsApp Conversation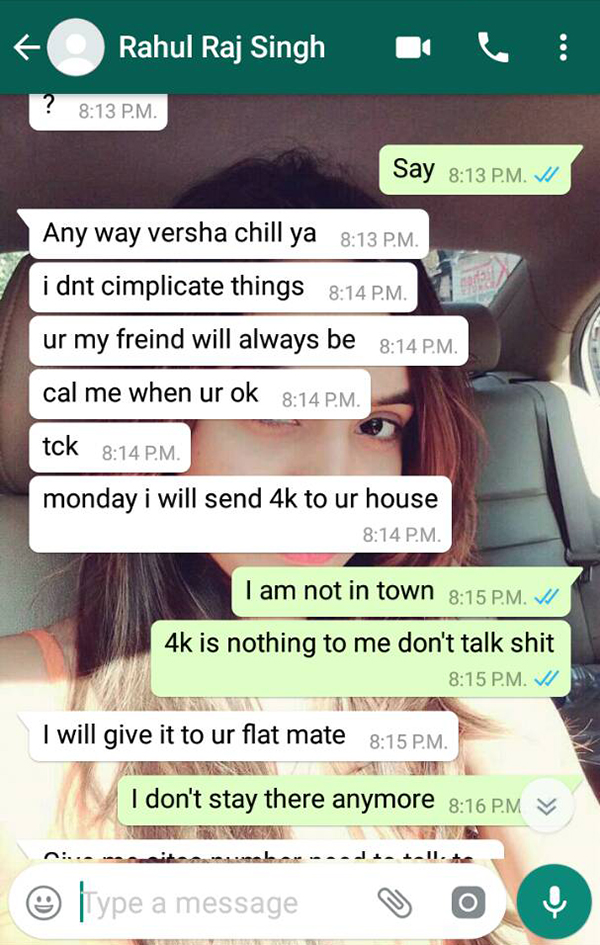 Varsha Bhagwani And Rahul Raj Singh
WhatsApp Conversation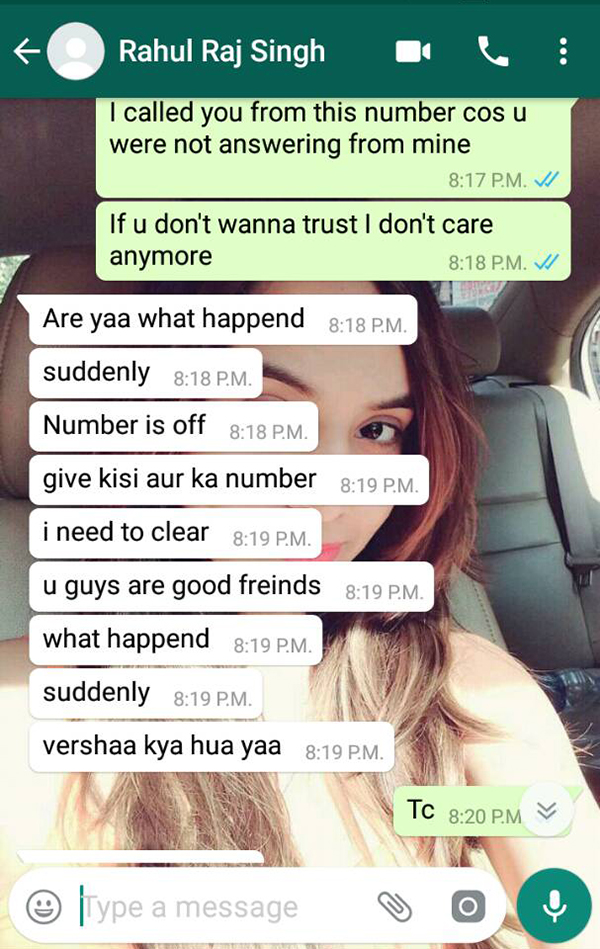 Varsha Bhagwani And Rahul Raj Singh
WhatsApp Conversation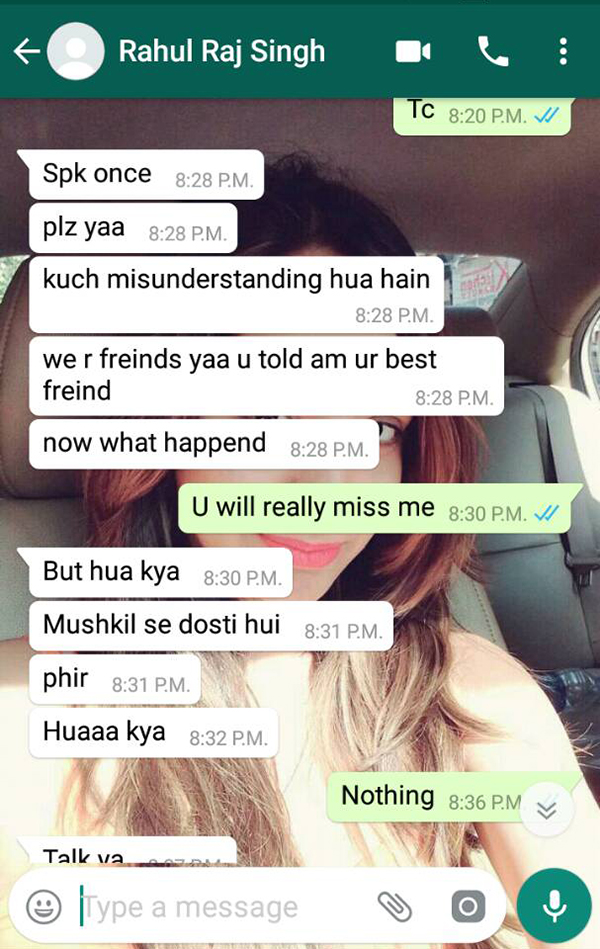 Varsha Bhagwani And Rahul Raj Singh
WhatsApp Conversation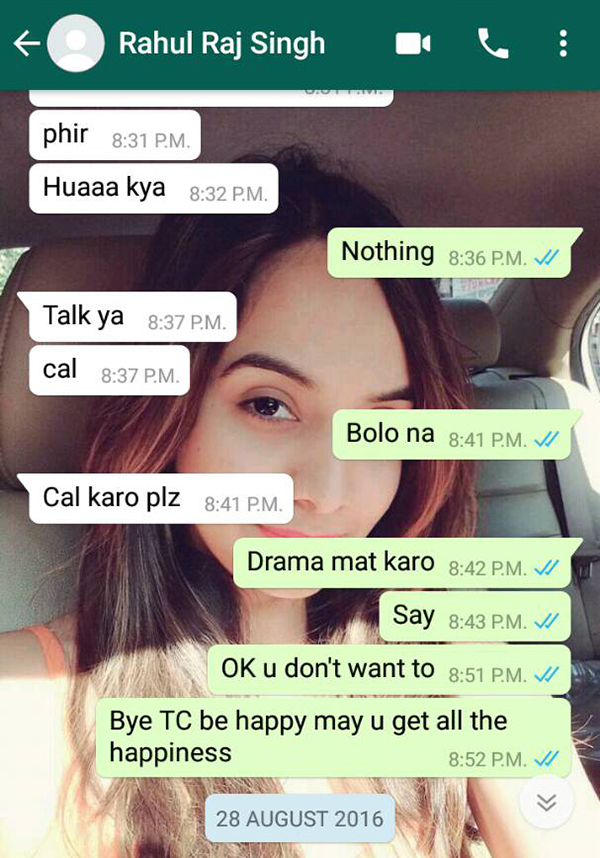 Varsha Bhagwani And Rahul Raj Singh WhatsApp Conversation
Image Source: instagram/iamprats, instagram/varshabhagwani_ & instagram/irahulrajsingh