Anusha Dandekar-Karan Kundra Spill The Beans On Shibani-Farhan's Marriage Plans!
Anusha Dandekar and Karan Kundra are entertaining the audience with their reality show, Love School 4. SpotboyE.com spoke to the lovely couple (WATCH VIDEO) about romance and more, including Anusha's sister, Shibani's steaming hot affair with Farhan Akhtar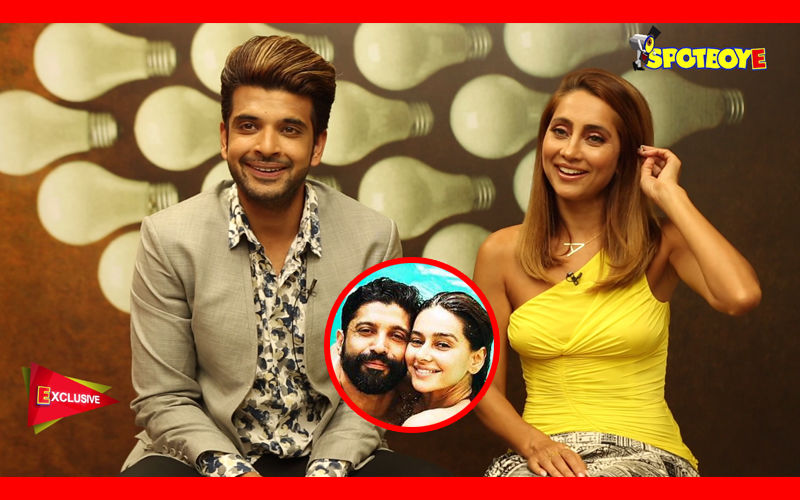 Anusha Dandekar and Karan Kundra are currently hosting their show, Love School Season 4. We caught up with the real-life jodi to talk about their love life, how they met, Anusha's sister Shibani's affair with Farhan Akhtar and the couples' (Anusha-Karan and Shibani-Farhan) marriage plans.
Excerpts from the conversation. Also, watch the video below to see lovely couple's candid chat with us:


What's in store for the viewers in Love School Season 4?
Anusha Dandekar: The first major highlight of this Season is that we are celebrating love in true sense. With Section 377 of IPC being decriminalised last year, now, we can express love in all forms on our show. Secondly, we will be focussing on demarking social media love from real love. Today's generation lives a different life on social media, so we will be checking if their love is for real or is it only for the digital space?
Does love come with an expiry date?Karan Kundra:
I think everything comes with an expiry date these days. But love is not a commodity. Marriage can still be considered as one but love has a different essence. So, if you start treating love as a commodity, it will definitely expire someday.
How do you define love?Karan Kundra:
Love for me is everything that I do with Anusha- the way she sleeps, stupid things she does, the way I feel about myself and the way I react when I am around her, is probably love for me.
Anusha Dandekar:
For me love is an extremely emotional feeling. If I love somebody, I love them completely.
Karan Kundra (interrupting):
Like she can kill that person (laughs).
Anusha Dandekar:
So, if I love you, I do it wholeheartedly, however, I won't obsess over you. But if you need me anytime, I will be there.
Who confessed first between the two of you about your feelings?Karan Kundra:
It was a gradual process between us. We were best of friends and never felt any pressure in our relationship. It was a slow realisation but yes, I figured it out sooner than she did that I want to be with her. So, I confessed first and luckily she said yes!
We were in Philippines for a shoot and Anusha came back to Delhi for just one night and was supposed to travel to another country the very next morning. I took a night flight to Delhi just to propose to her and then again took 5 am flight back to Philippines to resume my shoot.
Anusha Dandekar:
Kya romance tha yaar!
So, when are you guys planning to get married?Karan Kundra:
I think we are very happy the way we are. A lot of people have pressure from their families but we are pretty OK in that aspect as our parents don't put pressure on us. We really don't care about "society kya bolegi?"
There is a strong buzz about your sister, Shibani tying the knot with Farhan Akhtar, this year. Is it true?Anusha Dandekar:
Not that I know of. May be! But I don't know, I am an ouster (laughs).
Karan Kundra:
With Shibani, you never know. She might just turn up one day and say, "listen I am getting married."
Anusha Dandekar:
In fact, Apeksha did just that. It runs in my family (laughs). We are very casual about it. So, I think if anyone of us will get married it will be very impromptu. Although, I will be very excited about it and scream out loud- it's just another reason to party.
Karan Kundra:
I think she would just get married so that she can go to Greece and party.
When did Shibani share with you that she is dating Farhan?Anusha Dandekar:
I never asked her upfront as it's weird to question your elder sister who is she dating. You just have to figure it out. But when she informed me, I was like, "Ok, that's normal."
Karan Kundra:
I don't think Shibani really cares if these two (Anusha and Apeksha) know. That's Shibani for you (laughs).
Coming to your love life, tell us who is more romantic between the two of you?Anusha Dandekar:
You know Karan is not very expressive but he can blow your mind with little things. He is very romantic. On Valentine's Day, he didn't give me any gift or took me out on a date or bought me roses, he just sent me one message and that meant everything.
Who is more dominating?Karan Kundra:
Well she tries (laughs).
Anusha Dandekar:
Actually we have a balance.
Who is more possessive?Karan Kundra:
Neither of us. But she is a little possessive about our puppy.
Anusha Dandekar:
Yes, I am motherly towards him. Actually this is my first child, so, I don't know how to balance my emotions. I am a little lost. But we don't belong to a possessive breed.
Tell us about your first date?Anusha Dandekar:
We went to a Japanese restaurant in Santacruz.
First Kiss? Karan Kundra:
Our first kiss was at her house.
Do you remember your first fight and its reason?Karan Kundra:
Our fights are damn silly. We can fight on anything and everything and somehow, it is always my fault.
Image Source:- Spotboye Team/instagram/
faroutakhtar/shibanidandekar/vjanusha/kkundrra/shibanidandekar