Bade Acche Lagte Hain 2: Disha Parmar Calls Hubby Rahul Vaidya 'Lucky', Says She Tells Him 'As Soon As We Got Married I Got This Show'
Disha Parmar shares her experience of returning to television after marriage with 'Bade Acche Lagte Hain 2', playing Priya, and more.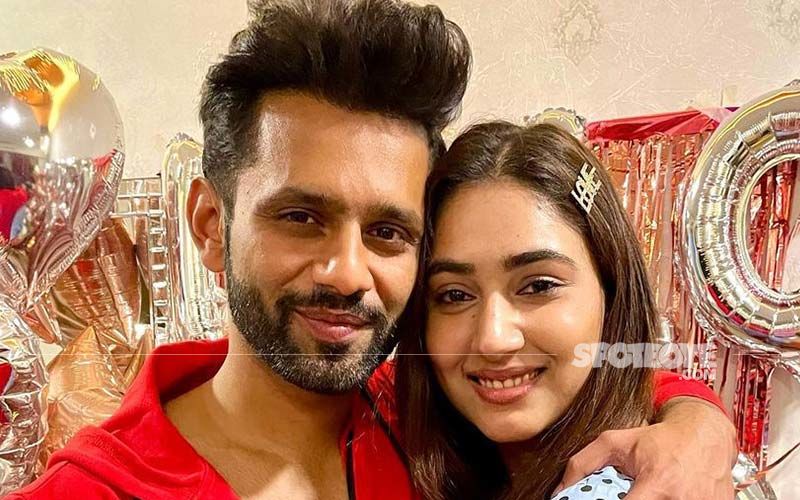 Newlywed Disha Parmar will soon be seen in the iconic role of Priya in 'Bade Acche Lagte Hain 2'. A reboot of season 1, the show will capture the journey of two individuals who are in their mid-thirties and find a way of loving one another after their marriage. Since 2011 when season 1 first aired till today, 11 years later, a lot has changed and so have the dynamics between individuals.
Bringing forth these changes, challenges and more, the new season of Bade Acche Lagte Hain will see Nakuul Mehta and Disha Parmar step in the shoes of one of the most loved on-screen characters of Ram and Priya.
Disha Parmar, who is playing the protagonist, gots candid with SpotboyE.com.
Q: Bade Acche Lagte Hain is all set to return with the second season. How excited are you?
A: I am very excited because it was such an iconic show and so loved by people and the characters were so beautiful. And it did so well, it was so well received. So I am really looking forward to it. For me being a part of it, I am very excited and nervous at the same time. There is a bit of pressure but mostly I'm really looking forward [for people] to seeing it. While the characters are still Ram and Priya, it's a fresh take on the era we are in today and the approach to love.

Q: This is your first show post marriage, and coincidentally the show is also about celebrating the essence of marriage. How do you feel about it?
A: Yes, this is my first show post marriage and I think the experiences that I have had and the emotions that I feel now as a person, will definitely help me in portraying the character of Priya better. Though I am personally very different from Priya, I can relate to her.

Q: What is your secret when it comes to managing personal and professional life? How do you attain that balance?
A: The secret is actually my husband. I will give him all the credit in the world. I keep telling him that as soon as we got married I got this show. So, you are very lucky for me. I think it's because of him that I am able to strike a balance between my personal and professional life. He's been so supportive. Within like 15 days of our marriage, I was on sets. He has been so encouraging. I cannot thank my husband enough for this. He is the secret that everything can be managed.

Q: Ram Kapoor and Sakshi Tanwar from the first season had successfully struck a chord with the audience as Ram and Priya. How challenging will it be to step into their shoes?
A: I think it's going to be challenging to step into their shoes because they have left really massive shoes to fill in. Both of them are such fabulous actors and I, personally, have grown up and loved watching them, especially in Bade Acche Lagte Hain. It's a bit of pressure. Bade Acche Lagte Hain 2 is a story with different people in the current times with different mindset and varied challenges. However, the essence remains the same. So, we are not trying to copy them but I know comparisons will happen and I really hope and wish that people will see the show and try to accept us, too. Because we have put our heart in it, too. Just fingers crossed.

Q: Will the makers take nuances from the original actors or have an individual approach towards the characters?
A: Like I mentioned, the characters this time are a bit different because the times have changed. The show is coming back after 10 years; the problems are different, the situation and the kind of things that are happening in people's lives are different now. So, we have tried to keep it as real as possible.

Q: How has been your experience shooting for the show so far?
A: The experience of the shooting has been pretty amazing because even though you've read the script, you learn so much about the character each day. The director and the whole team are so amazing, everyone is so invested in the show. It's a good feeling, it feels great.

Q: Any message for your fans and viewers?
A: You gave the first season a lot of love, so we really hope that we can make the same place in your heart for Bade Acche Lagte Hain 2. Keep loving us!




Image Source: Instagram/rahulvaidyarkv/dishaparmar